Latest ankara designs for skirt and blouse for you to wear 2021
What are the latest ankara designs for skirt and blouse? See trendy images for all occasions. Classic versions of ankara skirt and blouse combination as well as super hits of the season - every fashionista can choose the appropriate option.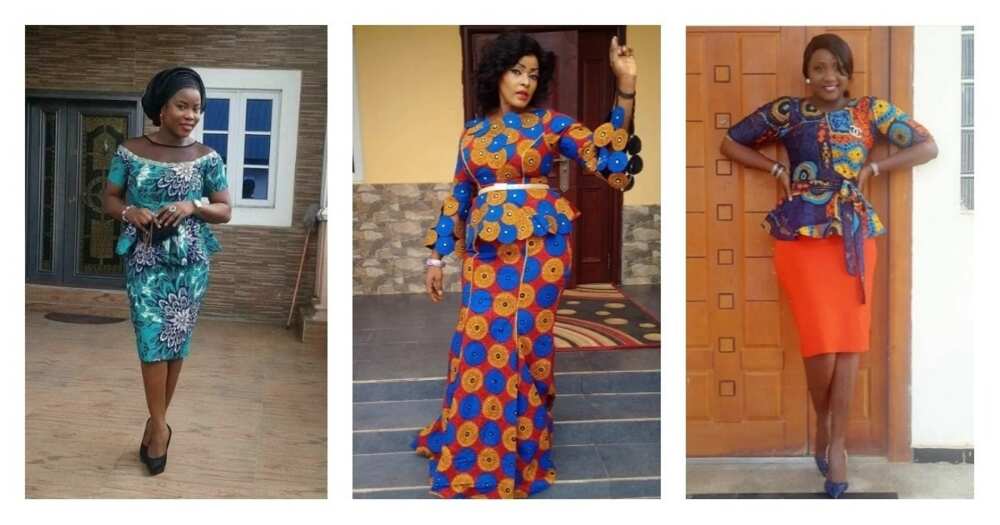 Nigerian ladies like ankara outfits. With the bright ankara wears they look like beautiful and exotic flowers. Of course, a dress is the queen of attires. But using ankara skirt and blouse, it's also possible to create unforgettable images for every day and festive occasions.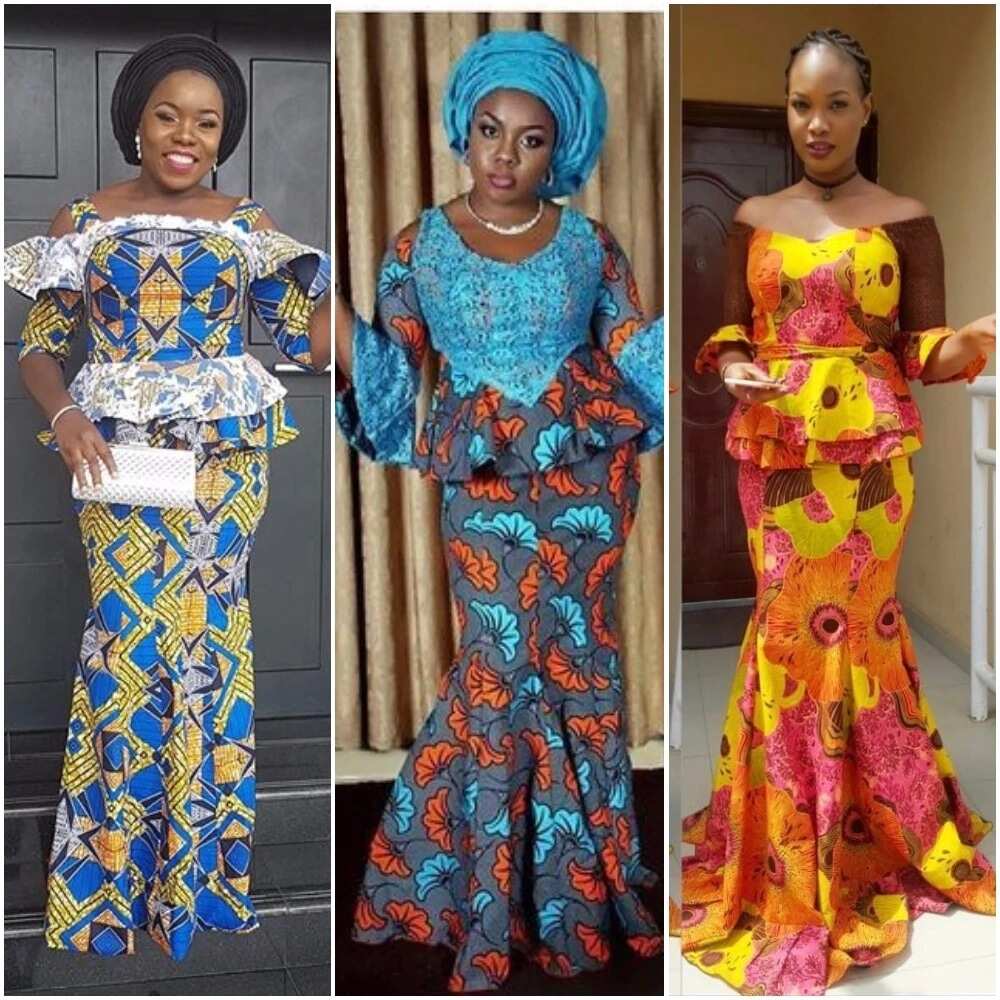 Our girls and women admire variants of skirt and blouse. In most cases, Nigerian fashionistas must ensure that the patterns and colors of both items are perfectly mixed. Besides, plain and patterned outfits are in demand too. For example, bright ankara blouse with print and the plain skirt is a classic combination. What are the best ankara designs for skirt and blouse?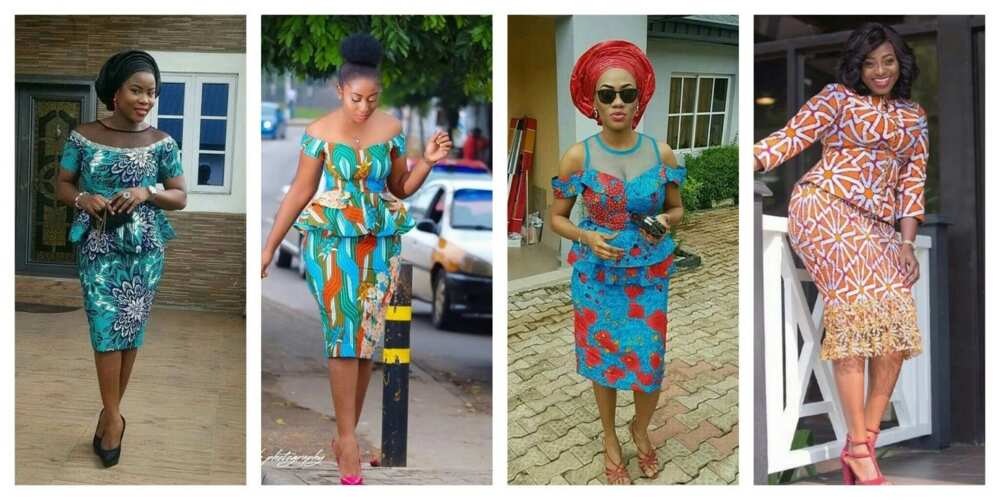 Latest ankara designs for skirt and blouse
Buying or ordering a designer's outfit, women consider the latest fashion trends in 2018. We also want to highlight the main innovations of the season:
ruches, frills and flounces of different shapes, directions, and textures;
asymmetry in tailoring;
cold shoulders or one open shoulder;
fitted silhouette;
mermaid style;
midi length;
lace trim;
feathers and sequins décor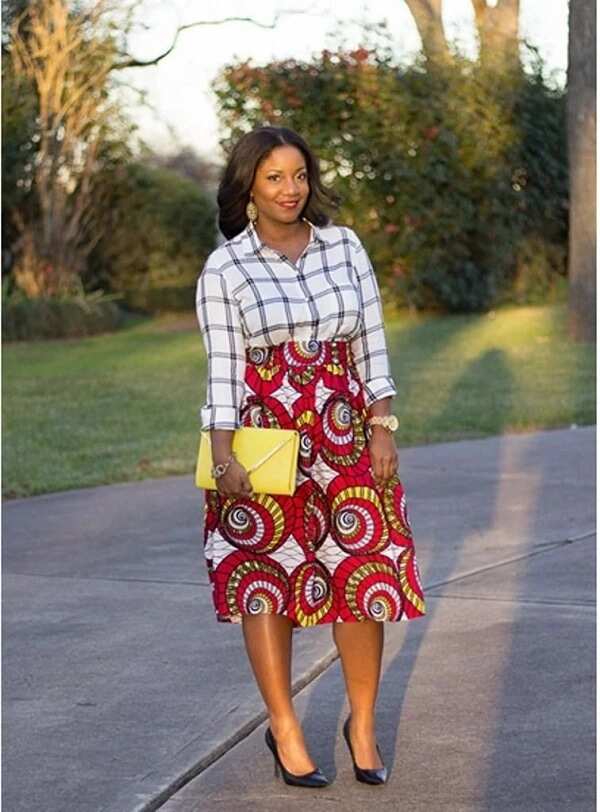 Ankara skirt and blouse for the office
Let's divide the casual and festive outfits with ankara skirt according to different occasions. For office wears, the classic option is a midi skirt pencil and short blouse-shirt with straight or fitted tailoring. It is better to avoid deep necklines in office blouse styles.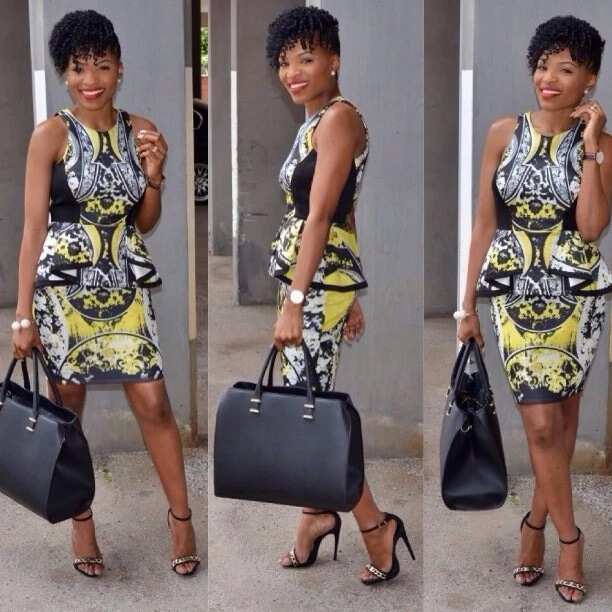 Today's fashion trend – 'cold shoulders' can be used in a modest design. Use small cuts on the shoulder line instead of décolleté. The sleeves can be short, three-quarters or sleeveless. But styles with wide and flared sleeves, chiffon or lace inserts are not good for business look.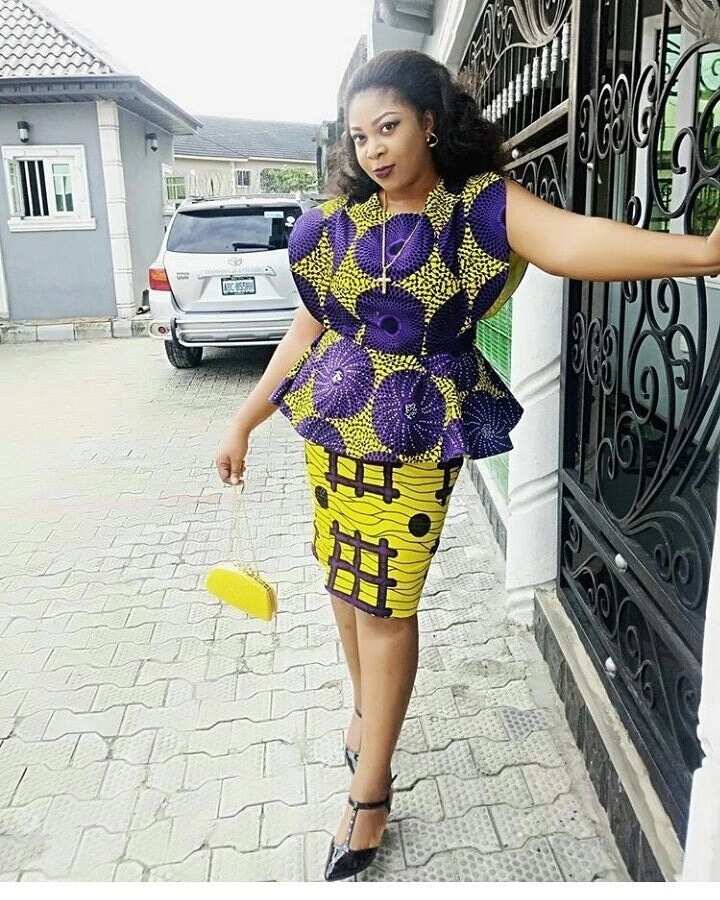 You can safely use the one layered peplum for a blouse. It favorably emphasizes the waist and hides the extra centimeters. Also, a strict pencil skirt can be decorated with either a peplum on the waistline or mermaid style on the hem. But for the office, use only the midi length or slightly above the knee.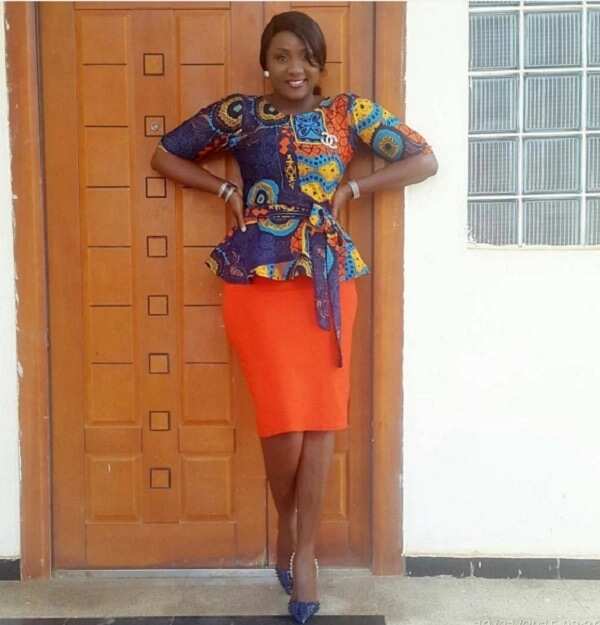 Let's say, mix a bright, colorful ankara blouse with frills and a plain skirt pencil. The other variant is one-colored blouse-shirt with a patterned flared skirt or a mermaid-style skirt. Moreover, you can choose a one-colored set and complement it with a printed peplum.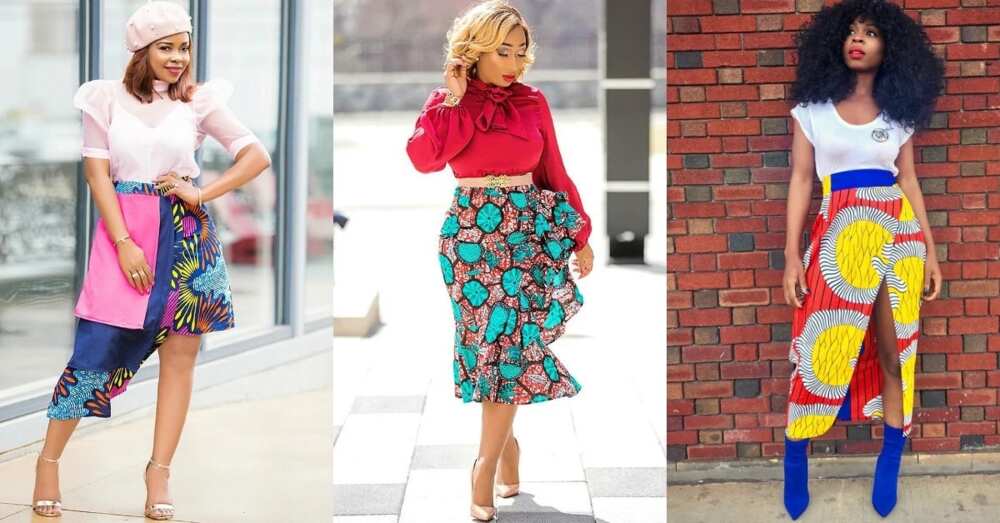 Ankara casual style for skirt and blouse
Ankara skirt and blouse designs for walks or shopping trips allow more freedom in choosing colors, tailoring and trim. Here you can safely use the 'cold shoulders' or 'one shoulder' trend in blouses as well as loose and fitted tailoring. These styles can be complemented with straps and large multi-layered flounces. In the casual style, asymmetry is permitted. So the peplum can be made just on one side, with different lengths or several layers.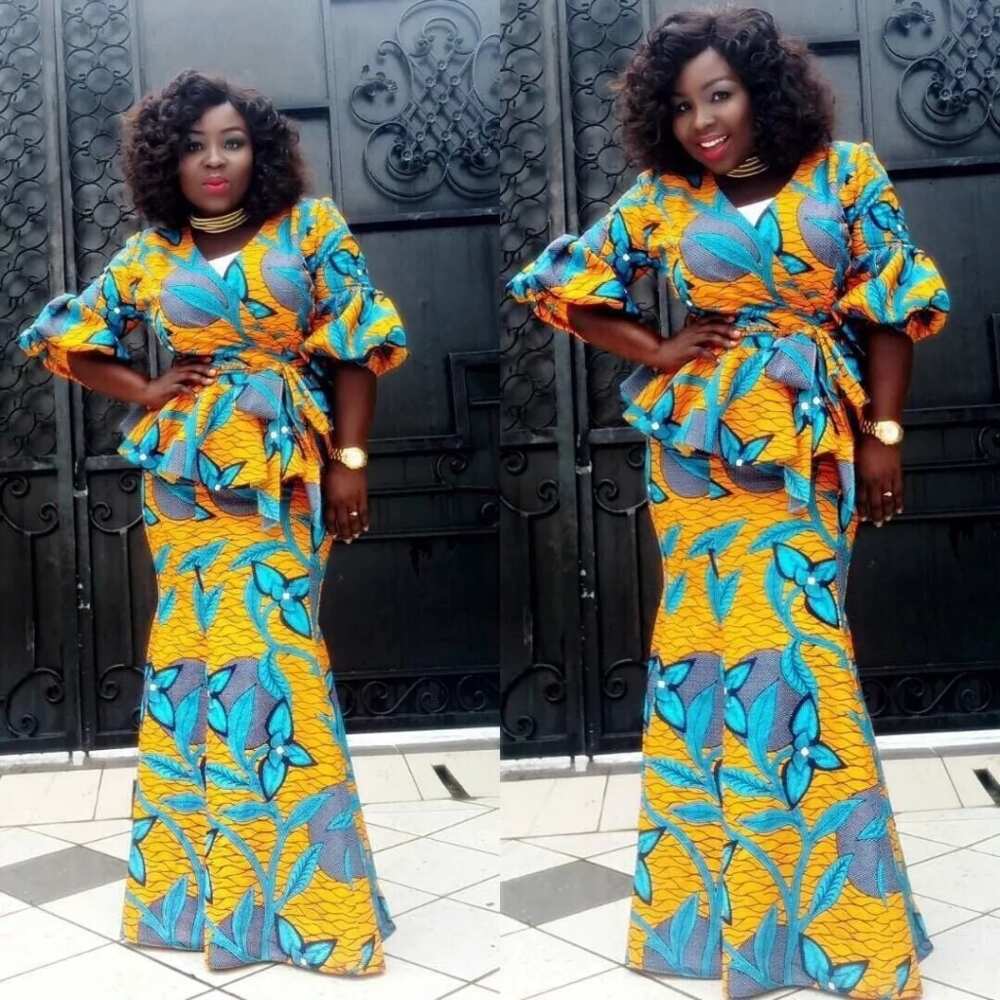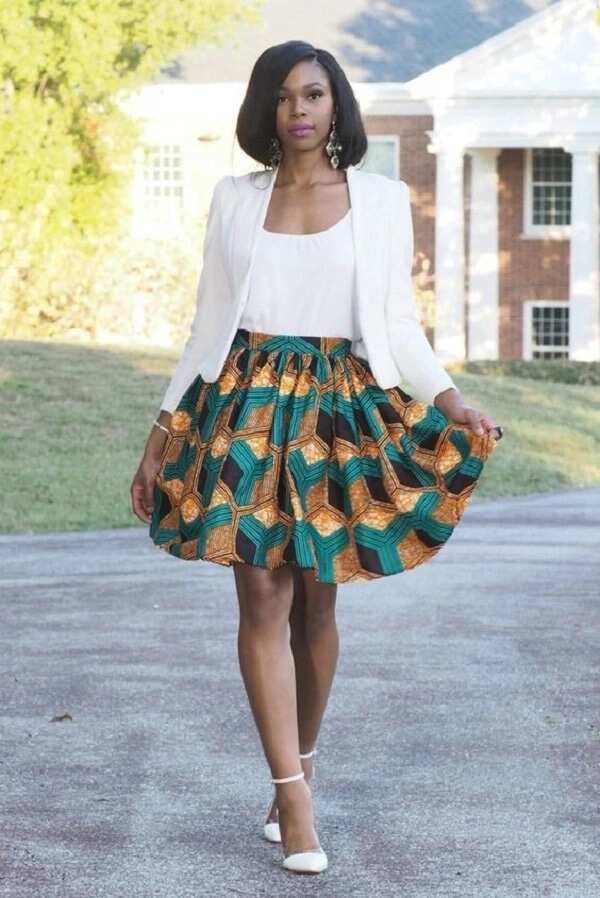 It's better to choose straight or flared ankara skirts for walking. In this case, you can choose any length from mini to maxi. Although, try to avoid mermaid skirts for casual look since they can restrain movement. You can take an option above the knee and add a frill on the hem.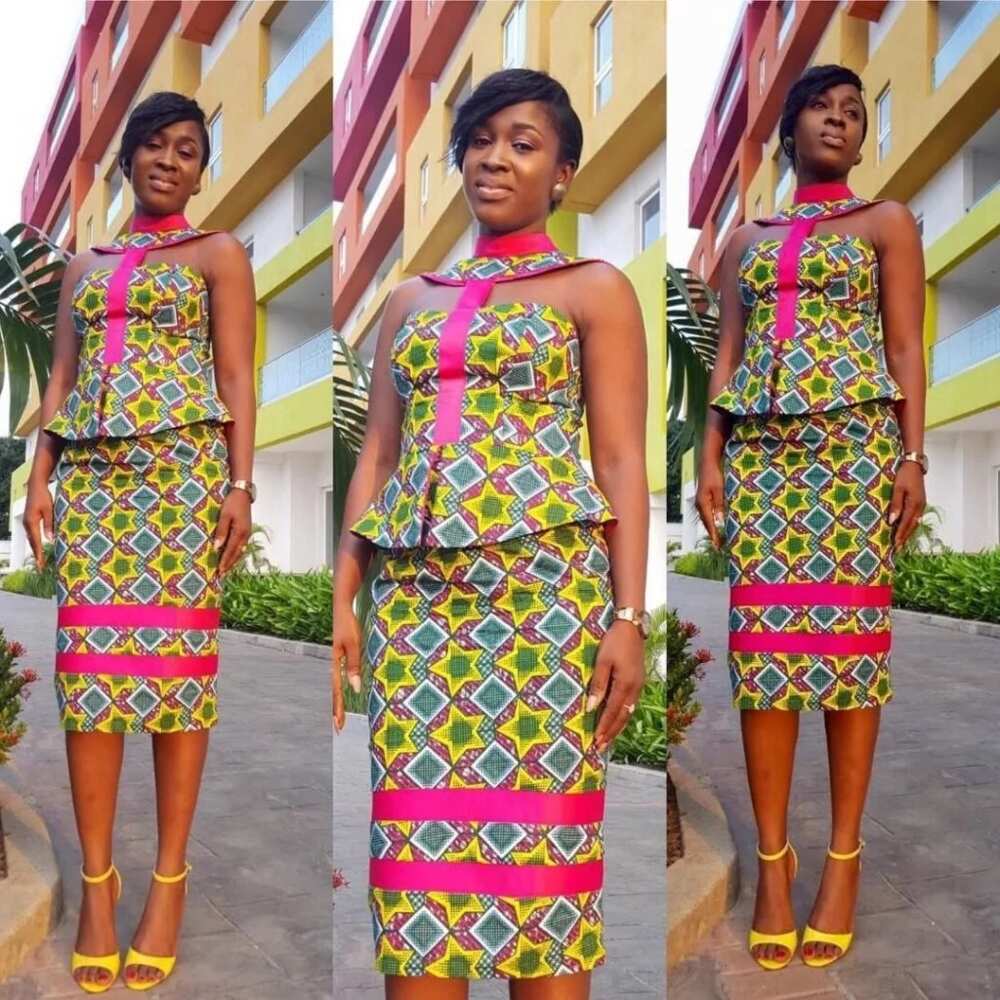 Use any color palette for the casual attire. Definite taboos do not exist here.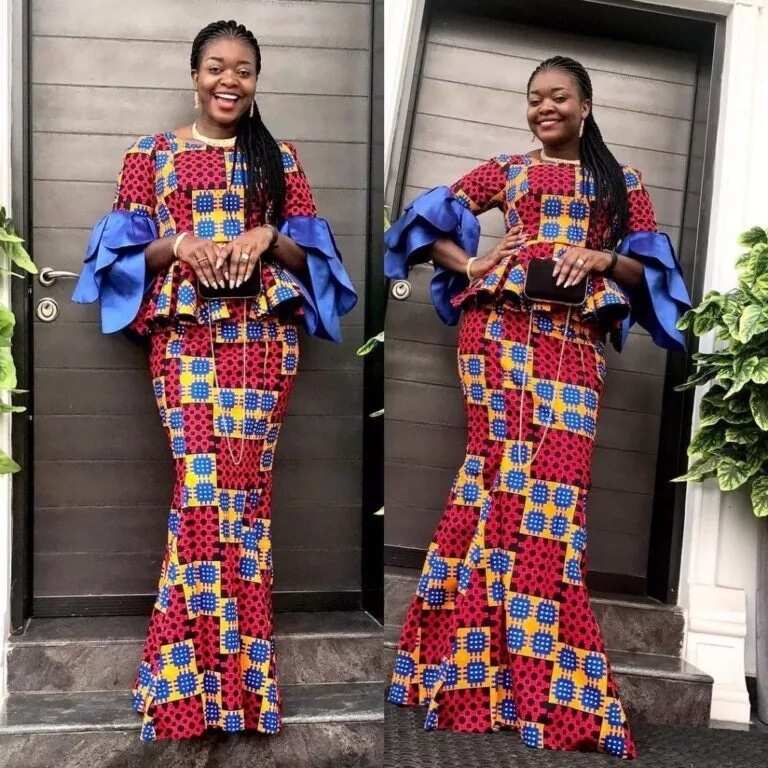 Ankara with skirt and blouse
The most popular evening design is a maxi skirt and a fitted blouse with peplum. Moreover, the skirt and blouse must be created as one ensemble. That is, both options should match each other.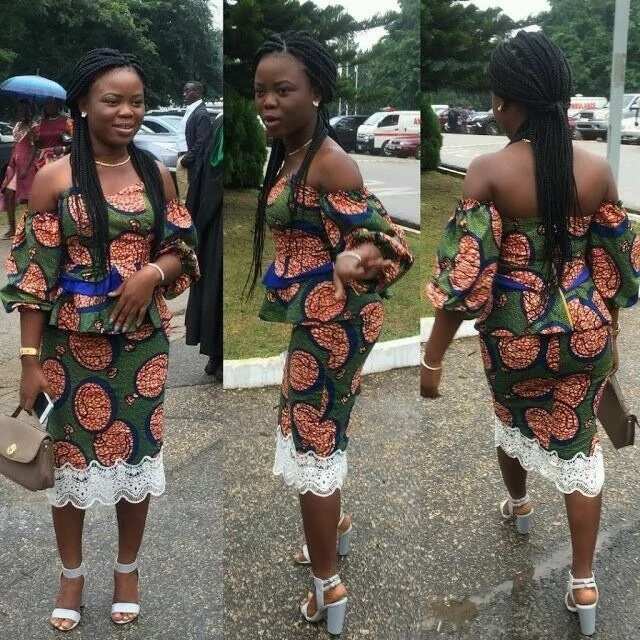 Ankara blouse in such look is usually fitted and has a length up to the middle of the thigh or slightly higher. Nigerians love the peplum. And this season peplum, as well as ruffles and frills, are at the peak of popularity. In evening blouses, you can find multi-layered peplum, for example, three or more layers. The item can be two-sided. The front side has an ankara print, and the reverse side is plain. Asymmetric peplum is also widespread.
You can use even another textile for the peplum.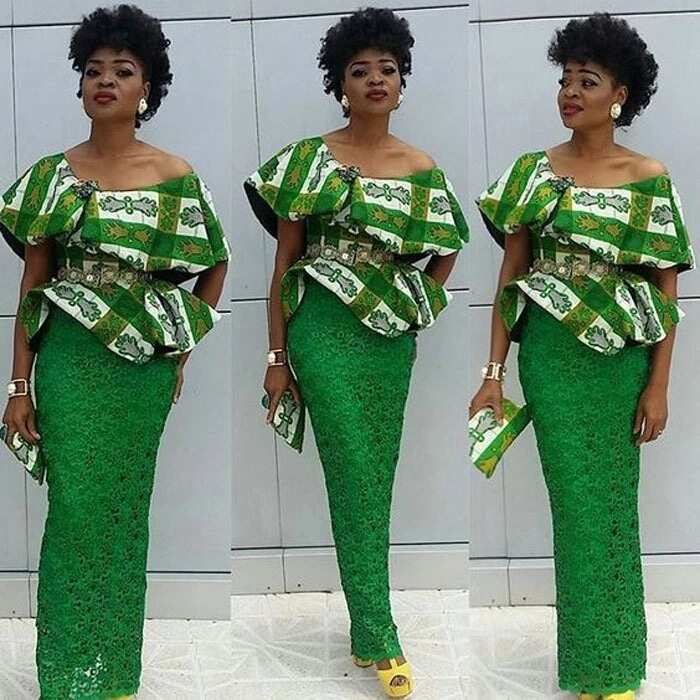 Ruches in the décolleté area can also be large and multilayered. Besides, you can make lace or chiffon frills. Lace and chiffon inserts of different shapes are also welcome. Use this trick with classic options on the shoulder line as well as the inserts on the sides.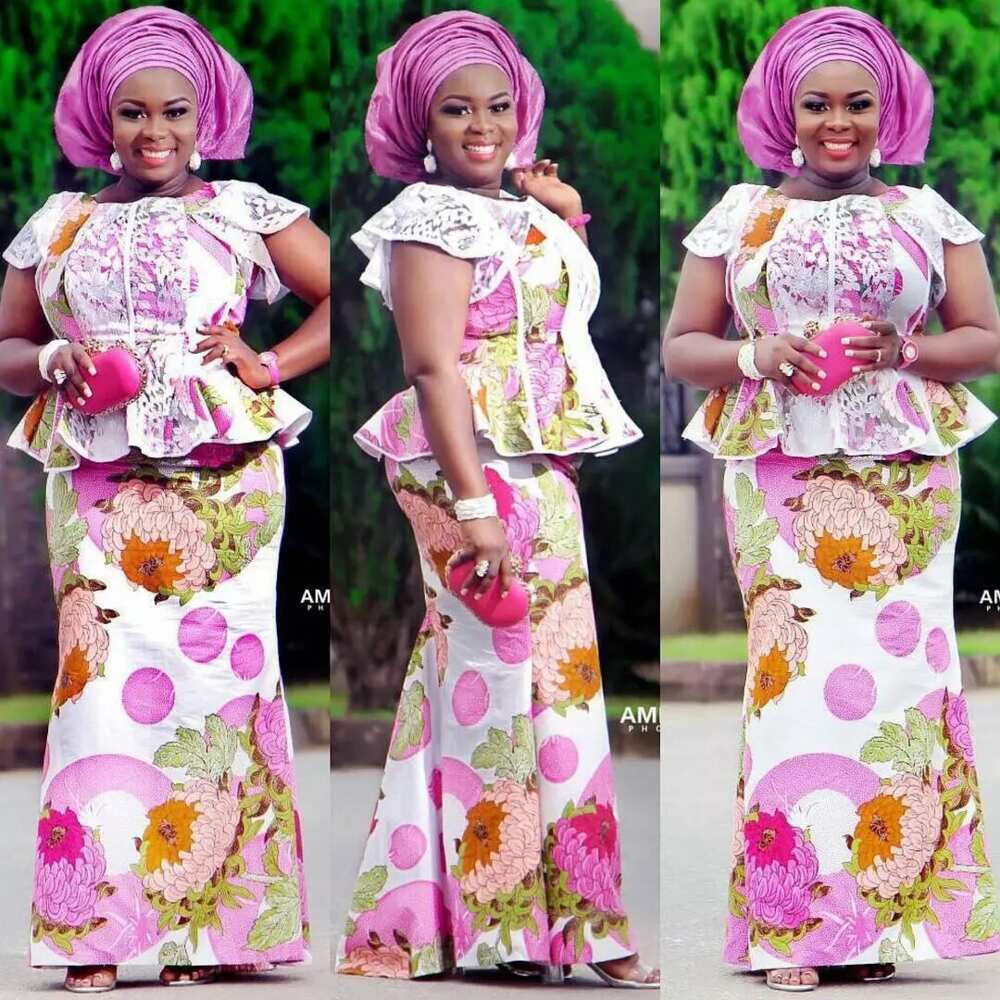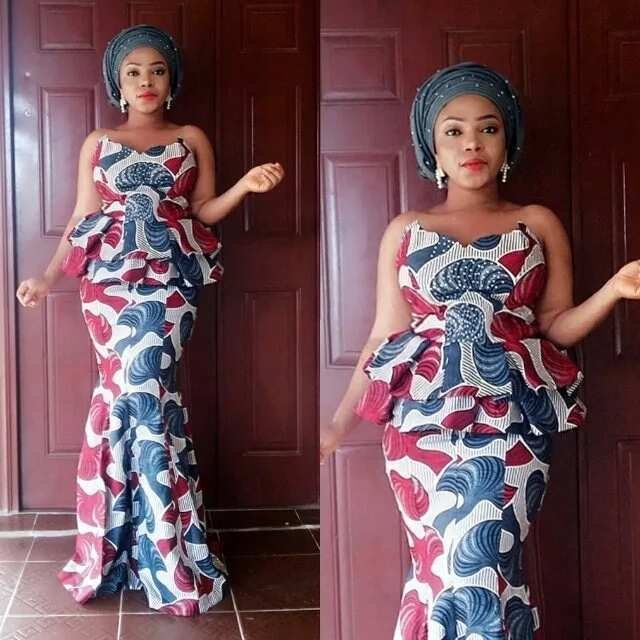 A long straight skirt or mermaid skirt goes with the elegant blouse. The height of the frill should be chosen based on your comfort when walking. If you don't want to step constantly on the hem, the front part of the frill can be picked up and slightly draped.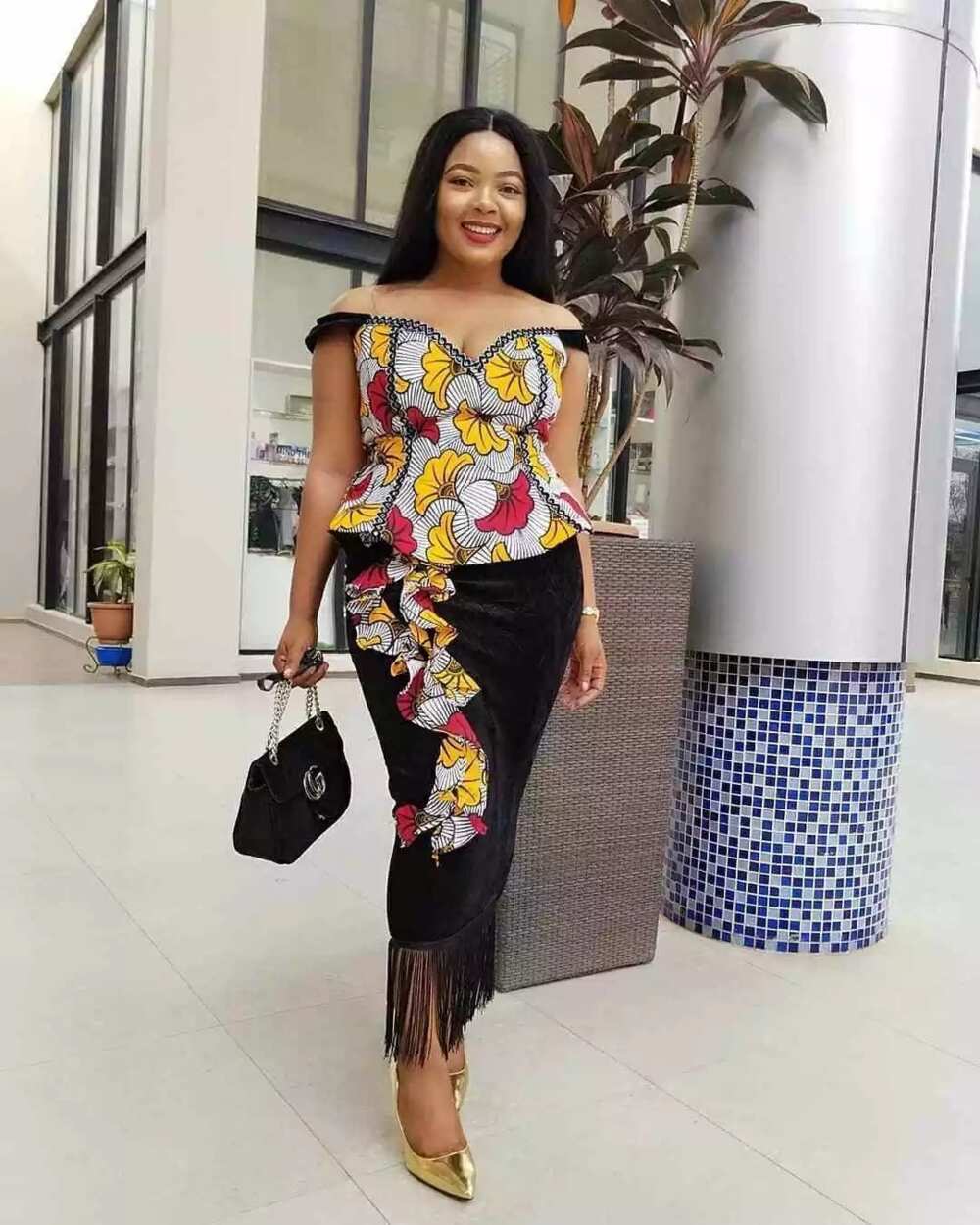 Decor and trim
The most fashionable options for 2018 are:
colored lace;
feathers;
fringe;
small silvery sequins
Ankara skirt and blouse styles deserve close attention.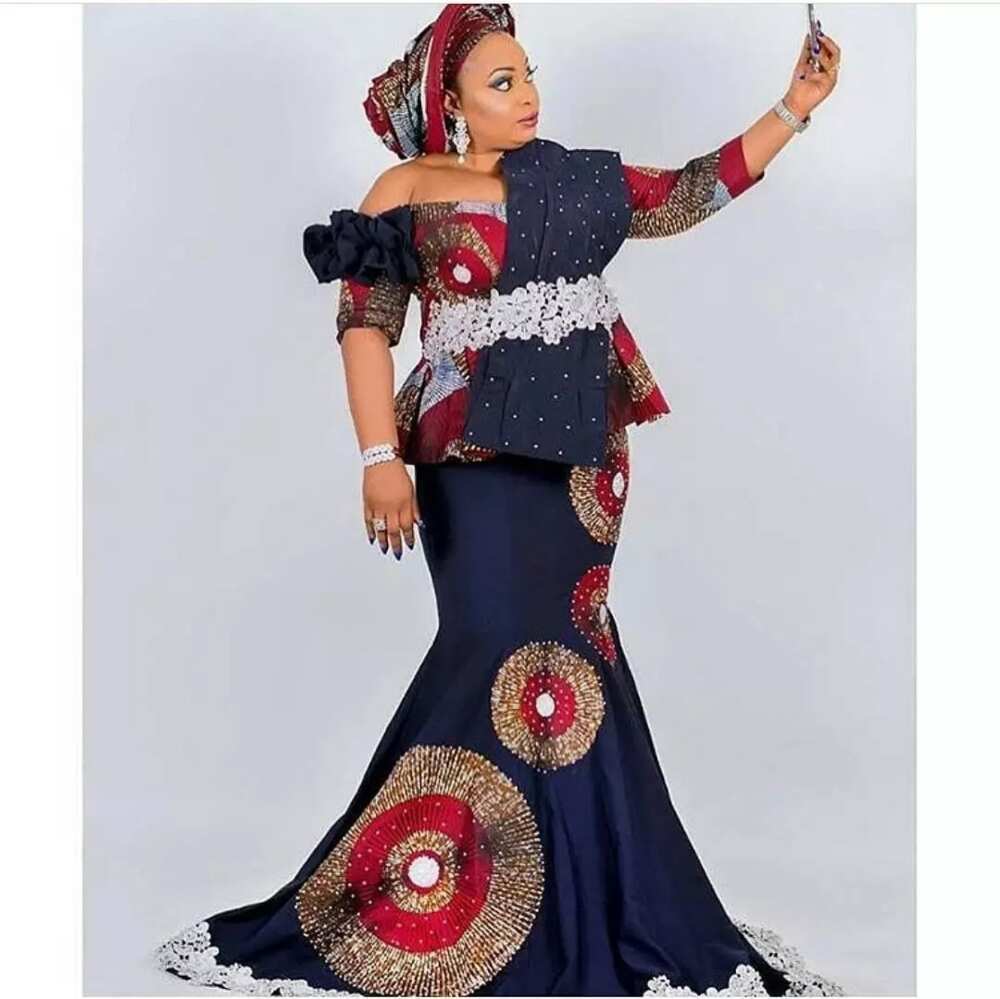 Another option for the trim is a mix of fabrics and textiles. You can use a patterned fabric with plain textile as well as various fabrics with different prints plus complicated tailoring. In this case, bet on the originality of the shapes and color combinations. Another décor is excess.
Beautiful looks using ankara skirt and blouse combinations for events and everyday occasions allow every woman feel like a fairy flower.
Source: Legit Newspaper