100 level student of Anambra State University killed by thunder
- A 100-level student of Anambra State University identified as Vincent Uche Mbanefo kicked the bucket on July 3
- The young student who was alone in his room was said to have been struck by thunder after a heavy downpour in Achalla area
- Vincent was a student of agric extension
A 100-level agric extension student of Anambra State University identified as Vincent Uche Mbanefo has died tragically after allegedly being struck by thunder. The young student was said to have been alone in his room in Achalla and kicked the bucket around 5pm on Tuesday, July 3.
The situation surrounding the mysterious death has led many social media users to believe Vincent must have offended some spiritual entities who have avenged using thunder lightening as a weapon.
Sadly, the promising student gave up the ghost almost immediately after the contact. Family and friends are now in mourning of the young boy whose untimely death has broken hearts of his loved ones.
READ ALSO: Adekunle Gold's sister bursts into tears after seeing brother on billboards in London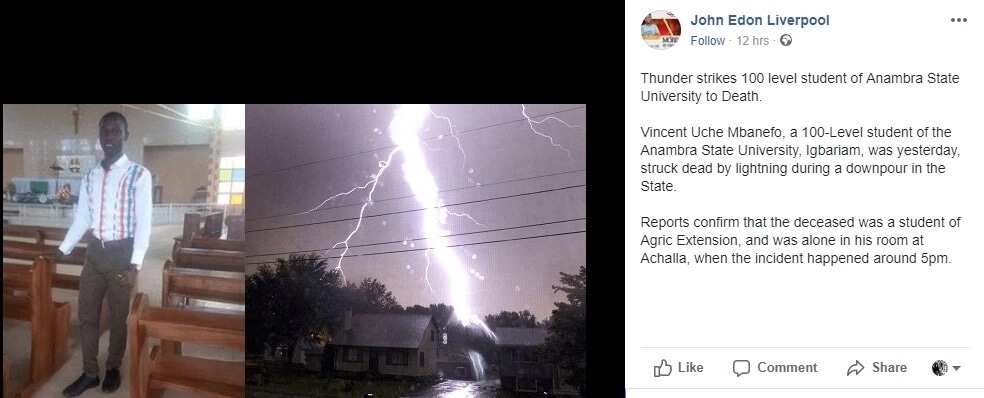 Research shows that lightning is incredibly powerful. A bolt can carry between 10 and 100 million volts and it is around 20,000°C (about 35,000°F). This is many times hotter than the surface of the sun. The power of one bolt alone, if it could be harnessed, could fully power hundreds of average homes for a day.
Such lightning bolt is what could have struck Uche to his death. Just like a mighty surge of electricity, it would have taken a miracle for any human to survive such.
May his soul rest in peace.
PAY ATTENTION: Read best news on Nigeria's #1 news app
Let's Not Blame God For Our Problems - Deyemi Okanlawon Speaks on Otedola Bridge Fire on Legit.ng TV:
Source: Legit.ng