- Kano's governor's daughter, Fatima Ajimobi and her husband have been the topic of discussion of some northern social media platforms since the tied the knot
- Many have claimed that the Fatima dresses against the culture and rules of the Muslim and northern beliefs
- Fatima and her husband, Idris recently responded to one of such condemnation
It was a week-long celebration when Kano state governor's daughter, Fatima Ganduje Ajimobi tied the knot with her sweetheart, Idris Ajimobi, son of Oyo state governor. Many people couldn't stop talking about the grand wedding which was graced with the presence of 22 governors and the president.
Fatima who was an unconventional bride attracted negative comments from the Muslim and northern community for her choice of dressing. On many social media platforms, she was condemned for "exposing" her body and going against rules of intense modesty.
While Fatima had turned a deaf ear to all the bashing, it got out of hand recently and she responded a troll for attacking her outfit to work. Her husband, idris also joined in dragging the troll who had accused him of wasting his bride price because of his wife's choice of outfit.
READ ALSO: Actress Mercy Johnson-Okojie goes emotional as she celebrates her husband on his birthday (photos)
The Instagram page identified as Auntykwalba shared a post in Hausa basically bashing the governor's daughter for wearing a dress that "exposed" her body, claiming that her bride price was a waste. Fatima's husband, Idris swooped in defending his wife, insulting the blogger.
Following her attack, Fatima responded saying: "Word of advice, you can't be a destructive gossip blogger and observe Ramadan properly at the same time. Choose wisely! #BWBB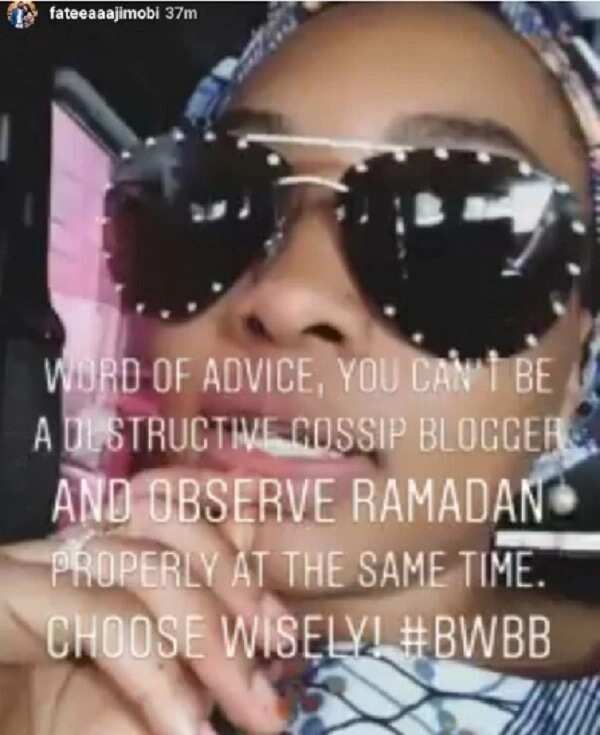 Idris also responded saying: "bride price iya baba e lo waste" – meaning It's your father's mother's bride price that was a waste".
auntykwalba then replied saying: "I don't know what u said in Yoruba but I can translate the little so Mr man go and learn respect first then learn to envy how your wife dress to close up your properties go and learn the religion u claimed u worship by the way Islam or Christianity non of them permits a woman to go necked so respect your self with your ignorance! instead of u to get focused on correcting her u are here trying to defend her I don't blame u I blame the thinking in u that makes u think u married the best Hausa Fulani girl.....good bye chill with your poundo."
Ajimobi responded saying: "I only respect those who respect themselves. Respect is earned not given or a birth right!"
auntykwalba responded saying: "if this the so called how I'll earn respect from such ppl like u get ur respect to somewhere guy bcos u Dont really know what u are doing ur ignorance will not let u know the truth get your books go to madrasa."
Read the exchange below: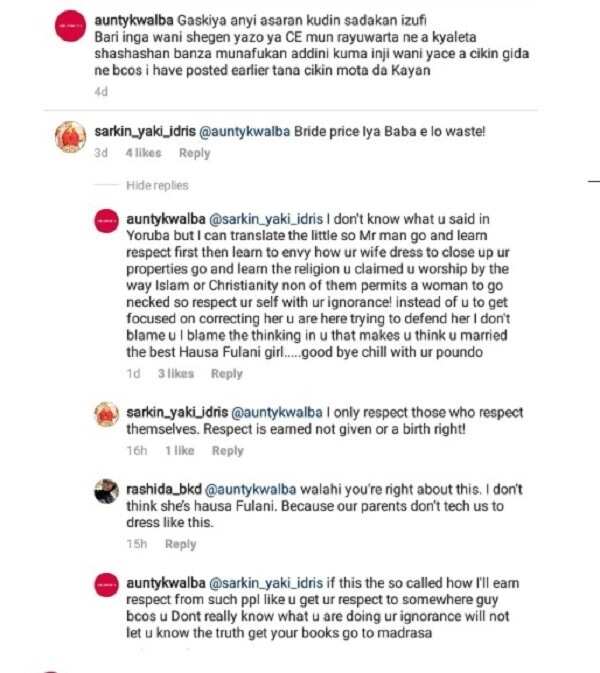 Na wa o.
Get hottest gist on Naija Uncensored Facebook Group. Join here.
PAY ATTENTION: Read best news on Nigeria's #1 news app
Street Gist: What Is Wrong With a Woman? Bride Price! on Legit.ng TV