RETRO: The Life and times of Ajala, the first Nigerian to travel round the world
So many people are familiar with the nickname, 'Ajala Travel'. In recent times, it has become an apt name given to anyone who hits the road frequently; anyone who loves travelling or their work frequently demands travelling.
However, not many people know the history behind the popular nickname that has now become a metaphor for frequent travellers.
In this retro series, Legit.ng presents to you a scintillating history of the man whose nickname, Ajala Travel, has become associated with globetrotting; Ajala Olabisi.
Background
Ajala Travel's real names is Moshood Adisa Olabisi Ajala. He was born in Ghana in a polygamous household. His father had four wives and 25 children.
Ajala wrote about his background in his book 'An African Abroad': "I was born in Ghana, of Nigerian parents, and brought up in Nigeria, where I had my schooling at the Baptist Academy, Lagos, and Ibadan Boys' High School. At the age of eighteen, I went to America to further my studies."
READ ALSO: 19 facts to know about Muhammadu Aminu Sambo, first western educated person in Zaria
Education
Ajala later proceeded to De Paul University in Chicago in America to study medicine. While in America, he became the first black student to be pledged by the Delta Upsilon Pi 'fraternity, a co-educational Greek-letter organization at De Paul University.
Travelling exploit
Ajala's travelling adventures started in 1952 when he decided to embark on a cross-country tour of America with just his bicycle and agbada. Aged 22, Ajala set out on the 12th of June 1952 from Chicago on a bicycle tour covering an incredible 2,280 miles.He would cover 2,280 miles in 28 days starting from Chicago and ending in Los Angeles.
He arrived the Los Angeles City Hall on 10th of July, two days ahead of his 30-day schedule. Upon arrival, Ajala was received by the city mayor Fletcher Bowron.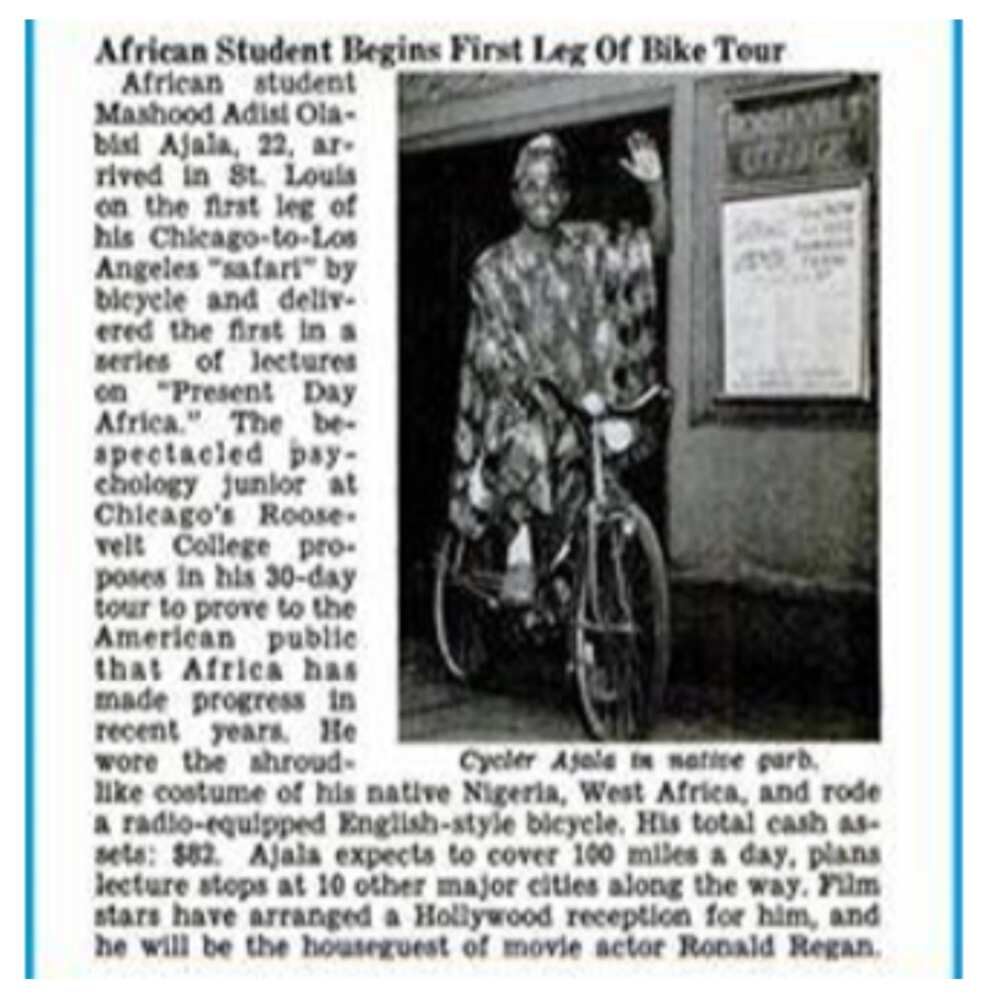 Ajala would later embark on other globe trotting adventures thereby dumping his ambitions of becoming a doctor.
Thanks to his cross country journey in America, Ajala became famous in America and back home.
In his lifetime Ajala, the Traveller visited India, USSR, Jordan, Iran Jordan, Israel and Australia. Remarkably he did this on a Vespa. He also met and dined with a lot of world dignitaries.
Why did Ajala decided to embark on the travel?
Ajala's goal for the tour was reportedly to educate the American public on the progress made by his native West African country of Nigeria.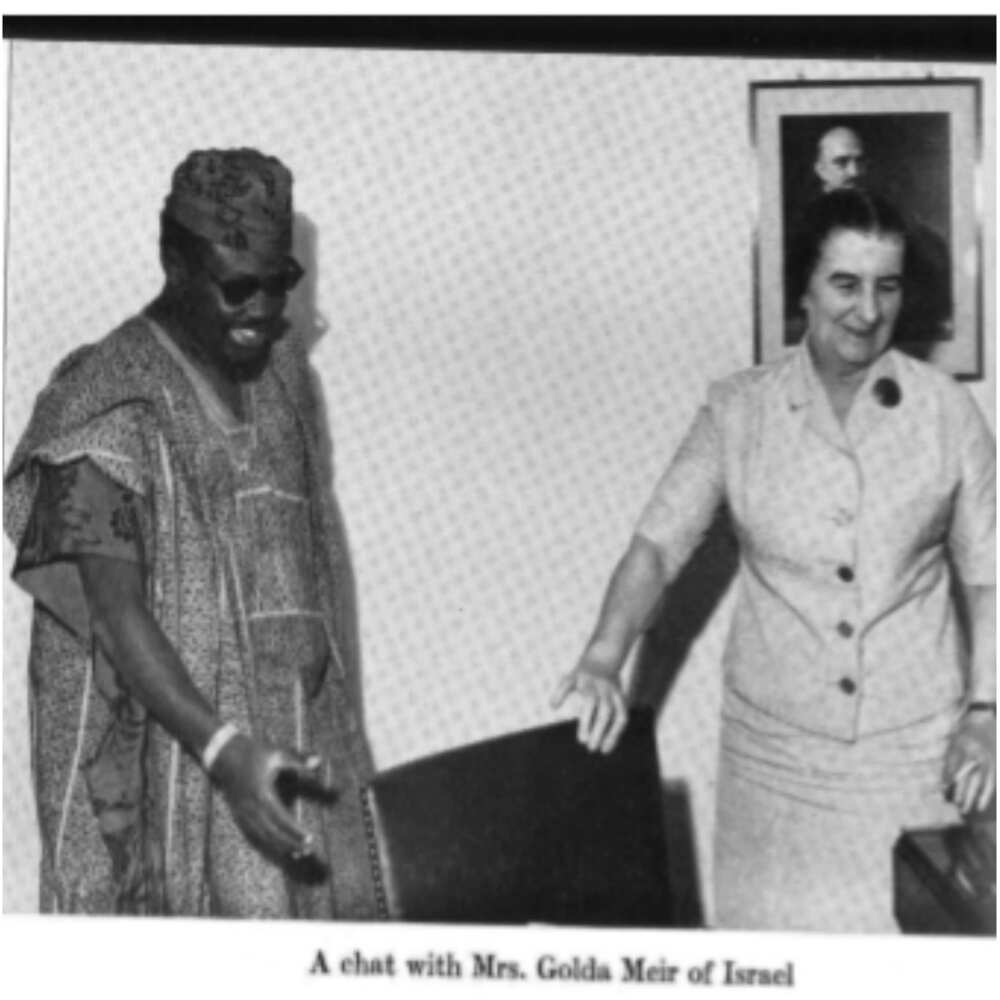 The tour included stops to deliver lectures at 11 major cities. Ajala also did his tour wearing native Nigerian costumes described as 'elaborately flowered robes with a felt-like head-dresses to match'. Ajala said the dress '..will show and prove to Americans that we do not go about nakedly in loin clothes.'
In 1972, the Nigerian music legend Chief Commander Ebenezer Obey, sang about the exploits of Ajala the Traveller in his 1972 hit album 'Board Members'.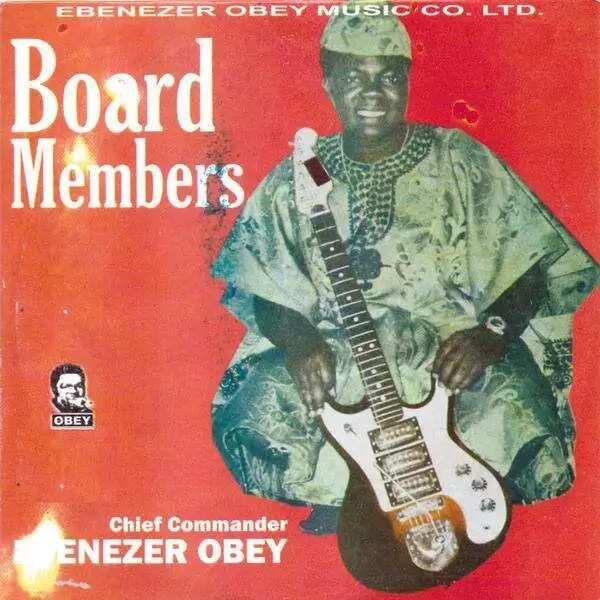 Ajala's venture into acting
Following his daring bicycle trip across the United States, Ajala's popularity escalated and he became a celebrity overnight. He landed juicy deals, endorsements and contracts. One of such was the movie contract he signed with Eagle-Lion Studios in Hollywood in August 1955, the deal involved making a series of drama and spy films with European and African backgrounds.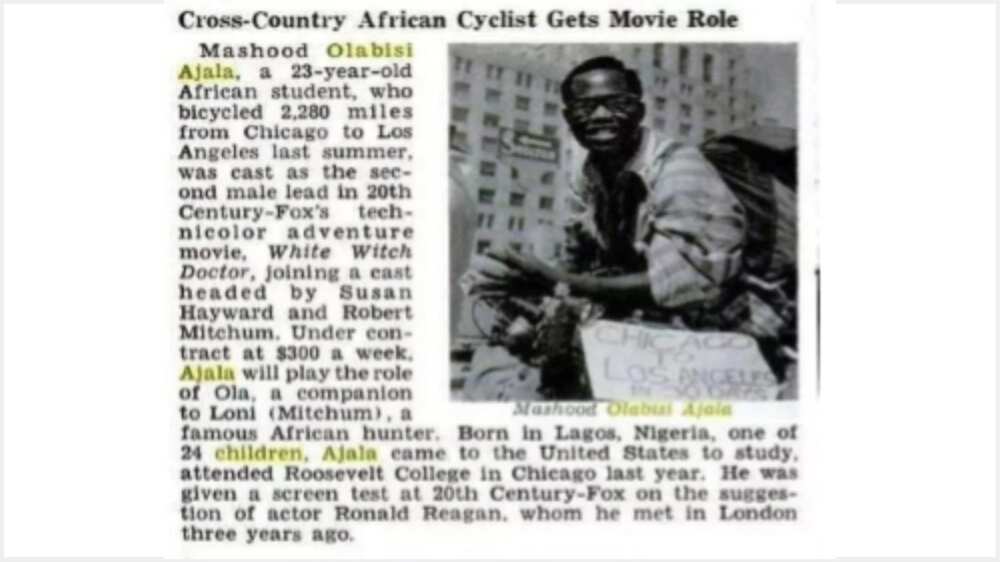 How Ajala was deported from the US
In March 1953, the police of Beverly Hills, California arrested and jailed Ajala on three felony charges. He was accused on one count of forgery, two grand theft and three, worthless cheque charges.
He was also, at a point, sued by a former Chicago nurse for refusing to accept paternity of his child.
He was eventually found guilty of forgery and deported from the United States of America, he was aged 24, an exchange student from Africa and an actor.
However, Ajala was not reportedly deported solely because of the grand theft charges but also because of his failure to maintain his studies at the Santa Monica Junior College, thus invalidating his visa.
PAY ATTENTION: Get the Latest Nigerian News Anywhere 24/7. Spend less on the Internet!
The end
Ajala Travel was said to be in love with ladies too. He reportedly had several wives and children in some of the countries he visited.
Till his last years on earth and amidst daunting challenges, the adventurous spirit never left Ajala. In October 1997, few years before his death, he was planning another round of global voyage.
On the 2nd of February, 1999, Ajala Travel died abject poverty and scalding penury.
On February 2, 1999, Moshood Adisa Olabisi Ajala alias Ajala Travel, died , in abject poverty; unsung and unrecognized, despite his fame.
Top 5 unusual facts about the Yoruba (you had no idea about!) - on Legit.ng TV
Source: Legit.ng