Biafra: Igbo elites have woken from their slumber - Nnamdi Kanu
- The leader of the Indigenous People of Biafra (IPOB), Nnamdi Kanu, is a thorn in the flesh of the Igbo elites
- Kanu has used unconventional means for his group's agitation for the Biafra Republic
- The IPOB leader says his campaign has now woken the Igbo elites from their slumber
IPOB leader, Nnamdi Kanu, has said the mode of his group's campaign has woken Igbo elites from their slumber.
Kanu made the comment on Monday, September 4 in Owerri, the Imo state capital, after he met with the Alaigbo Development Foundation (ADF), as part of his consultations towards the realization for Biafra Republic.
According to Vanguard, ADF delegation at the meeting was led by its national president, Professor Uzodinma Nwala, while Kanu led senior officials of IPOB to the parley.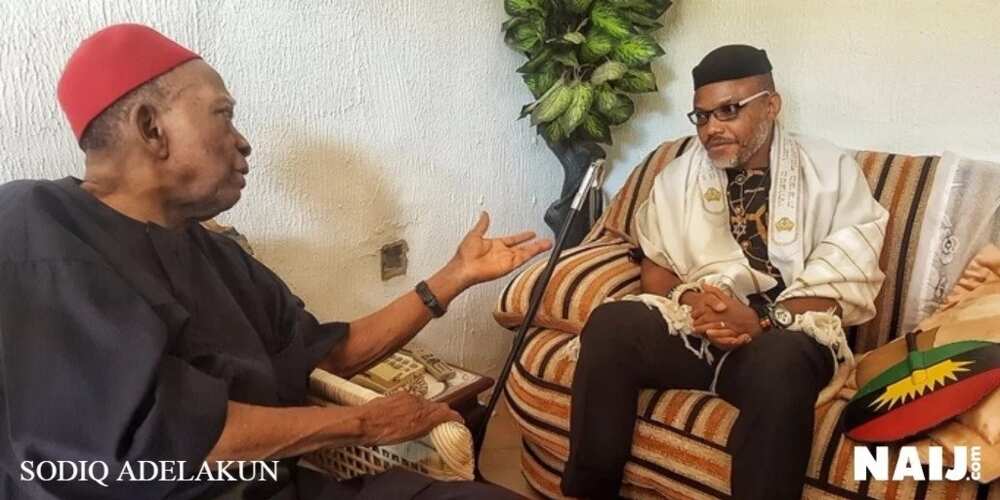 PAY ATTENTION: Read the news on Nigeria's #1 news app
Speaking to journalists after the meeting, Kanu said: "I told them that I will update them periodically on what we are doing.
"I am glad that the elite are coming on board. We are all elite, including the carpenter and the mechanic by the road side, who have understanding of the times, as long as they can make sense and articulate their viewpoints and channel them towards emancipating our people.
"Elitism is not purely about academics; it has to do with being able to articulate a sense of purpose for a people and pursuing it doggedly."
He described the meeting as "a family meeting and not for public consumption," adding that it was very fruitful.
According to him, the outcome of the meeting "will guide us in our efforts towards restoring Biafra."
Alaigbo Development Foundation is a pan-Igbo organisation composed of some accomplished Igbo professionals, academics and the intelligentsia at home and in the diaspora with interest in Igbo cause.
Meanwhile, Kanu has warned members of IPOB to desist from giving out money to the Nigeria Police Force (NPF).
Kanu also threatened to expel any member of the group who fails to heed his warning, even as he accused the NPF of being a criminal organisation, out to extort members of his group.
READ ALSO: General Effiong died a Biafran rebel - Kinsman reveals
Watch Legit.ng TV interview with Nnamdi Kanu speaking on the Biafra agitation below:
Source: Legit.ng