Best midfielders in the world
Football is a beautiful sport loved by almost everyone. People enjoy watching an exciting football game. There are players who make this possible with their amazing talents. The majority of these players are the midfielders. In this article, we have gathered for you the ten top best midfielders in the world of all time.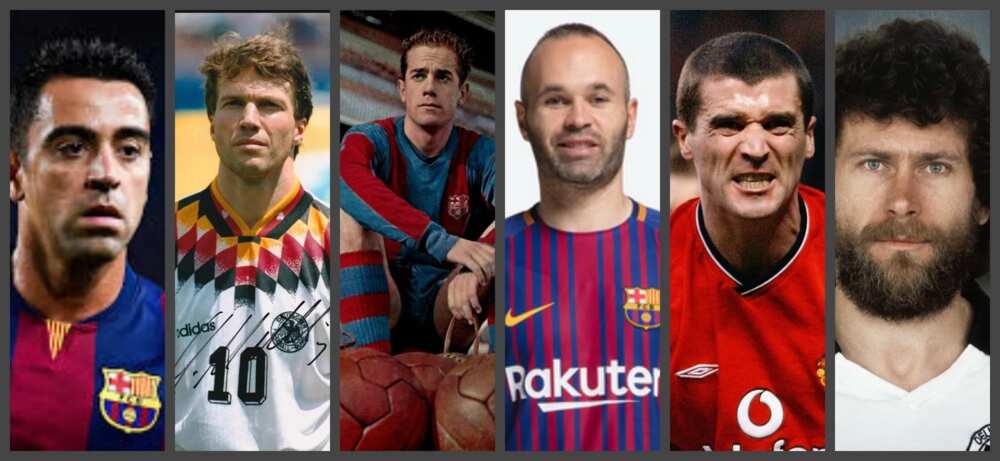 The central midfielder role in football is a very important one. The midfielders are the engines that drive a team when they are on the field. They are the link between the defenders and the attackers. When a team is in possession, they open up the opposition with their creative passes. When a team loses possession, the midfielders help to break up the play. For a football team to win a match, it needs an outstanding midfielder who has all the qualities to break down teams and also split them open.
Over the years, the footballing world has seen many great midfielders grace the sport. Some of them have done their time and retired while some are still active. Some of these great midfielders have been named the world best footballers at different points in their career.
10. Patrick Vieira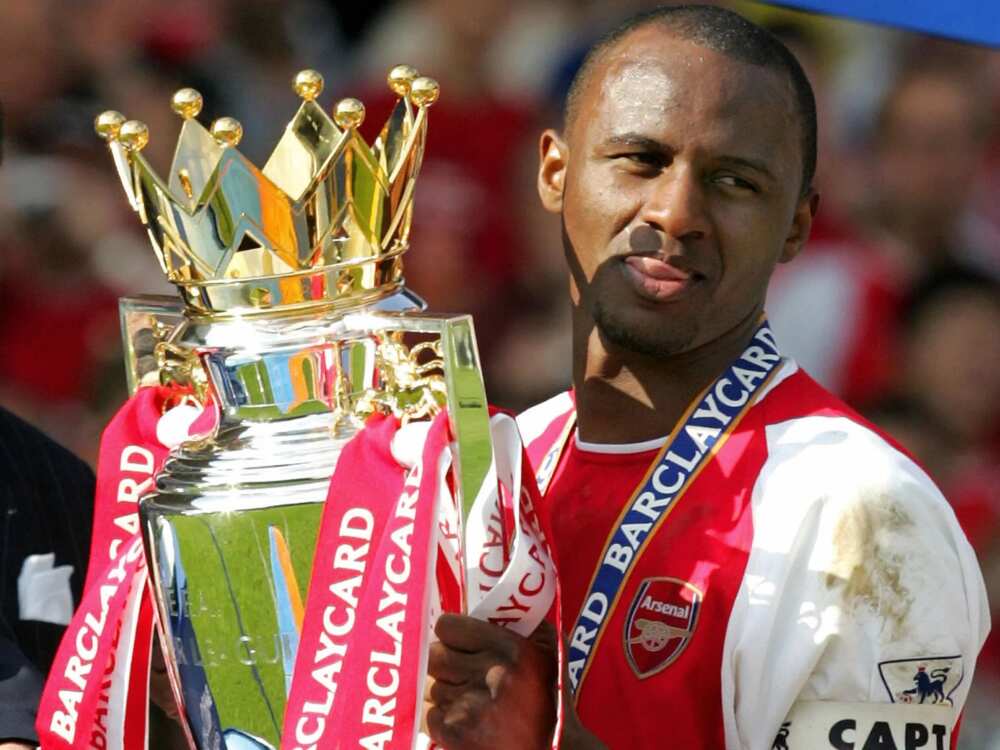 Patrick Vieira was a very dynamic midfield player. He could take the ball from the defence to the attack, and it was amazing to behold. He was the captain of the Arsenal club and they were dubbed the 'Invincibles' after they went a whole season without a loss.
During his time, very few players could beat the players, especially in the middle of the field The ability to dribble past players was natural to Vieira. He possessed an all-round excellent passing energy, good quality tackling, and determination. His height and strength coupled with the techniques and composure he possessed made him a key figure in Arsenal's game plan.
Patrick Vieira was also an excellent captain and leader of his team. He led by example. He was loved by all Arsenal fans and fitted naturally in the English Premier League. He was one of the world best players in his days. Here are some of his stats that shows how good he was:
He was capped 107 times for France.
He was named in the PFA team of the year at Arsenal for six seasons in a row.
He won three Premier League titles and four FA Cups title.
READ ALSO: Richest club in the world 2017 - Top 10
9. Didi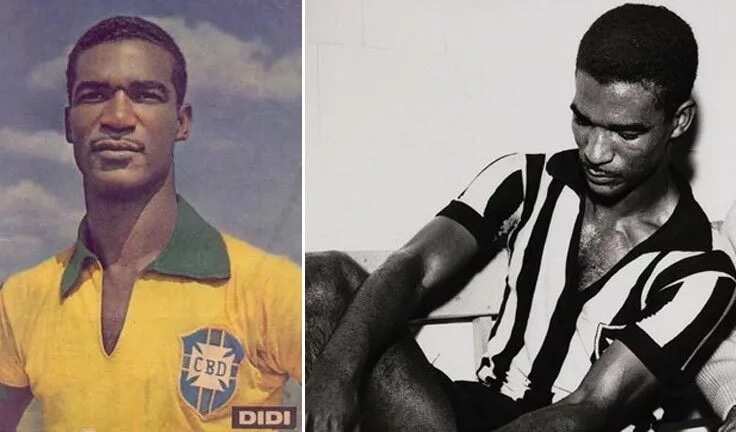 Didi is a former Brazilian International midfield player. Didi is his nickname, his real name is Waldyr Pereira. He played for Brazil in three FIFA World Cup tournaments: 1954, 1958 and 1962. He won the World cup with Brazil in 1958 and 1962. He was named the player of the tournament at the 1958 FIFA World Cup.
When people talk about Brazil World Cup wins of 1958 and 1962, most of the credits go to Garrincha and Pele. They terrorized defences, and the reason they could do so was that they had Didi behind them. His passing range was superb. His technique and stamina were excellent. He also stood out for his unique and extraordinary style of taking free-kicks. He was a specialist when it came to dead balls, and he is credited with inventing the Folha Seca (meaning dry leaf) free-kick. Some other free-kick maestros after him like Juninho and C. Ronaldo use the techniques. Didi retired from football after Brazil's triumph at the 1962 FIFA World Cup.
8. Roy Keane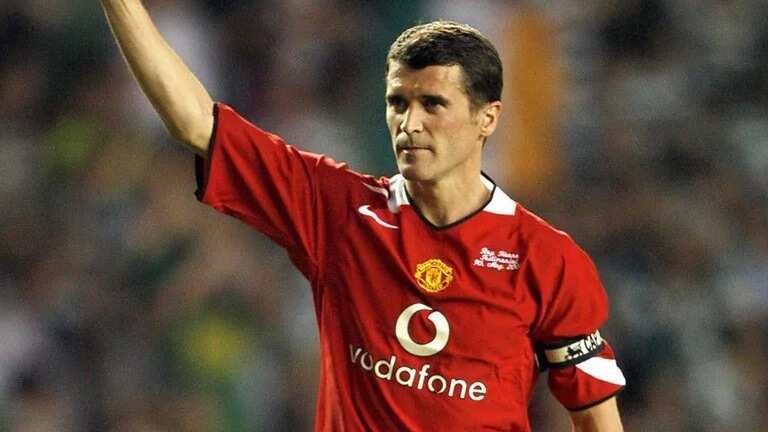 Roy Keane is a former Irish professional footballer who played for Manchester United during his career days as a footballer. The Old Trafford has witnessed many midfielders play for Manchester United. Some of them were spectacular while others were just ordinary. One of the greatest midfielders that have graced the Manchester United shirt is Roy Keane. He was a captain of Manchester United from 1997 to 2001.
He was one of the most inspiring leaders the game of football has ever witnessed. He had excellent composure on the ball. He worked tirelessly when his team was not in possession. But he was also known for his hot temper and amassed a total of 11 red cards while he was at Manchester United. However, this cannot be compared to his inspirational displays on the field which was crucial in their UEFA Champions League win in 1999.
He won seven Premier League titles, four FA Cups title and one UEFA Champions League title with Manchester United. He was named in Premier League PFA Team of the Year on five different occasions and won the FWA Footballer of the Year and the PFA Players' Player of the Year in 2000.
7. Jose Pirri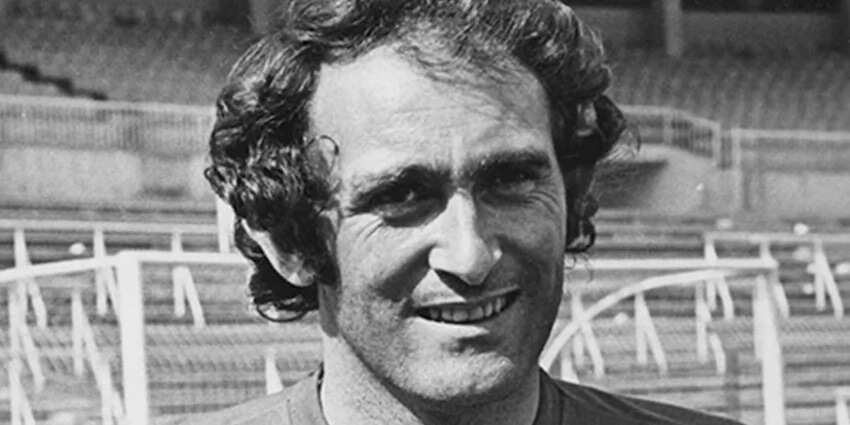 José Martínez Sánchez a.ka. Pirri is a former Spanish footballer. He moved to Real Madrid from Granada in 1964. He was at the club for fifteen years, from 1964 to 1979. He captained Real Madrid for four years. Jose Pirri won a lot of trophies during his long and successful career. Pirri in his playing career days possessed leadership skills, ferocity, and tenacity. But what made him stand out was his stamina which allowed him to contribute both the defense and the attack in a relentless manner. He had remarkable passing skills and scored many goals. His positioning and his tackling skills were top notch. He had the ability to start off attacks and also to break up plays.
Jose Pirri won ten La Liga titles, four Spanish Cups, and the European Champion Clubs' Cup with Real Madrid.
6. Paul Breitner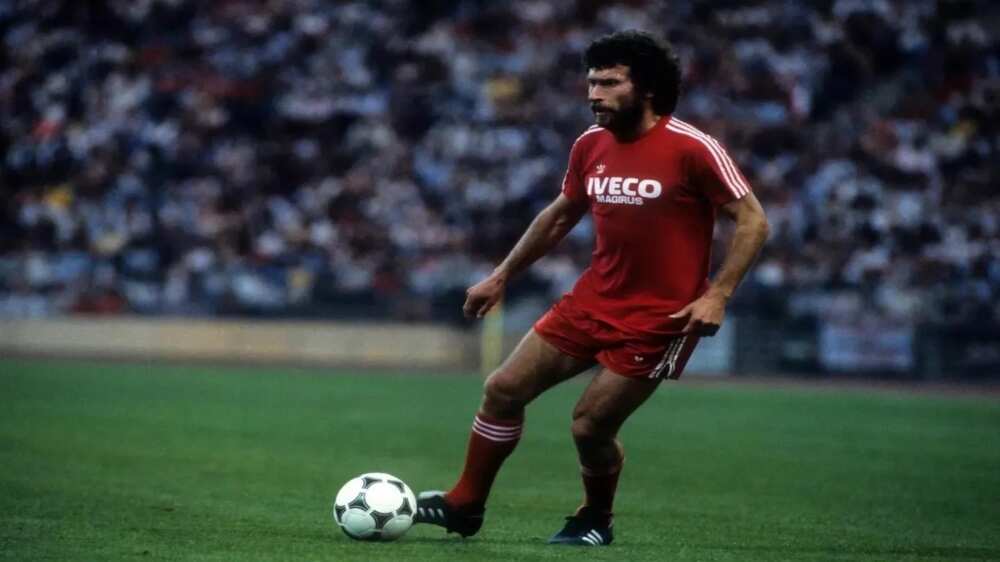 Paul Breitner is a former German International midfield player. He could play both in the midfield and in the defence. Paul Breitner is one of German's greatest and most decorated football player of all time. He was named in the FIFA World Cup All-Time Team. He played for Bayern Munich and Real Madrid. He was best known for his wonderful partnership with Karl-Heinz Rummenige when he played at Bayern Munich.
Paul Breitner was a part of the West Germany team that won the World Cup in 1974 and even scored in the final match. He also scored in the final match of the 1982 World Cup which makes him one of the four players who has scored in two World Cup finals. Paul Breitner was a very successful football player always influencing matches from the centre of the field. He dictated the flow of play with his excellent passing techniques and positioning.
Breitner won multiple Bundesliga titles, La Liga titles, FIFA World Cup and European Cup during his playing career.
5. Paul Scholes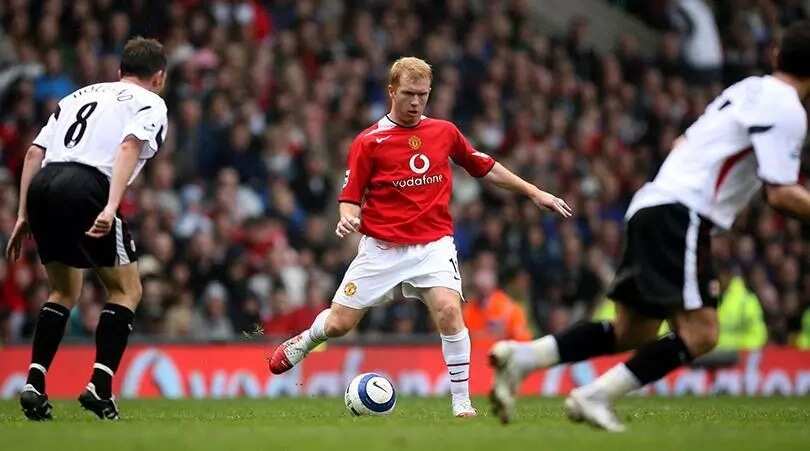 Paul Scholes is a former English International who was very renowned for his technical skills and highly regarded for his intelligent movement on and off the ball and his passing accuracy. He was also known for his ability to take powerful shots from avery long range. He was a very tenacious, well-rounded and very versatile box-to-box midfielder. He could play in any position in the midfield: defensive, play-making, and offensive roles. He had very good stamina, work-rate, vision and the ability to make dangerous attacking moves.
Paul Scholes is regarded as one of the best players in the world in the last 10-15 years. He has been praised by the likes of Edgar Davids, Guardiola, Zidane, and even Xavi. Scholes is one of the best players to have played for Manchester United and also in the Premier League. He could pull strings from the centre of the pitch and control the match with ease.
Scholes won a total number of twenty-five trophies with Manchester United which include eleven Premier League titles, and two Champions League title.
4. Andres Iniesta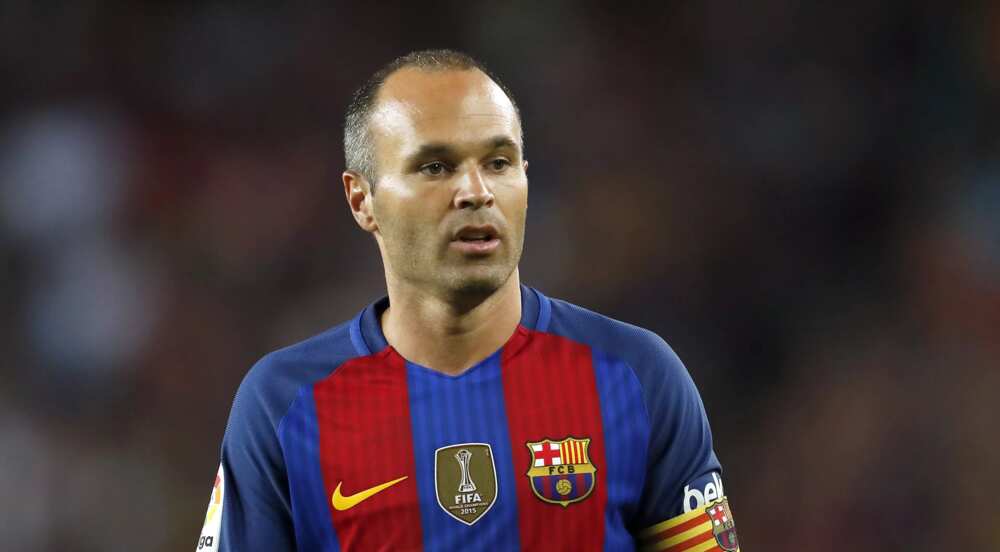 Andres Iniesta is a Spanish International who currently plays for Barcelona. He came into limelight in 2005, and since then, he has not shown any sign of slowing down. His magnificent display every season is the reason why he is regarded as one of the best midfielders of all time.
He is a midfield maestro as he always has a perfect understanding of where his team mates are on the field. He has a very high passing accuracy, create goals, set up his team mates to score, and score crucial ones himself. He is a wonderful dribbler. Andres Iniesta is a big match player. He was one of the players to have come through the Barcelona Youth system.
He has consistently been nominated for the World Best Footballer Award. Andres Iniesta won the second place after Lionel Messi in 2010 for the FIFA Ballon d'Or and the third place in 2012. He was voted the UEFA Best Player in Europe in 2012 and was named the Best Player of the 2011-12 Champions League tournament. He is one of three Barcelona players to have gotten a standing ovation from the crowd at the Bernabeu which shows how much football fans appreciate his qualities.
3. Luis Suarez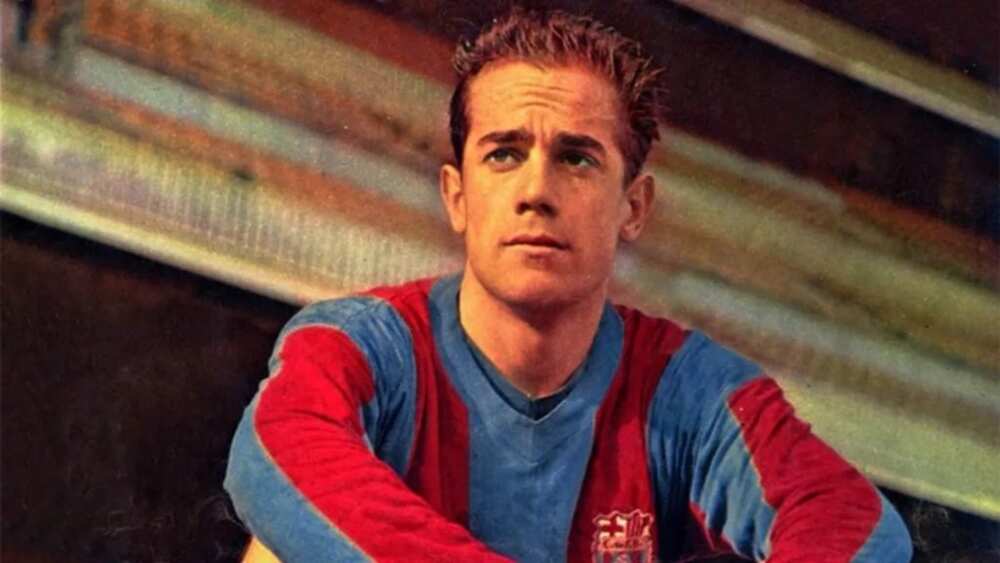 This Luis Suarez is not the popular Uruguay International forward playing for Barcelona. This Luis Suarez is a former Spanish footballer who also played for Barcelona. He is one of the best players to have ever graced the sport of football. He was an elegant midfielder who controlled and dictated the flow of the game from the midfield for Barcelona in the 1960s. He was the first Spanish player to be named Ballon d'Or winner.
He is widely regarded as the best Spanish player of his time. He was nicknamed by fans as 'El Arquitecto' which means The Architect. He was known for his passing accuracy and explosive shots. He has had a good scoring record and was part of the Spanish Team that won the Euros in 1964. Luis Suarez was a very versatile player who excelled in a deep-lying playmaker role during his spell at Barcelona. He scored and assisted a lot of important goals for Barcelona.
He won two La Liga titles, two Copa Del Rey titles, and two Fair Cups. He spent six years at Barcelona before he transferred to Inter Milan in 1961 in a move that made him the most expensive footballer at the time.
2. Xavi Hernandez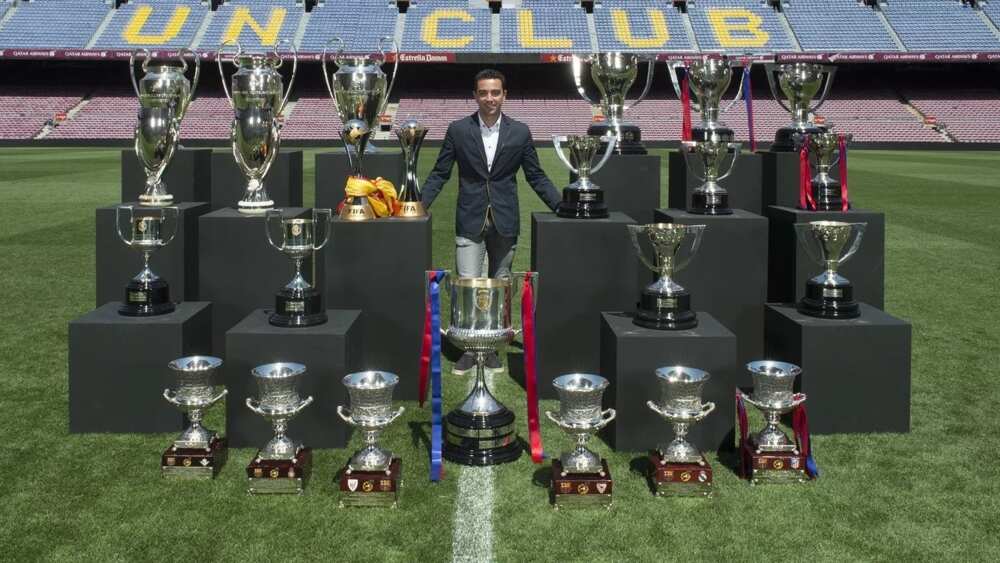 Xavi Hernandez is regarded by many as the greatest Spanish player ever. He is one of the best midfielders of all time. He won all the major trophies for the club and country during his playing career. He has set himself up among the all-time footballing great. Xavi Hernandez is also one of the great Barcelona players to have come through the Barcelona Youth System.
Xavi's ability to pull the strings and control the game from the midfield earned him the name 'The puppet Master'. He was known for his amazing positioning and could pick the right pass at the right time. He had an amazing vision and understanding of the game, pinpoint passing accuracy and a world class ball control ability. All these made him a crucial member of both the all-conquering Pep Guardiola's Barcelona team and the Spanish National team that won the Euros twice and the FIFA World Cup. Xavi made more than one hundred eighty assists in his playing career.
Based on statistics, he is the most successful Spanish player ever. He won eight La Liga titles, three Copa Del Rey titles, four UEFA Champions League titles with Barcelona. He also won the FIFA World Cup 2010 and the Euros in 2008 and 2012 with Spain. He is undoubtedly one of the greatest players the football world has ever seen.
1. Lothar Matthaus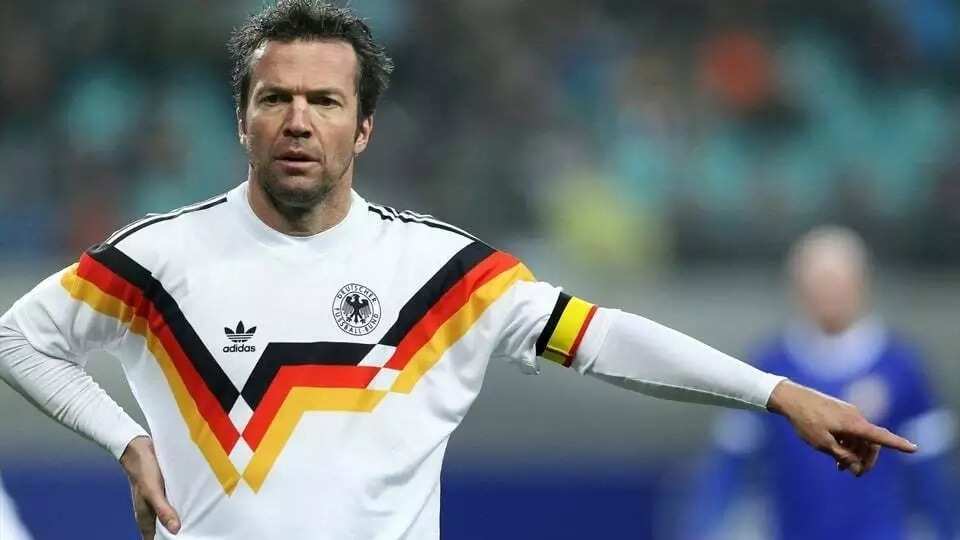 Lothar Matthaus is a former German football player and one of the greatest midfielders ever. He was very successful both at the club and country levels. He could play both as a midfielder and also as a sweeper. He is the first German football player to ever win the FIFA World Best Player of the year in 1991 and still the only German to have won it.
Matthaus appeared for his country in five FIFA World Cup tournaments and holds the record for the highest match appearances in the World Cup by a single player. He had a great impact on the game and was highly respected by his oppositions. Maradona wrote about him in his book, Yo soy el Diego, commenting that Matthaus is the best rival he had ever played against. Lothar Matthaus had the ability to create chances and break-up opposition play with equal ease. His positioning, perceptive passing, and powerful shooting made him one of the most talented midfielders to have ever played the sport.
We have ranked this ten as the top best midfielders of all time. We believe that no matter your opinion, you will agree that they are some of the finest midfielders the football world has witnessed. Please note that we have only ranked players who played in a central midfield role and not in an attacking midfield position.
READ ALSO: Richest sports man in Nigeria 2017
See the top 10 midfielders in the premier league of all time.
Source: Legit.ng