Top 10 finest footballers in the world
They are celebrated, wealthy, strong, popular, and handsome. I am talking about some of the most famous soccer players from different corners of the planet. Do you want to see our top 10 finest footballers in the world list? We are sure that every person (even if he or she doesn't watch football) knows at least one of them. I bet you have already guessed his name.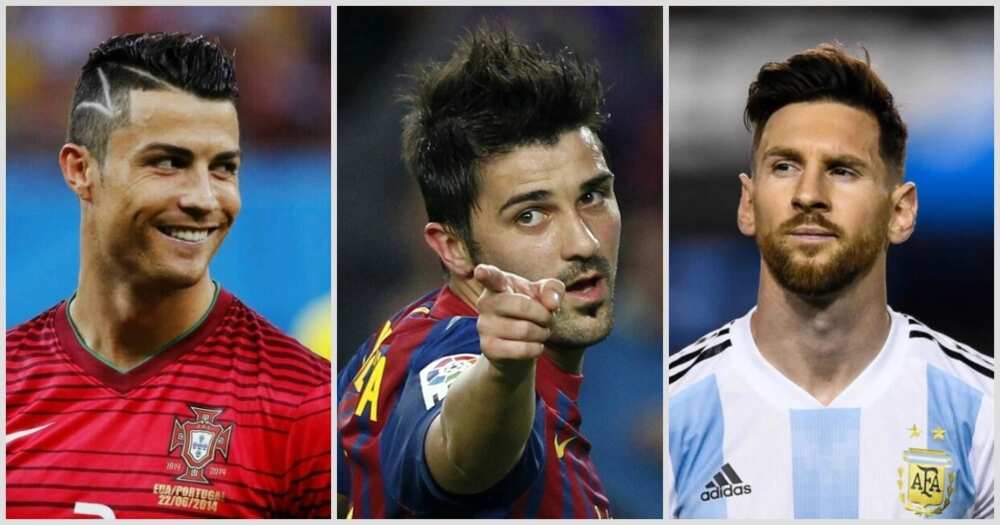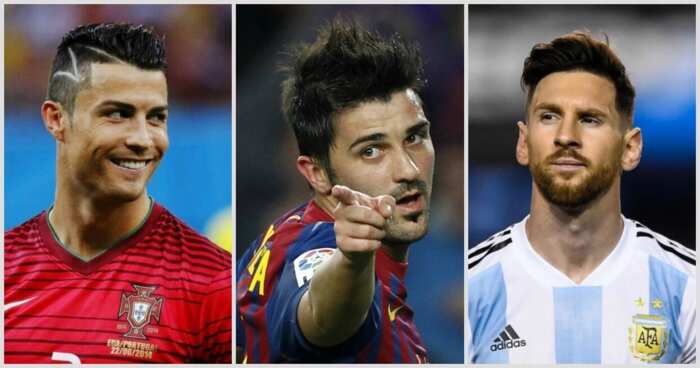 Finest footballer
Football is a popular sport, millions of people from Nigeria, other African countries, Europe, Asia, Australia, America watch how soccer players compete for the World Cup and other famous competitions.
Who is the finest footballer in 2018?
READ ALSO: Goal 50: annual award for the world's 50 best footballers
Top 10 handsome footballers in the world
1. Cristiano Ronaldo
He is definitely number 1. Who hasn't heard about Cristiano Ronaldo? This footballer from Portugal has conquered the whole planet.
Besides being a young, handsome, and wealthy man, he is also one of the most followed soccer players in the world. As soon as Cristiano announced he was changing the Real Madrid club for Juventus in 2018, over a million people unfollowed Real's Twitter page and started to follow the new club instead.
2. Robin Van Persie
Have you heard of 'flying Dutchman?' This is how many fans call their idol, Robin Van Persie. This footballer looks really good, so he deserves being on our list.
The popular striker comes from the Netherlands. He is good at scoring goals, and his popularity along with fine appearance makes him a face of famous brands.
3. David Villa
Spanish blood, handsome face, finest footballer. These words describe David Villa really great. This Spanish striker is great in the field, and his elegant style makes him recognized and loved in the world of football.
His goals are always impressive. Citizens of Spain and soccer fans from other countries look at David as at their idol. They love him for his fortune and hardworking personality.
4. Fernando Torres
Spanish footballers are really handsome. Many of them are in our selection, but each man is the finest footballer and deserves being on this list. If you are a big fan of the world football you know Fernando as El Nino. This is his 'footballer' nickname.
Being tall, strong and good-looking, Fernando is a great striker who is interesting to observe during matches. His photos are also impressive, no wonder so many women are in love with him.
5. Mario Gotze
This handsome German footballer is well known by soccer fans from different parts of the globe. Beautiful eyes, great shape, muscles, and amazing field skills (being a star midfielder makes you strong and popular) makes Mario an idol for many young girls and ladies.
We are sure that he has many fans who have his photograph saved as desktop wallpaper.
6. Ricardo Kaka
Brazilian men are also handsome. One of them, Ricardo Kaka, is included in our selection of the top 10 finest footballers and you surely understand why, once you look at his face.
Every lady would be happy to win his heart because this midfielder is attractive, strong, and successful. By the way, he is so good that he was named the 2007's World Soccer Player (FIFA). Isn't it awesome?
7. Cesc Fabregas
This Spanish footballer is one of the top 10 finest footballers in the world. He has a great taste, nice style, and attractive appearance (especially, the muscles).
Originating from Spain, Cesc is an incredible midfielder. Women and men love watching World Cup matches, and this handsome soccer player often appears at these championships.
8. Iker Casillas
This is another fine Spanish soccer player who is loved by millions of fans and is believed to be one of the most handsome men in the world football.
Iker has his unique style. He dresses up really awesome since he follows the trends and fashion. Being a goalkeeper, he is also a fantastic team captain. Playing for Porto (until 2015, he was with Real Madrid), he might be not as popular as Cristiano Ronaldo, but he is still good-looking and has millions of fans.
READ ALSO: Who is the richest footballer in the world?
9. Lionel Messi
Footballers from Argentina are also good-looking. For example, Lionel Messi is not just popular, he is a handsome soccer player who stays at forward on the field. Women are in love with his appearance and look.
Successful men are always attractive, but the most handsome footballers are like celebrities. Their names are recognized by millions, thus they are special like Messi (he has over 96 million followers on Instagram) and other great football players. When you hear 'Messi' you know who he is even if you don't watch soccer.
10. Gerard Pique
This famous Spanish man is also one of the most handsome footballers on the globe. Representing Spain, he plays for his national team and Barcelona club.
World football has many interesting faces, and Gerard as a defender (he is center-back) is recognized by millions of housekeepers and many men who are fond of soccer and love cheering for their favorite teams in a circle of other fans.
Everyone has a unique taste; that is why it is so hard to say who is the most handsome footballer in the whole world. Our list of top 10 finest footballer idols should suit the diversification of tastes and likes, so we believe each one of you will find your most handsome footballer in this selection.
Just in case you don't see your most good-looking star on this list, share his name in the comments below. We appreciate your opinion.
READ ALSO: Messi vs Ronaldo vs Neymar: who is the best player?
Source: Legit.ng