INVESTIGATION: How lab tests revealed poisonous substances in Lagos 'pure' sachet water
Editor's note: Poor or unhygienic drinking water has been a great problem to most parts of Nigeria. In order to get clean drinking water, many people resort to buying 'pure' water but ironically the 'pure' water poses great danger to their health.
Investigative journalist, Hannah Ojo reports on the result of the first 15 laboratory-tested sachet water samples randomly selected in the five divisions of Lagos.
From the presence of pathogenic bacteria to coliform, high microbial levels, acidity and objectionable odour, the hygiene and safety status of many of the brands of 'pure water' consumed by majority of Lagosians are questionable.
Lagosians may be killing themselves in installment through the sachet water they drink, investigation has revealed. For three months, 30 sachet water brands popularly known as 'pure water' were randomly selected in the five divisions of Lagos.
A laboratory test contracted to the University of Lagos Consult Limited examined the physical, chemical and microbiological characteristics of each sample, which were coded to conceal their brand names.
READ ALSO: Buhari's return: APC bigwigs allegedly turn to PDP for 2019 presidential ticket
A registered public analyst and chartered chemist from the University of Lagos' chemistry department issued an analyst's certificate on each sample, in accordance with the Institute of Public Analysts of Nigeria (IPAN). The test ran from the month of May to August.
Out of the first batch of 15 sachet water samples analysed, only six met the recommended World Health Organisation (WHO) standard on potable water. The other nine showed high level of contaminants ranging from the presence of pathogenic bacteria and faecal coliform to high microbial levels, objectionable odour and low pH (acidity), which falls short of the minimum WHO pH parameter of 6.50.
The names of the tested sachet water are: Maja Water, Makus Water, Unilag Water, Haars Premium Water, Skord Water, Le Harmonious Water, David's Key, Fizco Water, Dis Day Water, Clock Water, Austin Water, Vic Water, Ray Queen Water, Troven Water and Vida water.
Interpreting the health implications of the contaminants found in the tested water samples, a professor of Chemical Pathology at the Lagos State University Teaching Hospital (LASUTH), Prof Oluwole Adedeji, stated that low pH in water represents acidity.
"pH is the concentration of hydrogen iron which represents acidity. The neutral pH is seven. Anything below seven is acidic. Anything above seven is basic and denotes alkalinity," he said.
The consultant also described odour as a product of metabolism which shows some form of decay with grave implications for the human body if ingested through contaminated water.
Asked about the health implications of coliforms and other forms of pathogenic bacteria, he offered that the coliform count in potable water should not go beyond a certain percentage.
"Our intestines have what is called the resident coliform. But when immunity is reduced, they become a problem. Adding more from outside means exposing the body to higher risks of toxic effects, especially when a person is stressed," he said.
At risk of diseases and terminal illnesses
Beyond water borne diseases such as typhoid, diarrhoea, cholera and hepatitis, drinking contaminated packaged water can also expose the body to carcinogenic agents. This happens when the polythene bag used to package the water is of low quality whilst being exposed to sunlight or stored in an unwholesome condition.
Findings revealed that the drive for profit often makes many sachet water manufacturers patronise low quality polythene bags, which causes dissolution of chemical into the water.
"Most of these bags have pores. They have holes which may not be visible to the human eye, which allow some elements in the environment to diffuse gradually into the water. The chemicals can be very carcinogenic," Prof Adedeji intoned as he connects poorly packaged sachet water with cancer and other terminal illnesses associated with the lungs, liver and the heart.
With the acute water shortage in Lagos owing to the inability of the state's Water Corporation to supply potable water to majority of residents, there is a high reliance on sachet water as a means of potable drinking water by over 70 per cent of the citizens.
In a twitter poll conducted by the reporter on potable drinking water source for Lagosians, 44 per cent of respondents chose sachet water as their source of potable water while 39 per cent chose boreholes.
Another 12 per cent voted bottled water and the lowest vote stands at 6 per cent, representing those who source potable water from the Lagos State Water Corporation.
Majority of sachet water producers interviewed source their water from boreholes. Although there are strident measures laid down by regulatory agencies such as the National Agency for Food and Drug Administration and Control (NAFDAC), and the Lagos State Water Regulatory Commission; enforcement to these standards is not often adhered to, findings have revealed.
Kabir Ahmed, the chairman of the Lagos State Water Regulatory Commission, an agency responsible for regulating water supply and wastewater management, told the reporter that indiscriminate sinking of boreholes and wells have negatively impacted on the quality of ground water in Lagos.
Ahmed said: "Underground, we have four aquifers of water. As we speak, the topmost aquifer has been polluted by human activities.
"As recent as 25 years ago, we used to fetch water from shallow wells in Lagos to drink. Now, water from that depth of 0-12m is not drinkable because it is practically impure."
Lamenting the fact that many borehole drillers in the state use substandard equipment which drips oil into the underground water, Ahmed further stated that sinking of soak-away and pit latrines close to water source is responsible for the presence of coliform in some water sources across the state.
Cheap death channel
At N10 per sachet and N150 for 20 pieces, 'pure' water in Lagos appears a cheaper alternative to bottled water. A 75 cl bottled water sells between N50 and N100, depending on the brand. However, low costing sachet water might be bait to a cheap death channel.
Data exclusively obtained by the reporter from the Lagos State Ministry of Health, showing the prevalence of water-borne diseases such as diarrhea, typhoid and cholera in the 25 general hospitals in Lagos, revealed higher rates of water-borne diseases in areas of the state faced with the most pressing cases of inadequate Water Hygiene and Sanitation (WASH) facilities. Such areas include Badagry, Ikorodu, Epe and Orile Agege.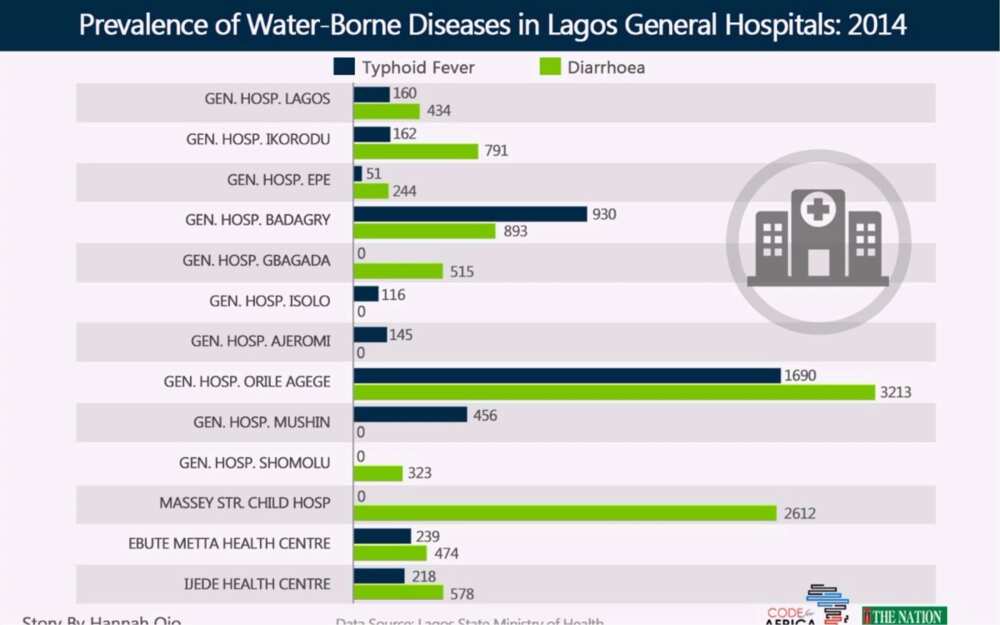 In 2014, General Hospital Orile Agege recorded a total of 1,690 cases of typhoid fever and 3,213 cases of diarrhoea. The ijede Health Centre recorded the highest cases of cholera with 48, followed by General Hospital Epe with 15 cases.
PAY ATTENTION: Read the news on Nigeria's #1 news app
Also, in the year under review, The Massey Children Hospital also recorded 2,612 cases of diarrhoea while the General Hospital, Epe treated 893 patients out of a total diarrhoea prevalence rate of 12,413 in 2014. Diarrhoea prevalence rate in Nigeria, put at 18.8 per cent, is one of the worst in sub-Sahara Africa.
Although data from 2015 and 2016 showed a slight reduction in the prevalence of water borne diseases in the state, local government areas such as Ikorodu, Epe and Badagry recorded highest prevalence rates and would be published in the second part of this report.
Meanwhile, Legit.ng had previously reported that a photo showed two men filling up dispensable water bottles from water in a stream.
The views expressed in this article are the author's own and do not necessarily represent the editorial policy of Legit.ng.
Your own opinion articles are welcome at info@corp.legit.ng — drop an email telling us what you want to write about and why. More details in Legit.ng's step-by-step guide for guest contributors.
We're ready to trade your news for our money: submit news and photo reports from your area using our Citizen Journalism App.
Contact us if you have any feedback, suggestions, complaints or compliments. We are also available on Facebook and Twitter. Subscribe to Legit.ng Opinion page!
Watch this Legit.ng video and see the way Buhari's return was recently celebrated:
Source: Legit.ng