UPDATE: Police, security volunteers nab 100 suspected Badoo cult members in Ikorodu
- The Nigeria Police Force recently decided to collaborate with local volunteers including the Oodua Peoples Congress (OPC)
- Following the raid that began on Saturday, July 1, the police said 15 suspected cult members were arrested
- The numbers of arrested cult members have however increased to 100 by Sunday morning
100 members of the dreaded Badoo cult gang operating in Ikorodu area of Lagos state have been arrested by Sunday morning of July 3.
Confirming the operation where 40 police and RRS vehicles were used, the Public Relations Officer of Lagos state police command, Olarinde Famous–Cole, said the state is prepared to rid Lagos state of the criminal activities of Badoo cult members.
"We can confirm the arrest of 100 suspected members of the dreaded cult group, Badoo and they are helping with ongoing investigation into the activities of the gang," said Mr. Famous-Cole, an Assistant Superintendent of Police.
"Government is on top of the situation and we like to use this medium to caution the people to desist from jungle justice.
"We also like to assure residents that they are free to go about their normal activities without let or hindrance, as the police and other security agencies in the State are poised to make the State uncomfortable and hot for criminal elements to perpetrate their nefarious activities," Mr. Famous–Cole said.
Legit.ng had earlier reported that fifteen suspected Badoo cult members were arrested days after the Oodua Peoples Congress (OPC) agreed to support the police in riding the Ikorodu area of Lagos of the dreaded killers.
Legit.ng learnt that apart from the OPC, other organisations including local vigilantes decided to join the war against the cultists.
READ ALSO: Biafra agitation: Nnamdi Kanu is wasting his time - Presidency
A statement from the police obtained by Legit.ng said that the operation, which started in the morning of Saturday, July 1, witnessed the movement of a combined team of police officers drawn from Lagos command, the Rapid Response Squad (RSS) and led by deputy commissioner of police, operations, Mr Imohimi Edgal.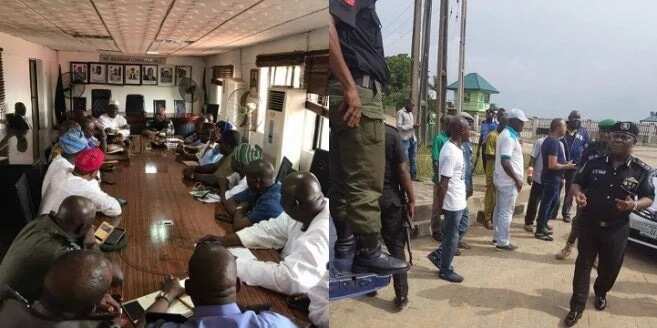 Also involved in the exercise were the Commander, Rapid Response Squad, ACP Olatunji Disu, DPO, Ikorodu among other top police officers.
The team combed every street and arrested the suspects.
Some of the areas raided include Ikorodu, Ibeshe, Ita Maja, Ijede, Ipakodo and environs.
PAY ATTENTION: Read the news on Nigeria's #1 new app
"Today's exercise was a follow up to a meeting with the factional leaders of Odua Peoples' Congress, Chief Gani Adams, and Onyabo held yesterday.
"Over 40 police and RRS vehicles are believed to have been used in the operations," the statement said.
The public relations officer of the Lagos state police command, ASP Olarinde Famous-Cole, said the exercise is continuous.
Seemingly overwhelmed by the activities of the Badoo cult group that has taken over the Ikorodu area of Lagos, top officers of the Nigeria Police Force have met with the Oodua Peoples Congress (OPC).
The meeting was to fashion out the best ways to curb the attacks by these cult members with a trademark of killing their victims with grinding stones or pestles.
Watch this video of kidnapper Evans' home in Lagos:
Source: Legit.ng