There is no problem impossible for God to solve - Pastor Adeboye
- The general overseer of the Redeemed Christian Church of God, Pastor Enoch Adeboye, urges Nigerians not to lose hope in God
- Pastor Adeboye calls on Nigerians to maintain a peaceful disposition towards one another, no matter the situation they find themselves
Pastor Enoch Adeboye has urged Christians in the country not to lose hope but to believe that there is no problem impossible for God to solve.
READ ALSO: Buhari is alive in London - Presidency debunks death rumour
The general overseer of the Redeemed Christian Church of God (Worldwide) gave the admonition on Sunday, May 14, in Jos, at the RCCG inter-denominational service held at Kassa in Barkin Ladi Local Government Area of Plateau State, where he rounded up the RCCG 2017 Northern Ministers and Workers Conference, with the theme, "The Almighty."
According to the Punch, the cleric also urged Nigerians to maintain a peaceful disposition towards one another, no matter the situation they find themselves, saying it was only through such acts that their prayers would be answered.
Adeboye's message was taken from the Book of Genesis 17:1-10.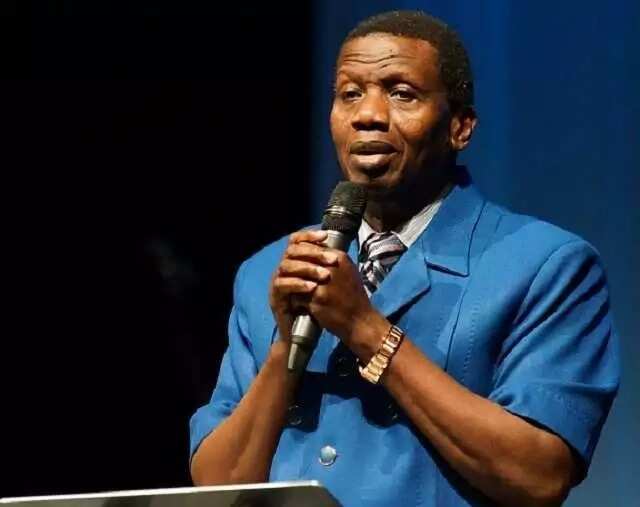 He said: "Know that there is a God who is the Almighty; hide nothing from Him no matter the situation but put your trust in Him and the Almighty will be available to you. Though you have no one to help, the Almighty will help, remember that He knows all."
Meanwhile, some Northern clerics have urged Nigerians to expect great abundance under the leadership of President Muhammadu Buhari.
READ ALSO: Buhari's top aide in trouble as plot to stop Osinbajo from acting revealed
The religious leaders under the aegis of the Northern Interfaith and Religious Organization for Peace urged Nigerians not to be deterred by President Buhari's health condition.
The group's national coordinator Bishop Musa Fomson while speaking during a special prayer session in Abuja on Saturday, May 13, assured that the president will bounce back and continue "the job he has started in Nigeria."
Fomson said there were revelations to the anointed religious leaders during the meeting that Nigerian will be great
In the video below, legendary Nigerian actor, Fadeyi Oloro, has told Legit.ng that there are possibilities that he will soon become a pastor.
Source: Legit.ng