President Buhari appoints advisers to help set up a national airline
- President Muhammadu Buhari appoints 6 new advisers
- The advisers would help in setting up the national airline and develop aviation infrastructure
- N1.52 billion ($4.99 million) has been set aside for the project
President Muhammadu Buhari's administration has set up a committee and appointed six advisers to help with the set up of national airlines and develop aviation infrastructure.
Legit.ng gathered that the Minister of State for Aviation, Hadi Sirika, made the announcement after the Federal Executive Council meeting on May 3.
Sirika said a group of six firms including German carrier Lufthansa would advise the government on setting up an airline, an aviation leasing company and a maintenance hanger, and on creating concessions to run the country's airports.
READ ALSO: UK police begins investigation on the murder of Nigerian man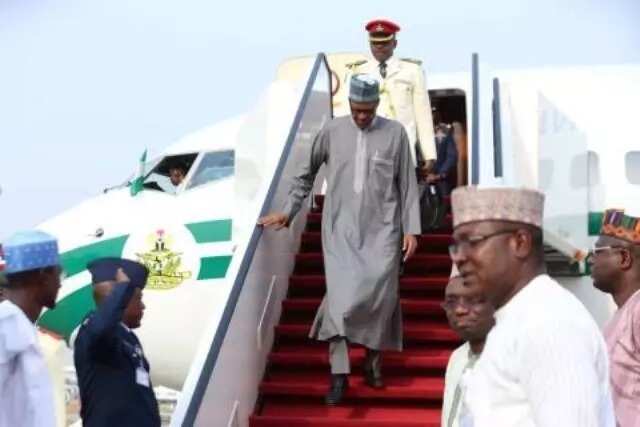 Sirika said the cabinet meeting chaired by Vice-President Yemi Osinbajo had approved N1.52 billion ($4.99 million) of funding for the project, Nigeria Bulletin reports.
Legit.ng recall that President Muhammadu Buhari, who promised a national airline when campaigning for election, did not attend the weekly meeting, fuelling concerns about the state of his health.
An APC transition paper seen by Reuters in 2015 had proposed merging a dozen debt-laden airlines on the books of state-owned "bad bank" Asset Management Corporation of Nigeria (AMCON) into a single carrier that would partner with a global airline to serve the West and Central African region.
READ ALSO: BREAKING: 9 soldiers, 40 Boko Haram members killed at Lake Chad
The single carrier would include Nigeria's biggest airline, Arik Air, which AMCON took over in February.
AMCON has said it has no plans to convert Arik into a national carrier and that the government has no interest in doing so other than to ensure that the airline continues to fly.
Meanwhile, President Muhammadu Buhari has made his first public appearance in two weeks as he is currently attending Friday's Juma'at service.
Buhari is joined by the Attorney General of the Federation, Abubakar Malami, the National Security Adviser, Mohammed Babagana Monguno, and other officials at Friday's Juma'at service.
Legit.ng can report that since he attended Juma'at prayer at the Aso Villa in Abuja on Friday, April 21, Buhari has not made any public appearance.
Watch this Legit.ng video of Nigerian Air force officials talking about the operations on Boko Haram.
Source: Legit.ng