- The House of Representatives wants the FG to give Kogi, Enugu, Anambra oil producing states status
- Representatives of the three states say the government is aware that oil and gas deposits have been found in commercial quantities in Anambra Basin
- The call by the House comes barely four months after the Kogi state House of Assembly urged the FG to accord Kogi the status of an oil producing state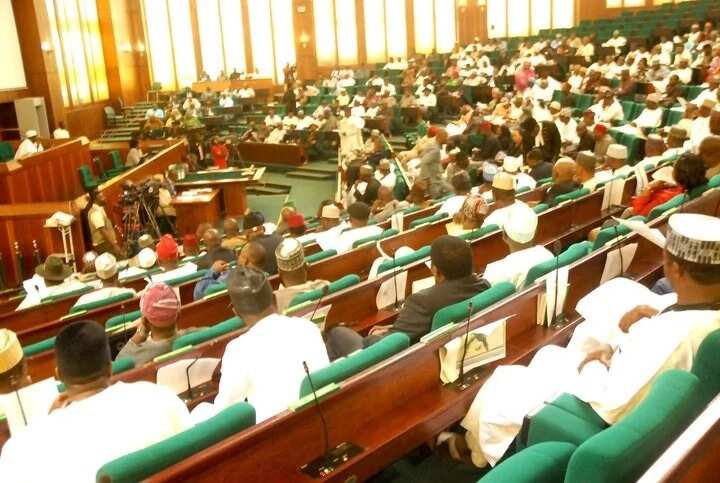 The House of Representatives has adopted a resolution calling on the federal government to declare Kogi, Enugu and Anambra as oil producing states.
READ ALSO: ND militants warn Osinbajo for favouring only Ijaw people
The resolution was adopted on Thursday, March 9, following of a motion jointly moved by Emmanuel Egwu, Tony Nwoye and Patrick Asadu from the three states respectively.
According to Premium times, Egwu who spoke on the behalf of the three states said the government was aware that oil and gas deposits have been found in commercial quantities in Anambra Basin.
He said: "We are aware that the failure to optimally explore this already established huge deposits in the Anambra Basin which would generate social and economic activities in the Basin has caused disaffection and crisis across those bordering States and occasionally led to bloodshed amongst citizens in the border corridors, where this oil is in high commercial quantity.
READ ALSO: BREAKING: Senate threatens to sack Customs boss for flouting its order on duties for old vehicles
"Between 1952 and 1986, three companies, namely; Shell BP (now Shell Petroleum Development Company (SPDC), Elf (now Total Fina Elf) and Agip Energy had dug 25 exploration wells in this Basin but abandoned them due to the Government policy then that these deposits are to be for strategic reserve."
Egwu said the lawmakers believe that the declaration of these states as oil producing states will not in any way jeopardise the on-going field tracing and provisional boundary demarcation being carried out by National Boundary Commission among Anambra, Enugu and Kogi States, but will rather aid in determining the percentage of derivation accruable to the three states.
The call by the House is coming barely four months after the Kogi State House of Assembly urged the Federal Government to accord Kogi the status of an oil producing state.
Meanwhile, Nigeria's ailing economy might receive a much needed boon as a new oil reserve which after being estimated is said to be able to generate upwards of N3 trillion for the country.
The ExxonMobil Corporation discovered the oil reserve in last October. With about one billion barrels of oil in the Owowo field, offshore Nigeria, the reserve is capable of solving some of Nigeria's financial troubles.
According to Leadership, barely a week after ExxonMobil sold its downstream subsidiary, it announced the discovery of the oil field.
The Owowo oil field is located in southern Bayelsa state and energy experts say it will boost Nigeria's efforts in increasing her crude oil reserves from the current 36 billion barrels to 40 billion barrels.
Source: Legit.ng