Osinbajo surprises staff at Murtala Muhammed Airport with unscheduled visit
Acting President Yemi Osinbajo caused panic among staff of the various agencies manning the Murtala Muhammed International Airport, Lagos, when he suddenly appeared to have first-hand knowledge of installed facilities.
Osinbajo's visit to the airport is coming just days after he began a 60-day move, through the Presidential Enabling Business Environment Council (PEBEC) he chairs, to strengthen the Nigerian economy.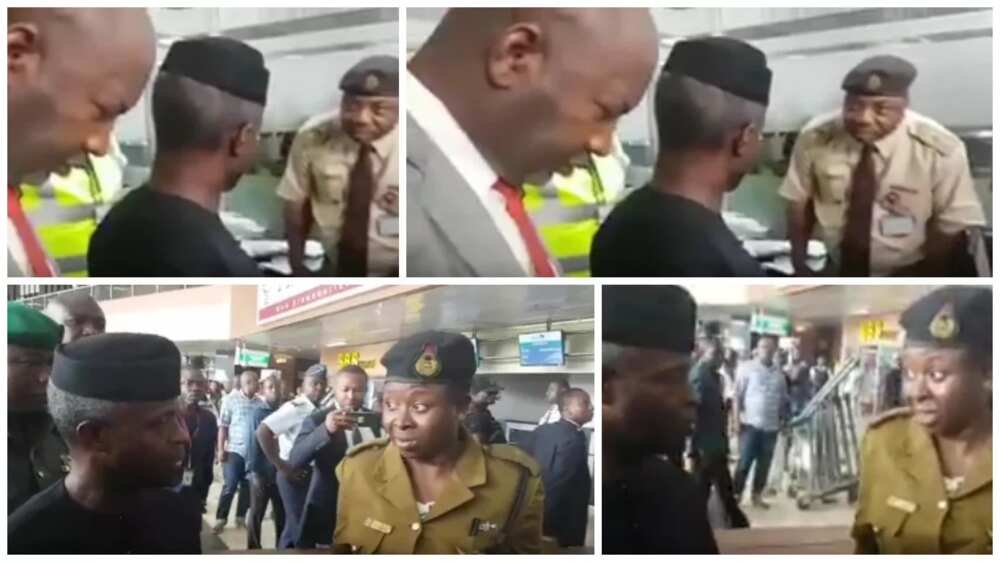 READ ALSO: Osinbajo launches 60-day plan to boost economy
Accompanied by Hadi Sirika, the minister of state for Aviation, acting president was said to have found out that the carousels in the arrival hall were not functioning.
He also discovered that air-conditioners and chillers in the departure and arrival halls were not working. Apart from this, the escalators and elevators were non-functional.
He also declared reportedly declared an urgent task to correct many of the problems already identified by the council.
"As part of our work on the Ease of Doing Business, on making the environment friendly, not just for local businesses but also for those who want to come and do business in Nigeria, the airport obviously is one of the major places where we need to ensure that facilities are working and that things are being run properly.
"So we have looked around, we've seen some of the equipment.
"There are many many things that need to be done, many things that need to be corrected, and we have to work on them as quickly as possible," he was quoted by the Nigerian Television Authority (NTA) as saying.
READ ALSO: Osinbajo summons IG over kidnap of 2 German archeologists
Osinbajo had said on earlier in the week: "We are trying to improve the business environment in three broad respects; the entry and exit of goods, the entry and exit of persons into Nigeria, and then general government transparency and efficiency in government agencies & parastatals."
Source: Legit.ng