Man arrested for slapping driver to coma over Buhari's alleged death rumour
- A 41-year-old man identified as Usman Bukar, who claimed to hail from Kano state, has been arrested by police in Delta state for putting a Taxi driver in coma after slapping him
- Bukar was said to have been angered by the driver's claim that President Buhari is allegedly dead
- Spokesman of Delta state police command Andrew Aniamaka confirmed that the victim is receiving treatment while Bukar is in custody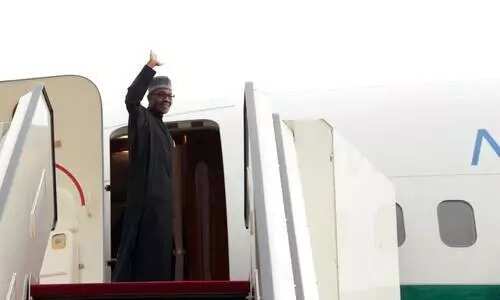 A Taxi driver in Delta state has gotten himself into deep trouble and ended up in a coma after claiming that President Muhammmadu Buhari is dead despite clear warning from the presidency to desist from such statements.
Leadership reports that the man was slapped into deep unconsciousness at the Temple Clinic Junction Asaba by a 41-year-old man identified as Usman Bukar who claimed to hail from Kano state.
READ ALSO: Fresh photo proves President Buhari is alive and well in UK
According to eyewitness account, Bukar was said to have attacked the driver whose name was not given after he openly celebrated an online media report alleging that President Buhari had died.
The driver, who had joined other 'free readers' at a newspaper stand at Temple Clinic Junction was reported to have not only celebrated Buhari's death but also made inciting comments about the country's number one citizen.
He was reported to have said: "The body of the President should be thrown into River-Niger, he is very wicked for fish and other wild animals to do justice on him."
The driver's words angered Bukar, who also was also at the newsstand to buy one of the daily newspapers.
Leadership quoted a source as saying that "he (Bukar) slapped the driver and following the slap, the man immediately moved into unexpected coma".
READ ALSO: How Buhari's government rejected 2 helicopters donated by Rivers
It was timely intervention of the police that prevented the matter from degenerating into a bloody fight between relations of the taxi-driver who were later invited to the scene.
Leadership reports that the driver was later rushed to a private hospital where he is being revived as at the time of the report.
The spokesman of Delta state police command Andrew Aniamaka confirmed that the victim is receiving treatment adding that the alleged attacker had been arrested and detained for interrogation.
Meanwhile, the date of President Muhammadu Buhari's return has been made known by his special adviser on media and publicity Femi Adesina.
Adeshina made the revelation on Friday, January 27 during a chat with Televison Continental (TVC).
Source: Legit.ng