Senate summons Fashola, Amaechi, Sirika over Abuja airport closure
The senate has summoned Transport minister Rotimi Amaechi to appear before it to explain the planned closure of the Nnamdi Azikiwe international airport in Abuja sometime in March this year.
The senate, after a lengthy discussion on the matter during plenary on Tuesday, January 10, resolved to have the minister come around to explain why the airport had to be closed down for the repairs.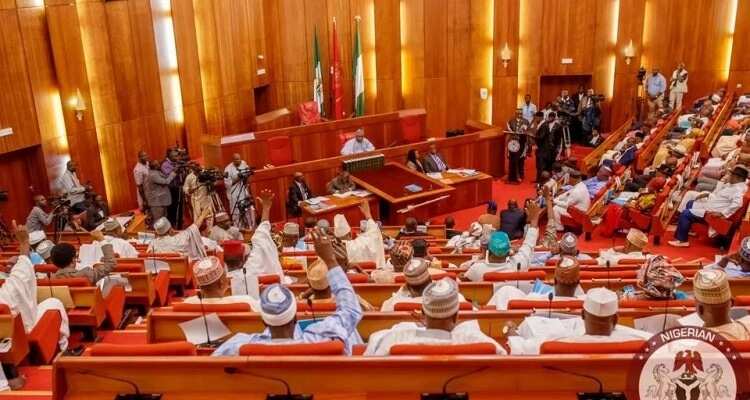 Also summoned alongside Amaechi are minister of power, works and housing Raji Fashola, minister of state for aviation Hadi Sirika and chief of air staff Sadique Abubakar.
Also to appear before the senate are managing directors of Federal Airport Authorty of Nigeria and Nigerian Airspace Management Agency.
READ ALSO: 2017 Budget will address power failure in airports - Sirika
The Senate says it wants the officials to provide details on the planned closure and explore other options that can avoid a total closure.
Earlier, the Senate had expressed its resolve to ensure that the Airport is not closed up entirely for the repairs.
It tweeted:
Many senators had argued against the closure which they found unacceptable.
Leading arguments against the closure, deputy senate president Ike Ekweremadu seconded the motion jointly sponsored by Senator Hope Uzodinma and five other senators saying: "Many countries have repaired Airports without closure &many lives has been lost on Kaduna road.
"There is need to repair the runway but I don't agree with closure of the Airport."
"I am disappointed with the approval of the closure, we should make necessary consultations and find alternative solutions to it," deputy majority leader Senator Bala Ibn Na'Allah said.
"There was a repair on John F Kennedy Airport & people still travelled, we should invite the Aviation Minister and find solutions," Senator Anyanwu added.
READ ALSO: Buhari administration to establish aviation university
"I will suggest that we should take the shutdown in piece meal, we can do repairs 36hours in a week or on Saturdays," Senator Barnabas Gemade submitted.
"I lost my Police orderly last week in an accident because of the bad road, we should not divert people to ply that road," Senator Akpan Bassey added on a sad note.
"This will embarrass us as a country. It will affect us economically, politically and socially. Our aviation intellectuals must think," Senator Dino Melaye said.
But Senator Shehu Sani disagreed with the motion and noted that Kaduna is ready to accommodate Nigerians should the airport be closed.
"They have created hell & want to live in paradise,if the road is bad they do not want to go there. The elites are running away from the problems they created," Senator Sani said in defence of the closure.
Recall that the government had announced that flights would be diverted to Kaduna state while the runway of the Abuja airport is repaired. The announcement has met with numerous reservations.
Source: Legit.ng