Global Firepower Index 2023: US, Russia, China Head List of Top 10 Most Powerful Military in the World
The United States of America has retained its status as the most powerful country in the world
According to the Global Firepower Index ranking released for 2023, the United States military was ranked number one
The rankings placed Russia second on the list, while China was ranked third and India fourth
The latest list of the most powerful military released by the Global Firepower Index for the year 2023 has ranked the United States military as number one globally.
As gathered by Legit.ng from the Global Firepower Index's official website, the report disclosed that the United States maintained its status as number one as it did in last year's ranking.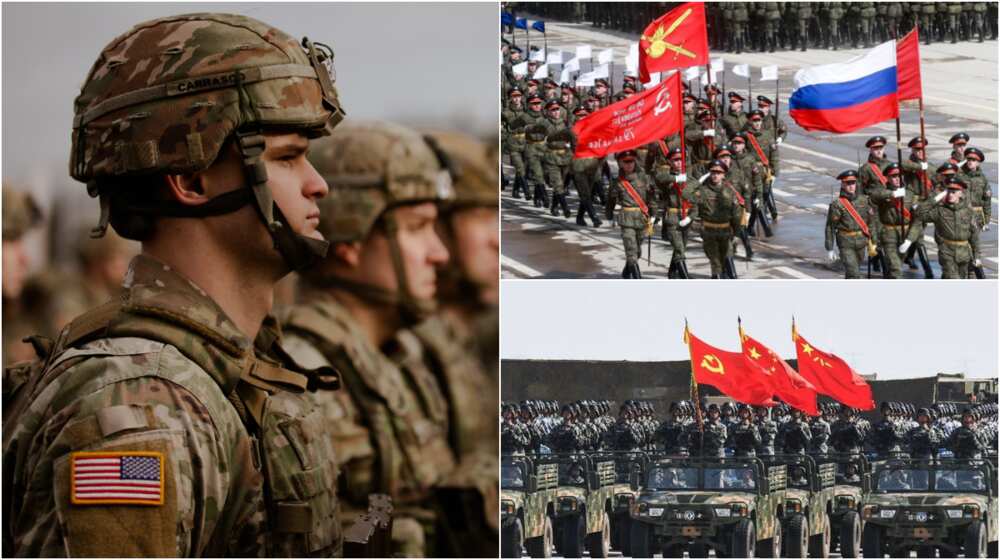 The report ranked USA's archrival, Russia, as the nation with the world's second most powerful military might, while the Asian giant China completed the top three.
Another Asian powerhouse, India, was ranked fourth, while its colonial master, the United Kingdom (UK), was surprisingly ranked fifth.
Completing the top 10 list were South Korea, Pakistan, Japan, France and Italy, ranked sixth, seventh, eighth, ninth, and 10th, respectively.
Meanwhile, the Global Firepower Index revealed that over 60 factors were put into consideration to arrive at the final summation and gradings on the list.
The report says:
"...over 60 individual factors to determine a given nation's PowerIndex ('PwrIndx') score with categories ranging from quantity of military units and financial standing to logistical capabilities and geography."
As contained in the report, the formulas and criterions used to determine the list also allow smaller, under-developed and less-tech advanced nations to compete for the rankings.
The report disclosed that 145 countries were reviewed and actively competed for the prestigious list.
The report said:
"Our unique, in-house formula allows for smaller, more technologically-advanced, nations to compete with larger, lesser-developed powers and special modifiers, in the form of bonuses and penalties, are applied to further refine the list which is compiled annually."
See list of top 10 most powerful military below
1. United States
2. Russian
3. China
4. India
5. United Kingdom
6. South Korea
7. Pakistan
8. Japan
9. France
10. Italy
Insecurity: Terrorists Planning to Attack US, as UK Raises Alarm, Speaks on Identity of Assailants
Meanwhile, the British government is confident that a gang of terrorists is planning a series of attacks on the United States.
This is why the UK government, in its travel advisory on Friday, November 4, warned its citizens to be vigilant always while paying close attention to media reports.
The government disclosed that the attacks might be carried out by persons brainwashed with terrorist ideologies.
Joe Biden Makes Secret Visit To Ukraine Days Ahead of 1Yr Anniversary of Russia's Invasion
In another development, US President, Joe Biden, visited Ukraine on February 20, days before the first anniversary of Russia's invasion.
Joe Biden met with Volodymyr Zelenskyy and promised to send more military aid to Ukraine to defeat Russia.
Biden's visit has been described as a clear signal to the Russian president, Vladimir Putin, that the US and its allies remain committed to supporting Ukraine.
Source: Legit.ng