Egypt, Algeria Tower Over Nigeria as Complete List of 2023 Top 10 Most Powerful Military in Africa Emerges
The list of the most powerful military might in Africa for 2023 has been released by the Global Firepower Index (GFI)
According to the rankings by GFI, North African giant Egypt topped the list for a second consecutive year
Its Algerian neighbour comes second on the list, while South Africa wrapped up the top three list
The Egyptian military has been ranked the most robust and powerful in Africa according to the Global Firepower Index (GFI) ranking for 2023.
As sighted by Legit.ng on the official website of the global firepower index, 38 African countries competed for the top position of having the most powerful military on the continent.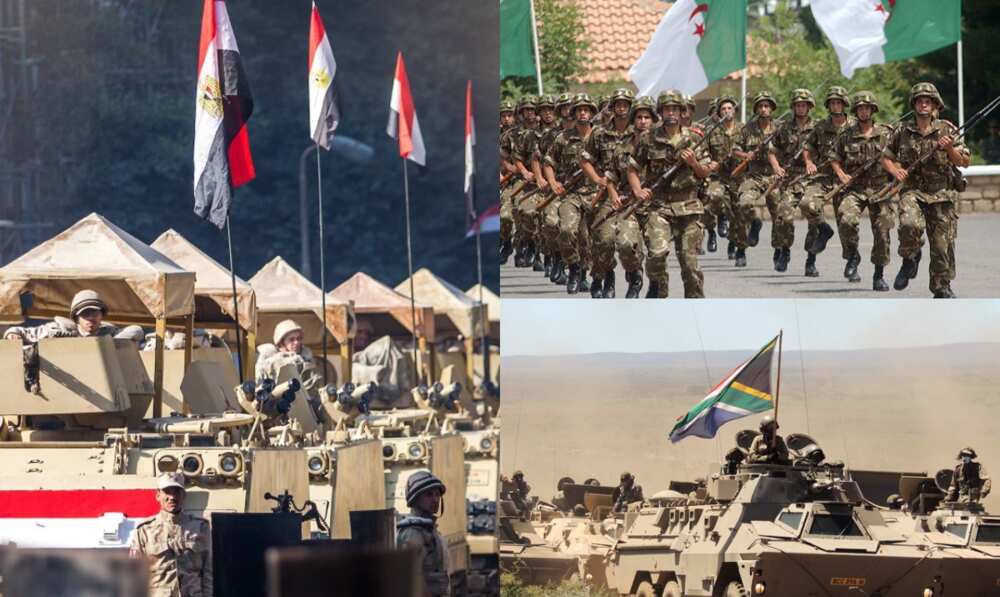 The report by the organisation revealed that 60 solid factors were used to arrive at the outcome of the list, with proper consideration given to the smaller and less tech-advanced nations.
The report reads:
PAY ATTENTION: Share your outstanding story with our editors! Please reach us through info@corp.legit.ng!
"...over 60 factors in our in-house formula to determine a given nation's Power Index ('PwrIndx') score. This provides the final ranking while also allowing smaller, more technologically-advanced, nations to compete with larger, lesser-developed ones.
"Some bonuses and penalties are added for refinement that, in the end, we hope presents an unbiased look into the potential conventional military strength of a world power."
The list named the Algerian military the second most powerful in Africa, and South Africa occupied third place.
Meanwhile, African giant Nigeria surprisingly fell below the pecking order in fourth place, failing to make the top three spot for the second consecutive year.
The Ethiopian military took the fifth spot, while its counterparts like Angola, Morocco, DR Congo, Tunisia and Sudan took the sixth, seventh, eighth, ninth and 10th positions, respectively.
Global Firepower Index 2023: Full List of Top 10 Most Powerful Military in the World
Meanwhile, at the global level, the United States of America has retained its status as the most powerful country in the world.
According to the Global Firepower Index ranking released for 2023, the United States military was ranked number one.
The rankings placed Russia second on the list, China third, and India fourth.
Global Firepower Index: Nigerian Military No Longer the Most Powerful in Latest Africa Rankings
Contrastingly, Nigeria's military might has depreciated according to the new rankings released in 2023.
The Global Firepower Index ranked Nigeria fourth on the list of African countries with powerful military might.
North African giants Egypt and Algeria took first and second place on the log, while South Africa's military was ranked third.
Source: Legit.ng