Joe Biden Makes Secret Visit To Ukraine Days Ahead of 1Yr Anniversary of Russia's Invasion
US President, Joe Biden, made a surprise visit to Ukraine on February 20, days before the first anniversary of Russia's invasion
Joe Biden met with Volodymyr Zelenskyy and promised to send more military aid to Ukraine to defeat Russia
Biden's visit has been described as a clear signal to the Russian president, Vladimir Putin, that the US and its allies remain committed to supporting Ukraine
US President, Joe Biden, has secretly visited an active war zone in Ukraine on Monday, February 20, 2023, just days before the it marks one year since Russia invaded the country.
Observers compared the visit to similar presidents George Bush and Barak Obama trips to Iraq and Afghanistan, respectively.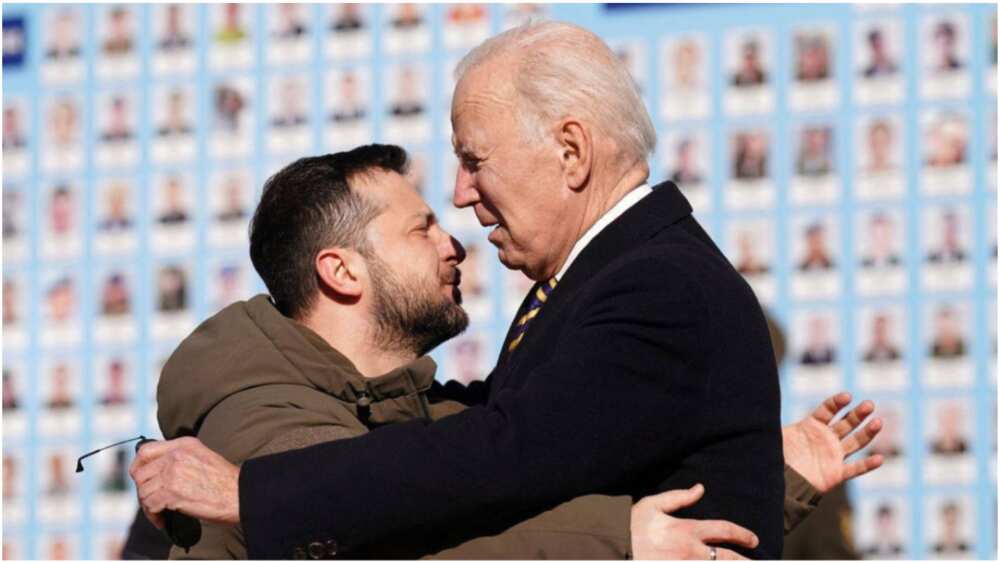 It is also considered a massive support to Ukraine and Volodymyr Zenlenskyy's defense of his country against Russia's widely-condemned invasion.
Details of the trip and particular places Biden would visit have been embargoed for security reasons.
In some of the photos published on social media by Anton Gerashchenko, Zelenskyy is captured in a tight embrace with the US president.
Biden's visit comes amid Ukraine's request for more weapons to defeat Russia.
According to people with a deep understanding of US foreign policy, the visit showed the world, especially Russian president Vladimir Putin, that the United States and its allies remain committed to supporting Ukraine almost one year after Russia's full-scale invasion.
US media giant, New York Times, which has been providing live updates of Biden's visit, has said the US president flew out of Ukraine after promising more military aid to the country.
The brief visit by Biden to Kyiv, is his first since the war broke out.
Nigeria to receive 25,000 tonnes of grain through Grain from Ukraine Initiative
Legit.ng earlier reported that Nigeria is set to receive 25,000 tonnes of grain from the Ukrainian government under the Grain from Ukraine Initiative.
The country's minister of agrarian policy and food, Mykola Solskyi, announced this during a meeting with Nigeria's Geoffrey Onyeama, the minister of foreign affairs, and Mohammad Abubakar, minister of agriculture and rural development.
Solskyi maintained that irrespective of the ongoing war in his country, Ukraine would not stop sending food to countries that need it the most.
Source: Legit.ng