Wagner Boss: 7 Things to Know About Russia's Yevgeny Prigozhin
Moscow, Russia - Reactions have continued to trail the reported death of Yevgeny Prigozhin, head of the Russian mercenary force Wagner.
Prigozhin, one of Russia's most powerful mercenaries, was said to be on board a plane that crashed on the evening of Wednesday, August 23, in the northern part of Moscow.
The incident had no survivor.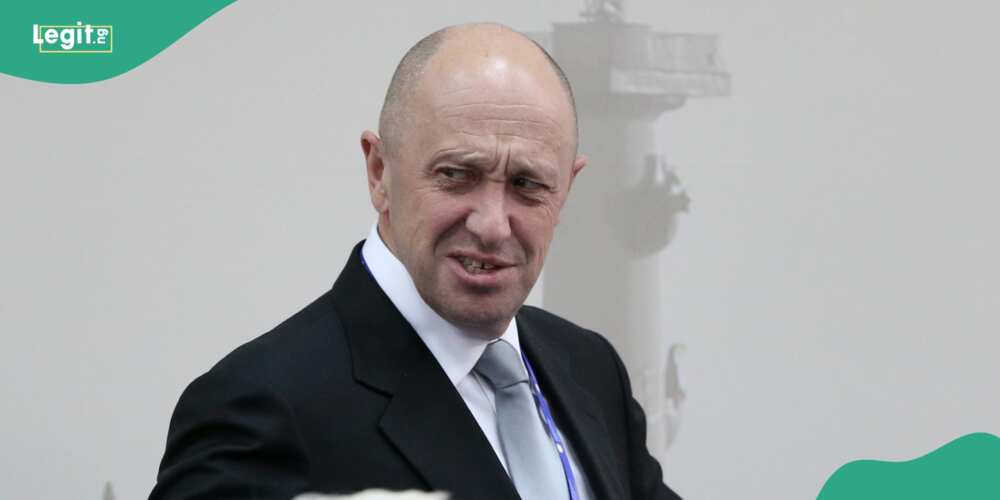 Who is Yevgeny Prigozhin? Legit.ng examines some things you probably have not read about about the Russian mercenary leader.
1) Prigozhin: Putin's strong ally
Prigozhin had been a close confidant of Russian President Vladimir Putin until he initiated a rebellion in June 2023.
PAY ATTENTION: Сheck out news that is picked exactly for YOU ➡️ find the "Recommended for you" block on the home page and enjoy!
His harsh and unprecedented criticism of Russia's military command has caused him to be seen as a potential threat to the incumbent Russian leader.
Prigozhin was occasionally referred to as "Putin's chef" because he owned restaurants and catering companies that provide services to the Kremlin.
Putin reportedly used to take foreign leaders to the restaurants that Prigozhin owned.
2) Prigozhin: Ex-convict
Prigozhin spent nine years in Soviet prisons for crimes including robbery and fraud.
He was released in 1990 amid the Soviet Union's death throes.
3) Prigozhin: Founder of Wagner
In 2014, he founded a private military company called Wagner Group.
The group has played a significant role in supporting Russian political interests in the middle-east and Africa, as well as in Russia's invasion of Ukraine.
4) Prigozhin: Owner of popular troll farm
In February 2023, he confirmed that he is the founder and long-time manager of the Internet Research Agency.
The West has accused the company of conducting online propaganda and disinformation campaigns.
5) Prigozhin: Spearheaded uprising against Putin, Russia
Prigozhin boldly and openly criticised the Russian Defense Ministry for corruption and mishandling the war against Ukraine.
He recorded expletive-laden videos accusing senior generals of denying his forces necessary supplies.
On June 23, 2023, he launched a rebellion against Russia and its military leadership, advancing his forces towards Moscow.
The rebellion was called off the following day, and Prigozhin had his criminal charges dropped after agreeing to relocate his forces to Belarus.
6) Prigozhin: West sanction family
In February 2021, Prigozhin was added to the wanted list of the Federal Bureau of Investigation (FBI).
Then in February 2022, the United States imposed visa restrictions and froze assets of Prigozhin and his family, due to the 2022 Russian invasion of Ukraine.
In March, Prigozhin's mother won a legal bid to overturn the European Union (EU's) sanctions against her, as a court ruled there was no proof that she bore responsibility for his actions.
7) Prigozhin: Recognition
Prigozhin received the title of Hero of the Russian Federation in 2022.
He also received Sudan's Order of the Republic in 2018.
Prigozhin: Wagner boss dead?
Prigozhin was reportedly killed in a plane crash, according to the BBC.
Ten people were aboard the private jet that crashed in the north of Moscow, the capital of Russia.
Source: Legit.ng