Wagner Boss' Death: US President Biden Points Finger at Russia's Putin after Plane Crash
The President of the United States, Joe Biden, has pointed the finger at Russian President Vladimir Putin following the death of Wagner boss Yevgeny Prigozhin
Prigozhin died in a private jet crash between Moscow and St. Petersburg on Wednesday
Reacting to Prigozhin's death, Biden said there's hardly anything that happens in Russia that Putin is not aware of
Washington DC, United States - President Joe Biden of the United States has linked the death of Wagner boss Yevgeny Prigozhin in a plane crash to Russian President Vladimir Putin.
Prigozhin and senior Wagner commander Dmitry Utkin were among 10 people travelling on an Embraer business jet that crashed on Wednesday evening, August 23, between Moscow and St. Petersburg.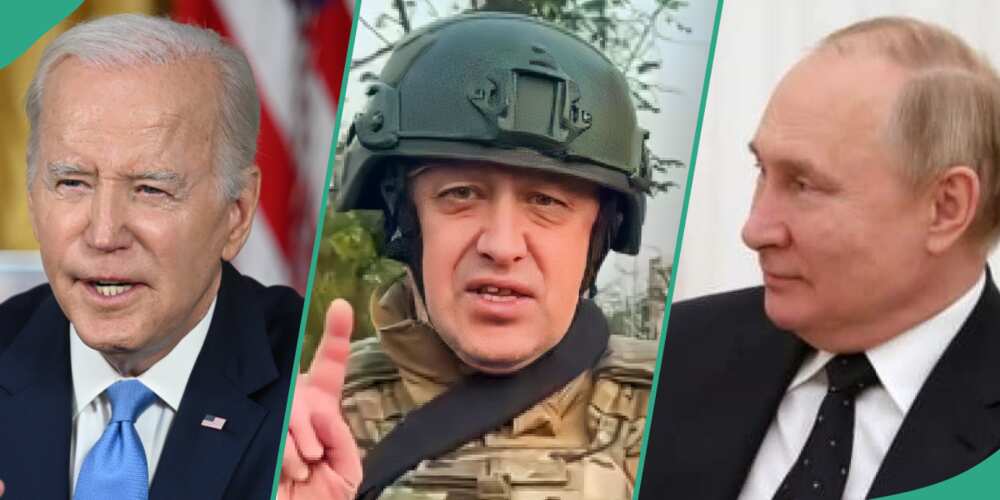 Biden points finger at Putin over Prigozhin's death
Speaking after a briefing, Biden said he was not surprised about the plane crash because nothing happened in Russia without Putin's knowledge, The Guardian reported.
"I don't know for a fact what happened, but I'm not surprised.
"There's not much that happens in Russia that Putin's not behind. But I don't know enough to know the answer."
Prigozhin's death warning to Russian elites
Sharing Biden's sentiment, Ukrainian presidential aide Mykhaylo Podolyak said the plane crash was "a signal from Putin to Russia's elites ahead of the 2024 elections. 'Beware! Disloyalty equals death."
The tragic incident happened exactly two months after Wagner's forces marched on Moscow following Prigozhin's longstanding feud with the military.
Russian journalist Ksenia Sobchak, whose father Putin once described as his mentor, shared the same sentiment that Prigozhin's death is a warning to Russian elites.
Sobchak, via Telegram, said:
"Absolutely clear signal to all the elites, in fact. To everyone who had any seditious thoughts."
Wagner boss dies in plane crash
Earlier, Legit.ng reported that Yevgeny Prigozhin, leader of Wagner, a private military company, had been killed in a plane crash,
Ten people were on board the private jet that crashed in the north of Moscow, the capital of Russia.
The Russian Civil Aviation Authority said seven passengers and three crew were on board the Embraer aircraft en route from Moscow to St. Petersburg.
ECOWAS sends strong warning to Wagner
The Economic Community of West African States (ECOWAS) has vowed to hold Russia responsible should the private military contractor, Wagner Group, violates human rights following the recent coup in Niger Republic.
The ECOWAS Commissioner for Political Affairs, Peace and Security, Ambassador Abdel-Fatau Musah, stated this during an interview on Channels Television's Sunrise Daily on Friday, August 11.
Source: Legit.ng