China Produces First Yoruba Textbook 3 Years After It Started Teaching Nigerian Language
The first Yoruba language textbook titled Ede Yoruba for students has been published in far away China
The Ede Yoruba textbook for students was published three years after China began studies in the Yoruba language
Professor Goke Alamu from Ekiti State University (EKSU), Ado-Ekiti, made this known in a statement
People's Republic of China has produced its first Yoruba Language textbook titled 'Ede Yoruba.'
This was contained in a statement issued on Thursday, July 13, by Goke Alamu, a professor from the Ekiti State University (EKSU), TheCable reported.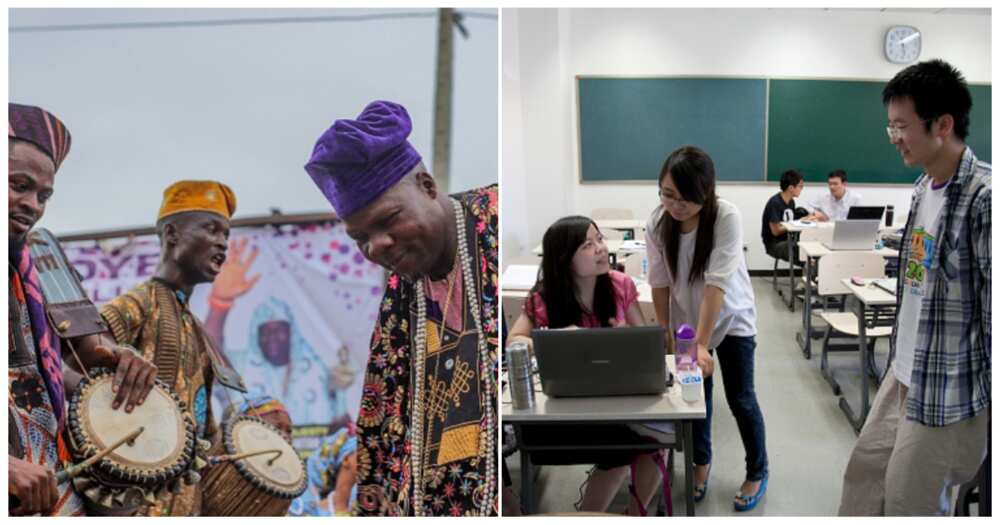 Alamu said he was invited to China to teach the Yoruba language in 2020 but could not travel because of the COVID-19 pandemic.
He, however, disclosed that he and three US professors began online classes for students of the Beijing Foreign Studies University in China.
He further stated that the Ede Yoruba textbook was published after approval from the Chinese government.
The professor of Yoruba language said:
"Just produced in China. I am just very happy because this is the first Yoruba textbook in China."
"I was contacted by the Beijing Foreign Studies University around 2020 during the COVID-19 crisis to come to China and set up a Yoruba programme for them.
"I could have been in China since then but for the lockdown. So, I started online teaching for their students after writing the syllabus and the approval.
"Later, the university got approval from the government and a publishing company was approved for the publication of the first Yoruba textbook for students.
"I worked with three professors who had the opportunity to study the language in the US. This is the product of our efforts after three years. I will be going to China in September to test-run the book.
"I have two students already at the University of Ibadan who would be trained and take over from me. I have taught them for 2 years online, but they are now here to feel the culture of us and improve their proficiency."
Nigerian lady graduates as best student in China, speaks Chinese fluently on graduation day
Meanwhile, Legit.ng reported that Ifeoma Amuche, a Nigerian student, has made her country proud by graduating as the best student in her class at SouthWest University in China.
She received a Bachelor of Science degree in Chinese Language and Literature and was chosen as the representative of international students at the graduation ceremony.
Good News: China ready to listen to Nigeria, other countries on debt forgiveness, gives 3 conditions
Good news for Nigeria and other African countries as China has expressed its readiness to listen to their concerns on debt restructuring.
However, the giant Asian country has made several demands before a final decision can be reached.
2023 Ojude Oba: Ijebu festival of Yoruba cultural glam, fashion and glitz at Oba's frontage
One of the most prominent exhibitions of their cultural awareness and celebration is the Ojude Oba festival. The celebration is native to the people of Ijebuland and often occurs on the third day of Eid-el-Kabir.
The central theme of Ojude Oba is to pay homage to the paramount ruler of the Ijebu Kingdom, the Awujale of Ijebuland, who is currently Oba Sikiru Adetona.
"You made us proud": 5 Intelligent Nigerian students bag Excellence Award in Chinese university, video emerges
A group of intelligent Nigerian students have been recognised after studying in China.
A TikTok user, Miss Chioma, one of the students, said they all studied at Southwest University, China.
Source: Legit.ng