African President Emerges Forbes' Number 1 Black Man for 2021, Appears On Cover Page
Ghana's number one citizen, President Nana Akufo-Addo, has been adjudged African of the Year, 2021
He was named by Forbes Africa magazine for its latest issue that was unveiled on Friday, December 3
The international award which is usually dedicated to recognise Africans, have made an impact on the continent
Ghana's President Nana Addo Dankwa Akufo-Addo has been named African of the Year, 2021 by Forbes Africa magazine.
In the latest issue, the magazine said the Ghanaian president has ''repositioned the country in the global marketplace as one reliant on its own resources and strengths''.
President Akufo-Addo told CNBC Africa after the unveiling of the new edition of the magazine on Friday, December 3, 2021, that he was overwhelmed by the recognition given him by Forbes Africa magazine.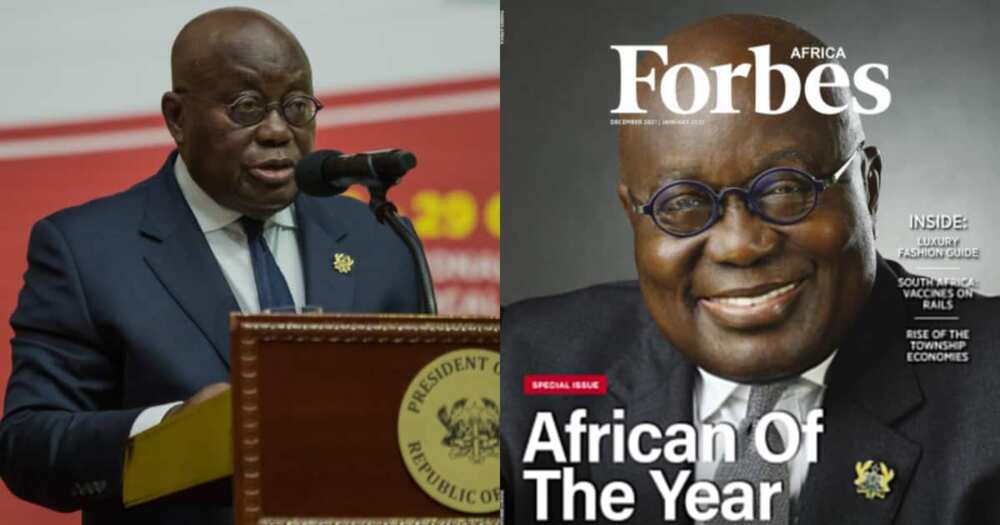 Show of appreciation
''For the African version of the magazine to pick me, I'm very grateful for me,'' he said.
Significance of award
President Akufo-Addo noted that the award means the world has an eye on the work of the government here in Ghana.
''[It's an inspiration for us] and it is an encouragement for us to continue to go down the path we set ourselves,'' he told CNBC when asked what the award means to him.
Ghanaian government blames influx of Nigerians, others for rising food prices in the country warns farmers
Meanwhile, the Ghanian government had expressed concern over the country's rising food costs blaming it on the influx of foreigners in the country especially Nigerians.
The concern was raised by Mr. Seth Osei Akoto, the Director of Crop Services a representative of the Ministry of Food and Agriculture (MoFA) who specifically called out Ghanaian farmers for preferring selling products to Nigerians and other neighboring countries.
According to him the hike in prices of some food items, including beans and maize was largely due to the influx of foreign buyers from neighboring countries.
Akoto said:
"The situation in some sections of the nation revealed that some farmers opted to sell their harvests to purchasers from Burkina Faso, Mali, Nigeria, and other neighboring countries for greater rates."
Source: Legit.ng