Coup D'etat: Nigerian Embassy in Niger Republic Set on Fire? FG Reacts
The Nigerian Embassy in Niger has doused tension over its building being set ablaze by angry protesters in the coup-inflicted country
Dr Liti Awualu, the Nigerian high commissioner to the Republic of Niger, stated that the rumours and videos on social media were fake.
He urged the general public to disregard the videos and rumours, noting that the embassy is adequately secured
Niger Republic, Niamey - The Nigerian Embassy in the Republic of Niger has debunked rumours that its building was set ablaze by angry protesters of the coup-inflicted nation.
This development was made known by its High Commissioner, Dr Liti i. Auwalu, via a press release dated Friday, August 11.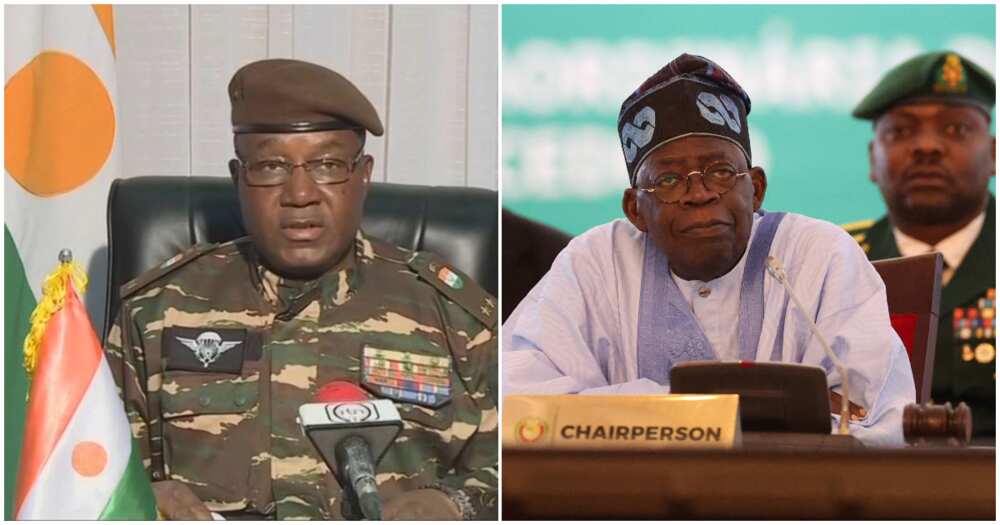 The embassy's statement reacted to a viral video showing protesters trying to invade the "Chancery Building" in Niamey, the Nigerian capital.
Nigerian Embassy debunk viral social media video of attack on Chancery Building
As contained in the statement, Auwalu described the video as fake and urged the general public to disregard it.
He said:
"It has been brought to our notice that fake videos showing the touching of the Chancery Building in Niamey by protesters is circulating on various social media platforms.
"The Embassy wishes to inform the general public that even though protesters tried to gain access to the Embassy on 30th July 2023, the Nigerian military and police authorities promptly curtailed the situation."
Auwalu, however, noted that the embassy is well under the protection of the Nigerian Army and that there's no cause for alarm.
He further reiterated that the videos circulating on social media are fake and should be disregarded by the general public.
Senator Ndume opposes military invasion of Niger at ECOWAS parliament, issues strong warning
In another development, Senator Ali Ndume of Nigeria has kicked against military intervention in Niger at the ongoing extraordinary plenary session of the ECOWAS parliament on Saturday, August 12
He stated that the Nigerian Senate has vehemently kicked against and would not go to war with the Republic of Niger.
Contrastingly, some parliamentarians held a more separate view noting that military intervention was necessary to serve as a deterrent and precedence to other countries.
Source: Legit.ng