Intrigues As APC Expels Lawmaker, Gives Reason For Reversing Earlier Decision
The APC has officially expelled Dr. Cairo Ojuog­boh, a chieftain of the party from Delta State, for taking the ruling party to court
Dr. Cairo Ojuog­boh was a former lawmaker in the House of Representatives and ex-board member of the NDDC
Ahmad Usman El-Marzuq, the APC national legal adviser, who earlier backed the ex-lawmaker, disclosed the inconsistencies in Ojuog­boh's actions and declared that his earlier suspension was lawful
Asaba, Delta - The All Progressives Congress (APC) has expelled Dr. Cairo Ojuog­boh, a former House of Representatives member over alleged violation of the constitution of the party.
According to Daily Independent, the APC chieftain had earlier appealed his expulsion by the Delta State Executive Committee of the party through his counsel, FS Jimba, and demanded that the party should retract its steps.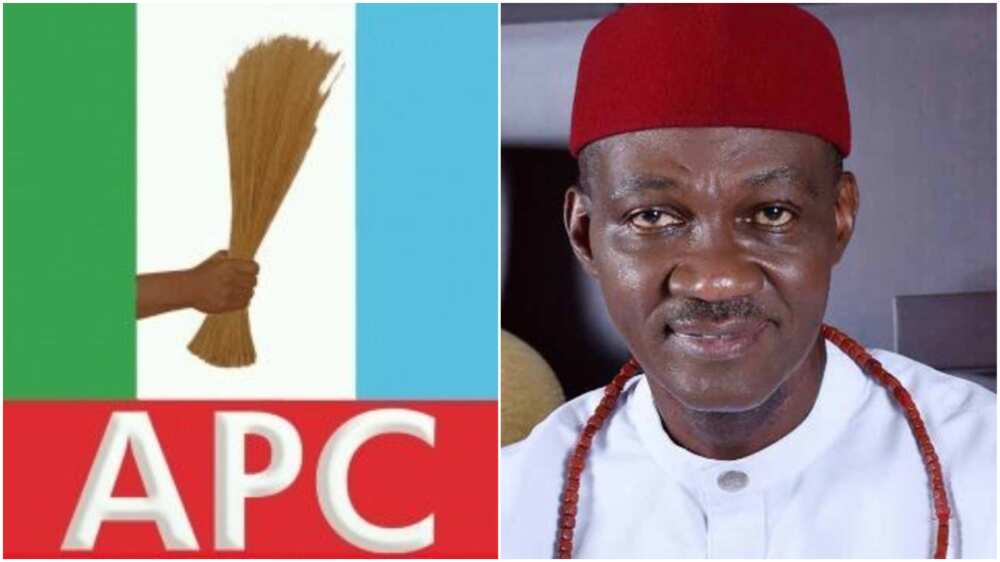 APC legal adviser makes U-turn, endorses suspension of former lawmaker
But Ahmad Usman El-Marzuq, the national legal adviser of the APC, who earlier sympathized with the former lawmaker over lack of fair hearing, in a letter to Jimba, declared that the expulsion of Ojuog­boh was lawful and has constitutional backing.
El-Marzuq cited documentary evidence that indicated that Ojuogboh took the APC to court while ignoring all of the party's internal conflict resolution mechanisms provided in the party's constitution.
The APC legal adviser disclosed that developing facts revealed that the former project's director of the Niger Delta Development Commission (NDDC) has some inconsistencies in his claims and actions.
APC reveals the actual sins of Ojuogboh that influences his expulsion
El-Marzuq said his attention has been drawn to the lawsuit filed by Ojuogboh against the APC and 3 others over his expulsion, adding that the move was against the internal dispute resolution mechanism that the APC constitution gave room for.
The letter reads in part:
"It is important to state that filing a matter in court without first exhausting the party's in­ternal dispute resolution mech­anisms is a gross violation of Article 21.5 (v) of the party's constitution."
New APC governor received challenge to tackle El-Rufai
Legit.ng earlier reported that Governor Uba Sani of Kaduna State has been challenged to disclose his position on the alleged Islamization of Kaduna politics by former governor Nasir El-Rufai.
A letter from the priests of Catholics in the state disclosed that the religious leaders threw the challenge at the new governor of the APC.
The letter is a reaction to a viral video where El-Rufai was seen speaking in Hausa to some Muslim groups about how religion played a role in the 2023 presidential election.
Source: Legit.ng