"He is Far Smarter Than Them": Fani-Kayode Reacts to Labelling El-Rufai Religious Bigot, Terrorist
A chieftain of the ruling APC, Femi Fani-Kayode, has reacted to the name-calling of former Kaduna state governor, Nasir El-Rufai
Fani-Kayode said those calling El-Rufai a religious bigot, terrorist and Islamist fanatic are envious of him
The former minister claimed that El-Rufai and the APC northern governors ensured the presidency moved back to the south
A chieftain of the ruling All Progressives Congress (APC), Femi Fani-Kayode, has reacted to the recent comment made by former Kaduna state governor, Nasir El-Rufai on the Muslim-Muslim ticket before a gathering of Muslim clerics in the state.
Fani-Kayode said El-Rufai is not a religious bigot, terrorist or Islamist fanatic, and those who labelled him as such don't know him and members of the opposition party.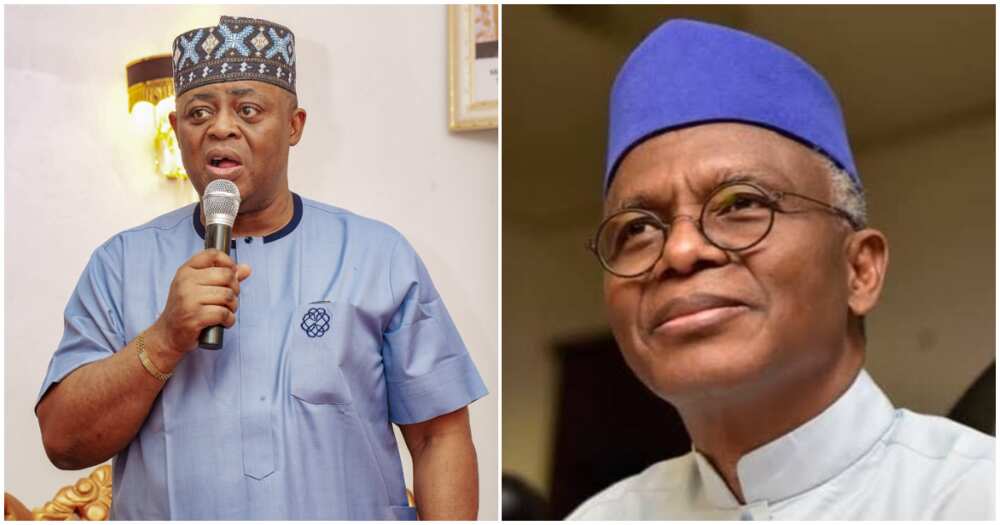 The former aviation minister stated this via his verified Twitter handle @realFFK, on Thursday, June 8.
He wrote:
"When Nasir El Rufai, Bello Matawalle and Yahaya Bello took President Muhammadu Buhari to court and defeated him over the illegal and ill-fated cash grab/new notes policy they were considered to be heroes and the entire world commended them.
'Yet sadly today, simply because he made some comments about the Muslim/Muslim ticket before a gathering of Muslim clerics in Kaduna State he is being demonised and labelled as a religious bigot, a terrorist, a fascist and an Islamist fanatic by mainly those who do not share his religious faith, who do not know him, who have never met him and who are in a different political party to him.
'I know a religious bigot when I see one and I assure you that Nasir El Rufai is not one of them. Neither is he a muslim fundamentalist, a terrorist, a fascist or a jihadist."
El-Rufai's haters are envious of him - Fani-Kayode
Fani-Kayode said those calling El-Rufai names are just envious of him because he is way smarter than them.
He described the former Kaduna governor as being courageous, pragmatic, and bold.
The APC chieftain said:
"He is a down to earth, practical, pragmatic politician who speaks his mind boldly, who is deeply calculating and courageous, who knows and understands the game of thrones and the art of acquiring and wielding power very well, who has no fear of his adversaries and who is determined to do whatever it takes to win. These are all virtues and not vices.
"The reason many denigrate him is basically out of envy and because he has proved over and over again that he is far smarter than them."
El-Rufai and APC northern governors ensure power shift to the south
He added that El-Rufai and the APC northern governors ensured that the presidency moved back to the south.
The former minister claimed that if not for the APC northern governors, the PDP candidate, Atiku Abubakar would have been the president and not President Bola Tinubu.
"Yet love him or hate him I will tell you this: had it not been for him, Matawalle and the Northern Governor's of the APC there would have been no power shift to the south, the Presidency would have remained in the North and Atiku, not Asiwaju, would be President today."
Fani-Kayode reveals identity of those against Tinubu's swearing-in
Meanwhile, Legit.ng reported that former aviation minister and chieftain of the ruling All Progressives Congress (APC) Femi Fani-Kayode has attacked Archbishop Emeritus of Abuja Catholic Archdiocese, John Onaiyekan, for saying president-elect, Asiwaju Bola Ahmed Tinubu should not be sworn-in on Monday, May 29.
Recall Onaiyekan, in an interview on Channels TV on Thursday, May 4th said Tinubu ought not to have been sworn in why there are cases in court challenging his FGeburayr 25 election victory at the presidential poll.
Source: Legit.ng