Kwankwaso to Defect to APC after Meeting Tinubu? NNPP Gives Update
The NNPP has reassured its supporters that their Presidential candidate, Rabiu Kwankwaso, would not defect to the ruling APC following his meeting with President-elect Bola Tinubu in Paris
The NNPP's spokesperson, Dr Major Agbo, addressed concerns during a press conference in Abuja, emphasizing Kwankwaso's broad political and religious connections
Aides of Tinubu and Kwankwaso expressed optimism about their renewed alliance, emphasizing its importance for promoting an inclusive government
FCT, Abuja - The New Nigeria Peoples Party (NNPP) has addressed concerns among its supporters regarding the possible defection of their Presidential candidate, Rabiu Kwankwaso, to the ruling All Progressives Congress (APC).
The apprehension arose after Kwankwaso met with President-elect Bola Tinubu in Paris, France.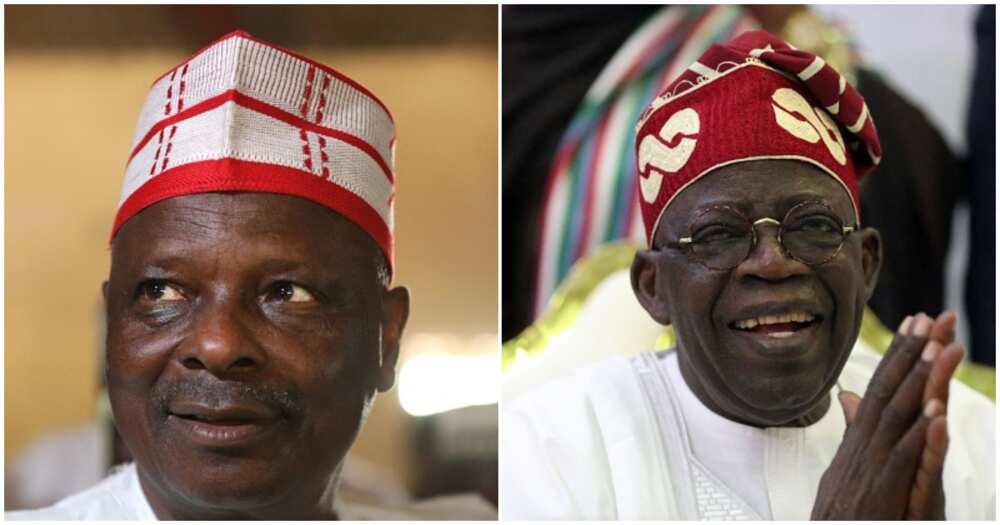 The Punch reported that the spokesperson of the NNPP, Dr Major Agbo, held a press conference in Abuja to alleviate fears and affirm that there was no cause for alarm.
Dr Agbo described Kwankwaso as a politician who transcends tribal and political boundaries, emphasizing that his relationships extend across various political and religious affiliations.
His words:
"I don't want you to be afraid that he is going anywhere. He is not going anywhere. Like I said, he is one man whose relationship cuts across all political platforms. You will see more of that."
Optimism surrounds Tinubu-Kwankwaso alliance for inclusive government
Meanwhile, aides of both Tinubu and Kwankwaso expressed optimism about the renewed alliance between their principals, highlighting its significance in promoting an inclusive government.
This development followed the Parise meeting between Tinubu and Kwankwaso.
While the meeting initially raised concerns among their followers, who feared potential conflicts among those who had supported Tinubu in the elections, these concerns were dismissed by Abdulmumin Jibrin, a political ally of Tinubu, and former Director-General of his support group.
Jibrin stated that the purpose of the meeting was to discuss how Tinubu and Kwankwaso could collaborate to improve national unity, cohesion, and development.
Tinubu's media officer, Tunde Rahman, also supported this perspective, highlighting Tinubu's recent phone conversation with the United States Secretary of State, Antony Blinken, and the meeting with Kwankwaso as demonstrations of his commitment to an inclusive government.
Buhari's ally sends strong warning to Tinubu over Kwankwaso
Meanwhile, Legit.ng previously reported that Abdulmajid Kwamanda, a leader of the ruling APC in Kano state, threatened that the party in the northwest zone would withdraw its support if Kwankwaso is considered for a portfolio by the president-elect, Tinubu.
Speaking with reporters in Kano on Thursday, May 18, Kwamanda, an ally of President Muhammadu Buhari, warned the APC against accepting Kwankwaso into the party or appointing him into any role.
Source: Legit.ng