"The World is Becoming Less Tolerant of Neocolonialism": FFK Fires at US over Visa Ban
Femi Fani-Kayode has reacted to a move by the United States to impose a visa ban on Nigerians who undermined the recently-concluded general elections in the country
The former aviation minister told the US to allow the court to determine those that undermined Nigeria's democracy
Fani-Kayode also stated that it is not within the US' right to determine if Nigeria's election was rigged or not
FCT, Abuja - A former aviation minister in Nigeria, Femi Fani-Kayode, has accused the United States of "double standards, neo-colonialism and pseudo-imperialism".
Writing on his verified Twitter handle on Tuesday, May 16, 2023, FFK, as he is fondly called, asked the Nigerian government to reciprocate and consider imposing visa bans on persons who disrupted their country's elections over the last 25 years.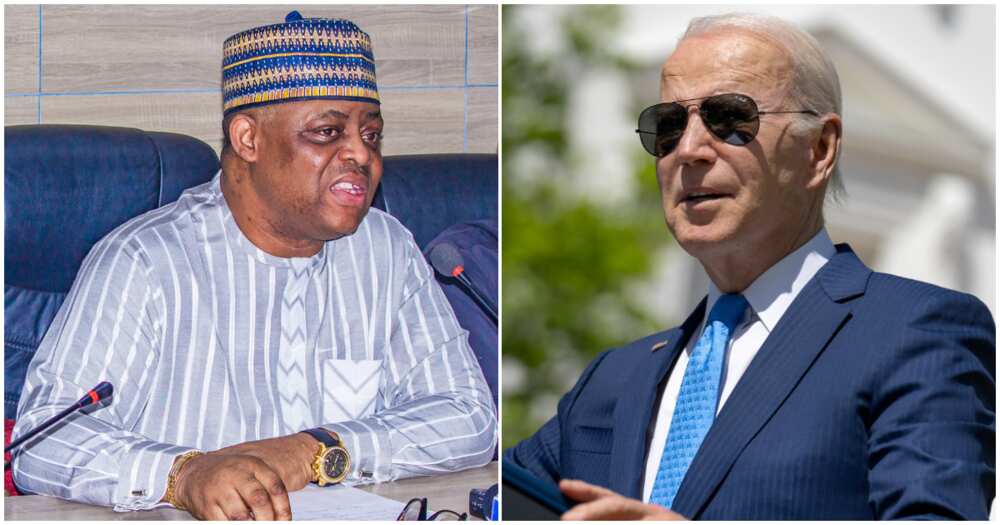 Fani-Kayode stated:
"It is my view that foreign policy, which ought to be based on the principle of equality of nations and conducted on the basis of reciprocity, requires the Nigerian Federal Government to consider the possibility of doing the same to nationals of those that have implemented and announced this measure and issue a visa ban to any foreign citizen or member of any corporate entity or institution that may have indulged in undermining democracy or rigging elections in either their own or any other country in the world over the last 25 years."
Furthermore, in a veiled criticism of the president of the United States, Joe Biden, Fani-Kayode said it is ironical for the US president's administration to issue a visa ban on selected Nigerians for rigging because 'he (Biden) has been accused of the most blatant and shameful election rigging in the history of their country by no less than his predecessor in office and millions of his fellow country men'.
See FFK's tweet below:
What US visa ban on erring Nigerians means, Atiku's ally
For Daniel Bwala, an ally of Atiku Abubakar, the presidential candidate of the Peoples Democratic Party (PDP), the US visa ban for perpetrators of election malfeasance re-emphasises the fact that the 2023 elections were flawed.
Bwala was speaking on Arise Television on Tuesday, May 16.
According to the lawyer, the majority of these select individuals are government functionaries like governors, ministers, heads of parastatals, and individuals acting on behalf of the government.
US' imposition of visa ban on some Nigerians
Legit.ng had reported how the United States announced on Monday, May 15, it had taken steps to impose visa bans on persons who disrupted the recent general elections in Nigeria.
In a statement on the US State Department website, secretary of state, Antony Binken, said:
"The United States is committed to supporting and advancing democracy in Nigeria and around the world.
"Today, I am announcing that we have taken steps to impose visa restrictions on specific individuals in Nigeria for undermining the democratic process during Nigeria's 2023 elections cycle."
2023 presidential election: BBC says INEC results show Obi defeated Tinubu in Rivers
In a piece of related news, an emerging report that could prove crucial to the ongoing presidential election petition tribunal has unfolded.
The emergence of Bola Ahmed Tinubu as Nigeria's president-elect continues to raise eyebrows after a BBC report claimed that the presidential election in Rivers state was manipulated.
Source: Legit.ng