After Tinubu's Victory, APC's Vice Chair Calls for Adamu, Omisore's Resignation
Asiwaju Bola Ahmed Tinubu's victory in the presidential election may mean forfeiture of seats for some APC bigwigs
This is as the vice chairman of the APC (North-West), Mallam Salihu Lukman, has made a call for the ruling party to balance its Muslim-Muslim ticket in the party's structure
To make this possible, Lukman urged his superior, Abdullahi Adamu and Iyiola Omisore, the APC's national secretary, to resign from their offices
In a bid to balance the Muslim-Muslim ticket of President-elect Bola Tinubu, the national vice chairman of the All Progressives Congress (North-West), Mallam Salihu Lukman, has called for the resignation of his superior, Abdullahi Adamu.
Lukman on Friday, March 10, made it clear that Adamu must resign for a Christian to take his office, Punch reports.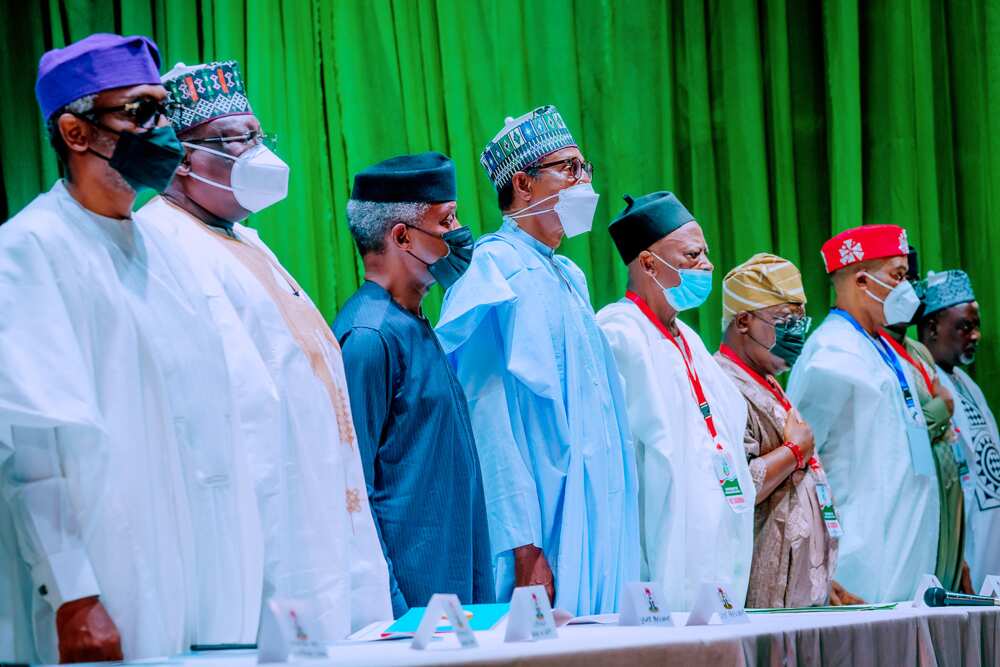 He also demanded the removal of APC's national secretary, Iyiola Omisore, to appease party supporters in Osun following the disastrous outcome of results from both governorship and presidential elections in the state.
Lukman noted that there was a need for the resignation of Adamu and Omisore to appease Nigerians in order to balance the controversial Muslim-Muslim arrangement.
He warned that APC's same-faith ticket issue could further widen the division among Nigerians if not handled wisely.
His words:
"Now that the election is won by APC and Asiwaju, it is important to demonstrate that the Muslim-Muslim ticket of the president-elect and Shettima is simply an electoral strategy. With a National Chairman, Sen. Abdullahi Adamu, who is also a Muslim, it will be important that every necessary step is taken to inject a change of leadership for the party so that a new National Chairman who is a Christian to take over. Part of the advantage of this is that the National Chairman could be retained in North-Central.
"There should be no difficulty in convincing Sen. Adamu to resign as National Chairman to create opportunity for a new National Chairman of APC to emerge who is a Christian. For that to happen may require Emergency National Convention because if the hierarchy of the current leadership is to be followed, the successor to Sen. Adamu will be Sen. Abubakar Kyari who is a Muslim from North-East.
"Apart from changing the National Chairman, there is the need to also recognise that the case of Sen. Iyiola Omisore, National Secretary of the party has become a source of stronger dispute in Osun State. Unfortunately, rather than serving as a unifying factor for the party leadership in Osun State, Sen. Omisore is more of a divisive factor, which may have been responsible for why APC lost the 2022 Governorship election to a political mediocre whose only qualification in politics may appear to be comic dancing skill.
"To save Osun State and bring it back to its old standard of national political reckoning, Sen. Omisore would need to resign as National Secretary of APC, and a new unifying National Secretary elected. Beyond Sen. Omisore, similarly, any member of the National Working Committee of the party who is not a unifying leader in his/her state should be changed."
Tinubu's victory: Atiku enlists 19 SANs, gives them powerful mandate
Atiku Abubakar, the presidential candidate of the Peoples Democratic Party (PDP), is battle-ready to challenge Asiwaju Bola Ahmed Tinubu's victory in the Saturday, February 25, election.
To prove this, Atiku has set up a legal team of 19 Senior Advocates of Nigeria (SANs) to take on Tinubu in court.
The former vice-president briefed the team at his campaign headquarters in Abuja on Wednesday, March 8.
Source: Legit.ng