March 11 Election: Is Gov Okowa in Last-Minute Alliance With Labour Party? Intriguing Details Emerge
Labour Party in Delta state says it is full of confidence heading into the gubernatorial polls on Saturday, March 11
The party has also played down rumours that it is entertaining negotiations with Governor Ifeanyi Okowa
The party says it looks forward to replicating the winning feat it achieved at the presidential polls with a landslide victory
The Delta state chapter of the Labour Party has dismissed claims that it is affiliated with Governor Ifeanyi Okowa of the Peoples Democratic Party (PDP) ahead of the state's gubernatorial polls.
Debunking this claim, the state chairman of the Labour Party, Tony Ezeagwu, on Monday, March 6, noted that the rumours had no ounce of truth in them.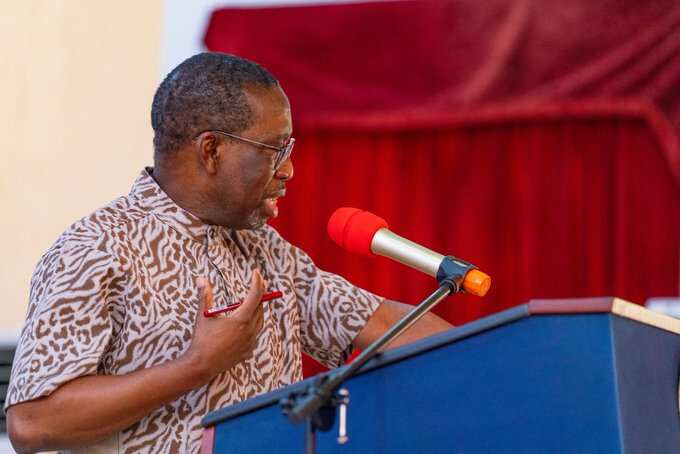 Ezeagwu said the party and its supporters are very optimistic and full of belief that they will upset the ruling party and clinch the number one administrative seat in the state.
The LP chairman said:
"The Labour Party in Delta held a meeting yesterday where we discussed the rumours making the rounds that our party candidate, Ken Pela is a stooge to Governor Okowa.
"The same rumour being peddled also alleged that my humble self has been settled with one million naira to surrender our support to the PDP.
"I want the public to know that the Labour party in Delta has no business with Governor Okowa, the PDP or any other party in the state."
Ezeagwu urged LP supporters and the general public to disregard such rumours and noted that these rumours were strategically being spread by opponents scared of LP's sudden rise.
As reported by Premium Times, Ezeagwu said:
"Those spreading these rumours are simply terrified and afraid because they are being hunted by what the Labour party did to them at the last presidential election."
"Let me state it categorically clear that the Labour party in Delta is going into the 11 March governorship election with a mandate to win with our candidate.
"We remained in total support and solidarity with our governorship candidate, Ken Pela, and we are confident of victory with our teeming supporters."
APC Chairman Endorses Labour Party Candidate in Cross River
In another development, the APC chairman in Cross River state, Barrister Alphonsus Ogar Eba, has pitched his tent with the Labour Party candidate for the Yala-1 state constituency, Brian Odey.
However, the endorsement does not extend to the governorship election, as Barrister Eba said he does not know any LP candidate for the seat.
Reacting, Odey said he is happy with the APC chairman's open endorsement of his political ambition though his party has a different stance.
Lagos Guber: Pressure Mounts on Jandor to Step Down for Rhodes-Vivour Ahead of Poll
Meanwhile, talks about a possible merger between the PDP and Labour Party are still making waves in Lagos state.
There are indications that Afenifere leaders have intervened to ensure that the opposition parties unite ahead of the governorship election.
Labour Party governorship candidate Gbadebo Rhodes-Vivour had earlier revealed he was in talks with the PDP.
Source: Legit.ng