Tension Erupts As APC Asks 2 Prominent Members of Buhari's Cabinet to Resign, Gives Reason
The APC national vice chairman in northwest, Mallam Salihu Lukman, has called on the CBN governor and the AGF, Godwin Emefiele and Abubakar Malami with immediate effect
Lukman made the call following the supreme court ruling that invalidated the federal government's naira redesign policy
The APC leader argued that Malami and Emefiele misled President Muhammadu Buhari to abuse the executive power on the naira redesign policy
Mallam Salihu Lukman, the northwest national vice chairman of the All Progressives Congress (APC), has called for the resignation of Godwin Emefiele, the governor of the Central Bank of Nigeria (CBN).
In a statement sent to Legit.ng on Friday, March 3, and signed by Lukman, the party is also asking the Attorney General of the Federation and Minister of Justice, Abubakar Malami, to step aside.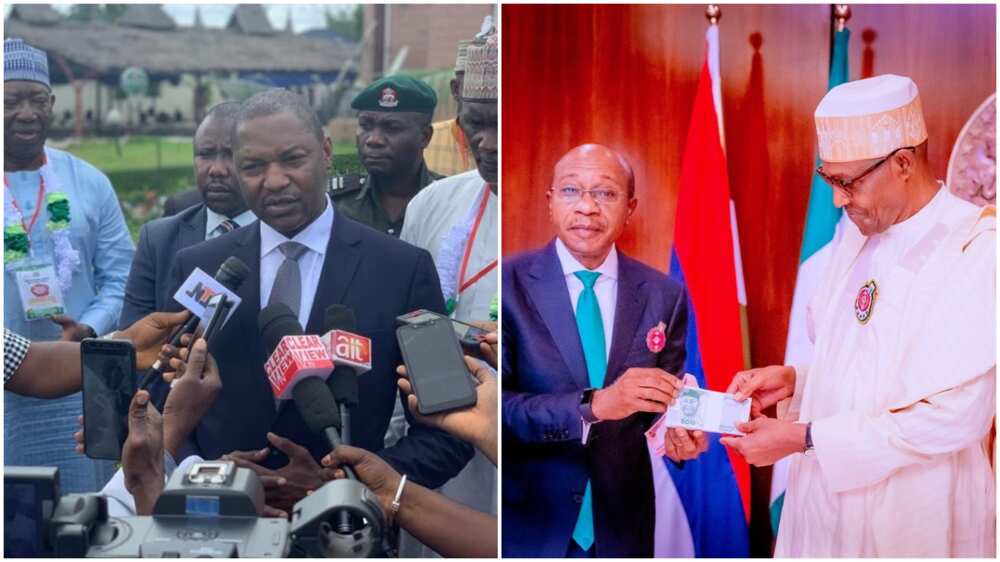 Why APC want Malami, Emefiele to resign
According to the party, the 2 cabinet members misled President Muhammadu Buhari on the new naira redesign policy.
The call for the duo's resignation came after the supreme court invalidated the policy because it was implemented without due consultation and not in line with the provision of the constitution.
The apex court then ruled that the old N200, N500 and N1000 notes should remain legal tender till December 31.
Latest about Muhammadu Buhari, Abubakar Malami, Godwin Emefiele, APC, CBN, Naira Redesign Policy, 2023 Election
Reacting to the ruling, Lukman lamented that it was unfortunate that the CBN governor and AGF misled President Buhari to abuse the executive power.
He said:
"Given the injurious nature of the consequences of the cashless policy of the Federal Government as was implemented thus far, and the damage of the Supreme Court ruling to the profile of President Buhari, Godwin Emefiele and Abubakar Malami must take personal responsibility for this act of illegality by the Federal Government. In advanced democracies, public officers who commit such acts of illegality voluntarily resign from their appointments."
Tinubu begins to receive presidential treatment, first step revealed
Legit.ng earlier reported that Bola Tinubu, the elected president in the just concluded 2023 presidential election, will be moved to the Defence House in Maitama, FCT, today, Thursday.
The president-elect would be at the Defence House and start receiving briefings as the president till May 29, when he will be sworn in.
APC presidential campaign council disclosed the development in a tweet on Thursday, the day after Tinubu was declared the winner of the poll.
Source: Legit.ng