Breaking: Massive jubilation as Tinubu leads Obi, Atiku, wins 13 LGs in Ondo
The All Progressives Congress (APC) Presidential candidate, Asiwaju Bola Tinubu is leading Atiku Abubakar of the Peoples Democratic Party (PDP) and Peter Obi of the Labour Party in Saturday's presidential election in Ondo state, This Day reports.
Legit.ng gathered that the former Lagos state governor has won in 13 out of the 18 councils of the state.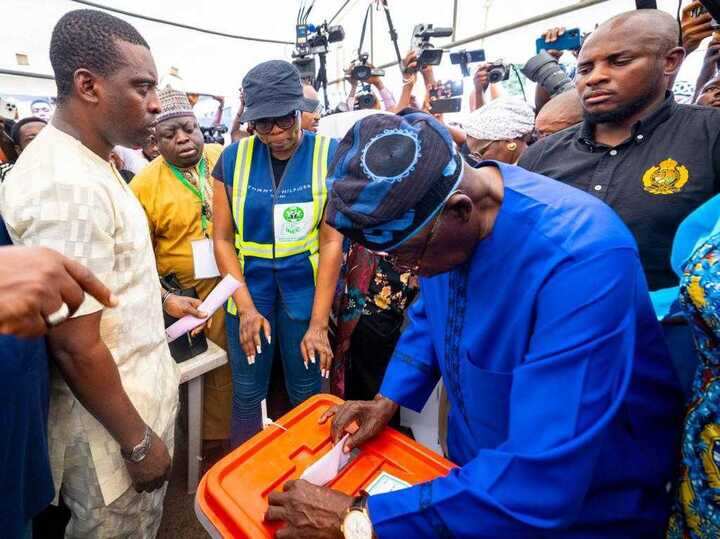 The results were announced by various Returning Officers of the local governments in the presence of the State Collation Officer for the 2023 presidential election and lecturer from Federal University Oye-Ekiti, Prof. Abayomi Sunday Fashua.
In Ondo East, Tinubu scored 8,390 to defeat DP and the LP candidates who polled 3912 and 2004 votes respectively.
In Ose, Tinubu defeated the PDP candidate by 9609 votes after polling a total of 14,376 votes as against Atiku's 4767 votes cast, while Obi scored 2031 votes.
PAY ATTENTION: Share your outstanding story with our editors! Please reach us through info@corp.legit.ng!
In Akure North, Tinubu polled 14,261 votes, defeating Atiku who polled 4637 votes and Obi with 2945 votes.
Akoko southwest was not any different as the APC flagbearer scored 28,367 to the PDP's 5376 and LP's 920.
In Akoko southeast, Tinubu polled 10,765 votes to defeat Atiku and Obi who scored 3016 and 470 votes respectively. The win continued in lfedore where Tinubu scored 15,055 to Atiku's 5360 and Obi's 957.
Presidential election results in Ondo state:
IRELE LG
APC 17,334
LP 704
NNPP 06
PDP 6,523
IDANRE LG
APC 13,061
LP 2,262
NNPP 24
PDP 10,532
OSE LG
APC 14376
LP 2,031
NNPP 23
PDP 4767
OWO LG
APC 21,480
LP 3200
NNPP 51
PDP 5173
ONDO EAST LG
APC 8390
LP 2,004
NNPP 55
PDP 3912
AKURE NORTH LG
APC 14,261
LP 2,945
NNPP 69
PDP 4637
AKOKO SOUTH WEST LG
APC 28,367
LP 920
NNPP 28
AKOKO SOUTH EAST LG
APC 10,765
LP 470
NNPP 07
PDP – 3016
IFEDORE LG
APC -15,055
LP 954
NNPP- 08
PDP-45360
AKOKO NORTH EAST LG
APC-25757
LP-124
NNPP 16
PDP 2400
AKOKO NORTH WEST LG
APC-24,633
LP 736
NNPP- 08
PDP 5200
ONDO WEST LG
APC 24,053
LP 6171
NNPP 161
PDP 8534
ILE OLUJI/ OKEIGBO LG
APC 14,750
LP 1,576
NNPP 27
PDP 6,199
Tinubu wins all 16 LGs in Ekiti state with a total of 201,486 votes
Meanwhile, Legit.ng had previously reported that Tinubu won the presidential election in Ekiti state.
It was reported that Tinubu won in all 16 Local Government Areas (LGAs) in Ekiti state to defeat his closest rivals, Atiku Abubakar of the Peoples Democratic Party (PDP) and Peter Obi of the Labour Party.
According to the report, results announced at the State Collation Centre, Tinubu scored a total of 201,486 votes to emerge the winner of the election.
INEC officials at the state collation centre have announced the results of each of the local governments.
The PDP's candidate, who is Tinubu's closest rival, scored over 25 per cent of the votes cast in the state with a total of 89,554 while Obi of the Labour Party got 11,397 votes, thus enable to meet the 25 per cent requirement in the state.
Source: Legit.ng