Wike Speaks on Presidential Candidate to Endorse as Strong Ally Says Rivers PDP Will Vote for Tinubu
The governor of Rivers state, Nyesom Wike, has said the Rivers state PDP has not reached an understanding to support any presidential candidate
Wike said the PDP campaigns in the South-south state will focus on the governorship flagbearer and other candidates
The statement came amid the claim by one of Wike's strong allies that the Rivers PDP had decided to dump Atiku and back APC's Bola Tinubu
Bonny Town, Rivers state - Governor Nyesom Wike has said there is no understanding yet for him to support any presidential candidate ahead of the 2023 general elections.
The Rivers state governor said this at the state PDP campaign rally in Bonny Town, Bonny local government area, Vanguard reported.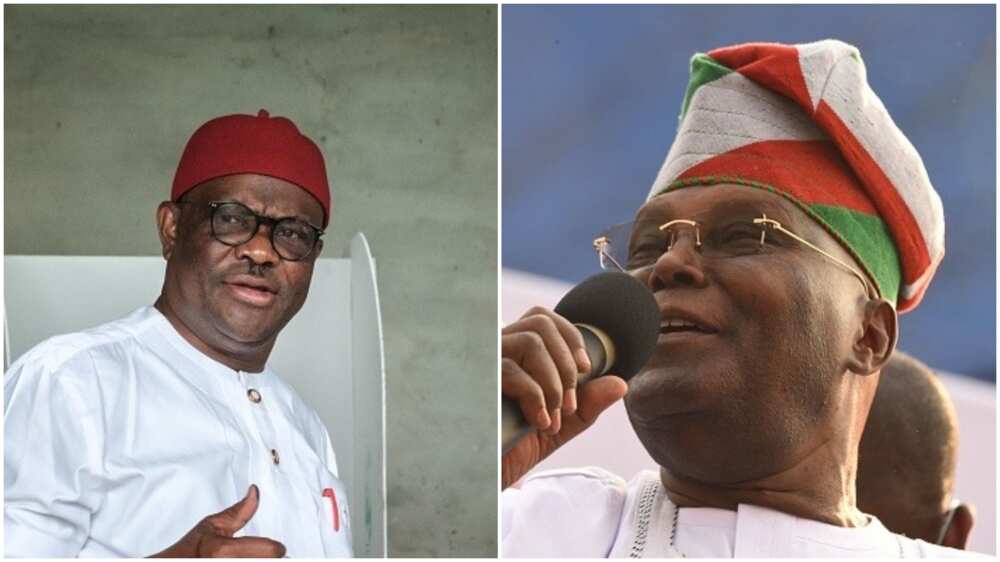 According to the newspaper, Wike said the PDP in Rivers would continue to campaign for the 2023 elections without reference to any presidential candidate because none has reached understanding with the state PDP to earn their support.
The arrowhead of the G5 Governors said he is campaigning for the state's governorship standard-bearer and other candidates because they have reached out to him.
"It is the election we are doing here. These are the ones (candidates) who told me to come and campaign for them. No other person told me to campaign for him. I can't force myself to campaign for you when you have not asked for it," he said.
Wike's strong ally says Rivers state PDP will vote for Tinubu
Meanwhile, Wike's statement came amid the claim by Hon. Samuel Nwanosike, the chairman of Ikwerre local government area, that the Rivers state chapter of the PDP had made up its mind to dump the party's presidential candidate, Atiku.
Nwanosike who is a strong ally of the Rivers state governor, Wike, said the Rivers PDP had pitched its tent with the presidential candidate of All Progressives Congress (APC), Bola Ahmed Tinubu.
He was also quoted as saying that the elders and opinion leaders in Rivers state have decided to dump Atiku and work for Tinubu.
Wike declares war on Ayu over suspension of G5 Governors loyalists
In another report, Nyesom Wike, the governor of Rivers state, declared total war on the national chairman of the PDP over the recent suspension of some members of the party.
According to the governor, the suspension of the loyalists of the G5 Governors would not help the PDP in the forthcoming polls,
Governor said with the latest action of the national chairman, the battle lines have been drawn with Ayu while promising to challenge all illegal actions of Ayu in court.
Source: Legit.ng