2023 Elections: "God Forbid That I Return to APC", Ex-Woman Leader Slams Ruling Party
The APC has gotten a reply from one of its former woman leaders, Beatrice Nkwuda, on returning to the party before the elections
Nkwuda during a recent interview vowed never to return to the ruling party as she is now a member of APGA
The former APC chieftain said she left the party due to the highhandedness of Governor Dave Umahi of Ebonyi state
Beatrice Nkwuda, a former woman leader of All Progressives Congress (APC), Ebonyi Central, has spoken on why she recently defected to the All Progressives Grand Alliance (APGA).
During an exclusive interview by New Telegraph, Nkwuda claimed she was forced to change her mind about the APC when some former Peoples Democratic Party (PDP) members led by Governor Dave Umahi joined the ruling party.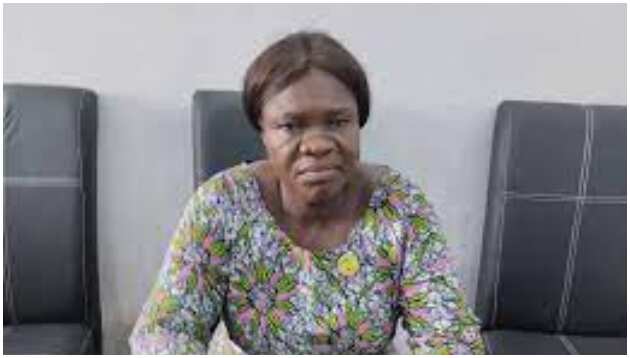 The former APC woman leader said before Umahi's defection from the PDP, she and her colleagues in the ruling party were at peace and liberty, but that everything changed when Umahi came on board.
According to her, the Ebonyi governor took over everything, not minding the old people in the party, whom he failed to accommodate in his alleged autocratic style of leadership.
Nkwuda stated:
"I don't feel comfortable and for the people I represent as a Woman Leader and because of it, I called it a quit. I have to quit the party because of their deceitful nature; they are not accommodating. And most of it all, allowing you to express fundamental human rights which are enshrined in the constitution is never there.
"A leader must have followers and when you don't have followers, you are no longer a leader. Politics is all about interests and you go to where your interest is protected and when you are no more protected in those areas, staying there is a waste of time. So, in order not to be wasting my time in APGA where my service is valued because when you don't even know your value, you are valueless and you will remain irrelevant."
Asked if she what her response will be if she is asked to return to the APC ahead of the coming elections, Nkwuda replied:
"God forbid! How was that possible in the administration of how many days? I have been there, I never joined them. How can I now join them when they have a few days to go?
"The government even nominated me in their campaign council but I rejected it and declared for APGA."
Ebonyi crisis: Governor Umahi orders arrest of top APC chieftain, aspiring lawmaker
The governor of Ebonyi state, David Umahi, on Tuesday, December 27, ordered the arrest of the chairman of the All Progressives Congress in the state, Stanley Okoro-Emegha and a party chieftain, Eni Chima, over the clash that led to the death of a police officer and two others.
The incident occurred following a battle of supremacy between the supporters of Okoro-Emegha and Chima on Monday, December 26.
The battle of supremacy between Okoro-Emegha and Chima - who is the House of Representatives candidate for Afikpo North/South federal constituency at Ekoli -Edda, Afikpo South LGA, also led to the destruction of property worth millions of naira including Okoro-Emegha's house.
Source: Legit.ng