Court Sends Student Who Said Aisha Buhari 'Ate Poor People's Money' to Prison
The student who said First Lady Aisha Buhari "ate poor people's money", Aminu Adamu, has been remanded in prison after his arrest
Adamu's lawyer, C.K Agu, said the student of the Federal University, Dutse, was remanded on Tuesday, November 29, after he was charged to court by the police
Agu said the court ordered the police to provide the bail application before it for consideration between Tuesday and Wednesday
Suleja, Niger state - Aminu Adamu, a student of the Federal University, Dutse, who was arrested for trolling First Lady Aisha Buhari on Twitter, has been remanded in the Suleja correctional facility in Niger state.
Premium Times reported that C.K Agu, Adamu's lawyer, said he was remanded on Tuesday, November 29, after he was charged to court by the police.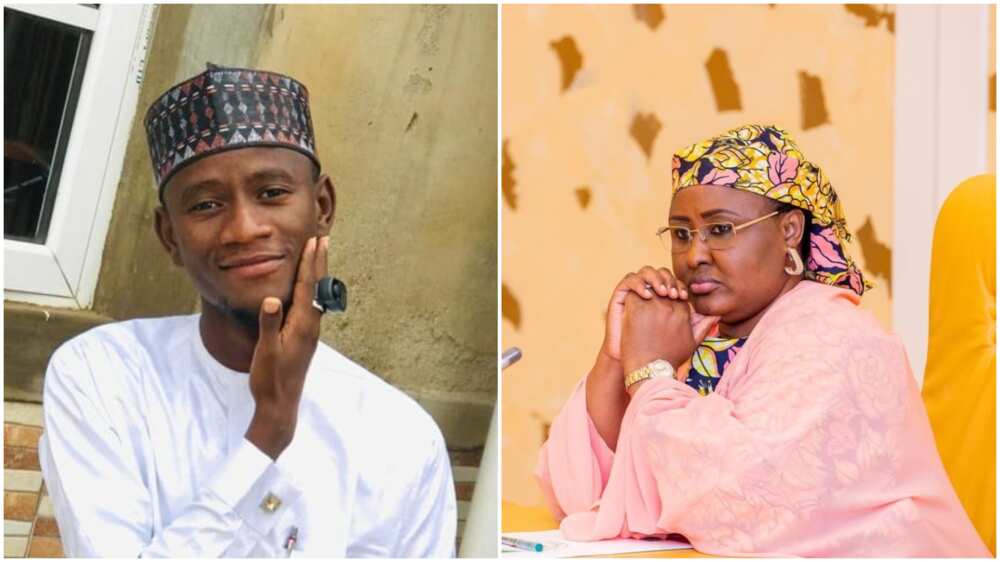 How Aminu Adamu landed in prison
Adamu, a final year student, tweeted a photo of the wife of President Muhammadu Buhari with a caption in Hausa which translates to:
PAY ATTENTION: Follow us on Instagram - get the most important news directly in your favourite app!
"Mama is feeding fat on poor people's money."
He posted the tweet on Thursday, June 9, but was arrested earlier in November when the tweet went viral.
Aminu Adamu pleaded not guilty in court
Legit.ng gathers that Agu, Adamu's lawyer, told BBC Hausa Service that the student was charged to a court in Abuja, but he pleaded not guilty to the charges.
The lawyer said they had made several efforts since Friday, November 25, to get the student released on bail but to no avail.
"Even in the court session yesterday, we notified the judge about the efforts made to have him released on bail, but we did not receive any reply from the police.
"We applied to the court to release the student on bail on health grounds and the fact that he will sit for the exam on 5, December. The court has ordered the police to provide the bail application before it for consideration between Tuesday and Wednesday," Agu was quoted as saying.
When court will consider Aminu Adamu's bail
Agu said the court will consider the bail application on Wednesday, November 30.
Adamu's arrest has generated criticism of the president's wife from Nigerians on social media for allegedly using state security apparatus to clamp down on a critic.
Aminu Adamu's prison remand: Nigerians react on social media
Sunday Obeahon commented on Facebook:
"Nigeria does not run an autocracy. Who remanded him in prison? Any security officer found involved should be thrown out of the system. Their oath is to the constitution not to individual."
James Onu said:
"Aisha Buhari and the Nigeria police force taking law into their hands. Is this a criminal offense? Why arresting this aggrieved Nigerian? If you think he lied against the first lady, why not sue him to court and let the court do their job?"
Celestine Joachim said:
"This life is somehow, where is ICRC, NHRC, NBA, NANS and others. Where are the NCW, why is everybody silent?"
Cephas Tamunotonye George said:
"Freedom of speech should not let one lose his or her respect to elders."
Okoro Uchenna said:
"Either you vote APC out in 2023 or you people will continue complaining for another 8 good years."
Aminu Adamu's arrest: CUPP berates Aisha Buhari
Meanwhile, the Coalition of United Political Parties (CUPP) has described as cruel and evil the arrest and detention of Aminu Adamu.
CUPP spokesperson Ikenga Ugochinyere, in a statement on Wednesday, said Mrs Buhari does not have the right to order the arrest and torture of her critics.
Ugochinyere accused Nigeria's first lady of adopting the method of the former head of state Gen. Sani Abacha to deal with her critics.
Source: Legit.ng