Breaking: Disaster For PDP, APC As Kwankwaso Confirms NNPP, Labour Party Merger Moves
There is a possibility that the New Nigeria Peoples Party (NNPP) and the Labour Party will merge eventually
In fact, former Governor Rabiu Kwankwaso of Kano state has confirmed underground efforts to get Peter Obi to consider and buy into the idea
NNPP's presidential candidate made this revelation public during his chat with journalists on Saturday, June 17
The presidential candidate of the New Nigeria Peoples Party (NNPP), Senator Rabiu Kwankwaso, has confirmed that his party is in talks with the Labour Party and its presidential candidate, Peter Obi for the possibility of joining forces ahead of the 2023 general elections.
Kwankwaso who is a former Kano state governor made this revelation during an interview with BBC Hausa Service on Saturday, June 18.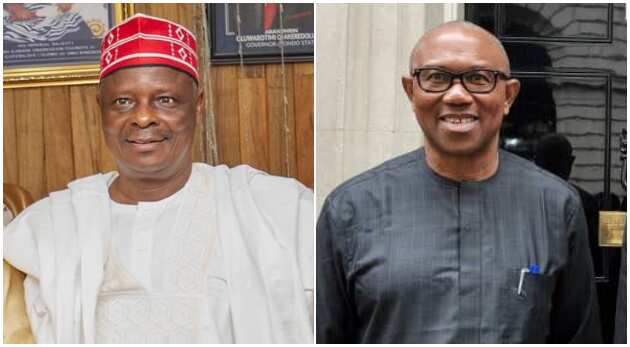 Vanguard quoted Kwankwaso to have said:
"We are really talking to Peter Obi, or at least saying that the committee is working to look into the matter (and cooperate with him), and friends and family are coming to talk to us about it."
On its Twitter page, the NNPP said:
"We wish to inform Nigerians that, our discussions with PeterObi and the #LabourParty are still ongoing. Special committee was set to discuss arrangements.
"We hope for good results that will give Nigeria a chance to be alive, once again.
"NNPP's presidential candidate, Sen. Rabiu #Kwankwaso, had an interview with @bbchausa, which clears the air and confirms possibility of a coalition between both parties and their Presidential candidates; to work together in ensuring victory in the #NigeriaDecides2023."
2023: APC to face strong opposition as Peter Obi and Kwankwaso plan 'strong merger'
Recall that Labour Party (LP) and the New Nigeria People's Party (NNPP) were on the road to a merger to strengthen national spread ahead of 2023 against the ruling All Progressives Congress (APC).
The spokesperson of the National Consultative Forum (NCF) and LP, Yususa Tanko, disclosed this in an interview, Leadership reports.
The plans to bring Peter Obi in
While speaking on the plans to bring Peter Obi of the LP and Rabiu Kwankwaso of the NNPP together to defeat APC in the 2023 elections, Tanko revealed that they were seriously working on the merger.
He added that the merger was an idea they have already seen on ground, and they are of the view that Obi, who is grounded in the Southern part of the country should work with others who were grounded in the Northern part of Nigeria.
There is no crisis in Labour Party - Spokesperson
Speaking further, the spokesperson stated that currently, there is no crisis in LP, saying that the party is solidly on ground than it has ever been, noting that the state of affairs in the party is crisis-free.
Source: Legit.ng