President Buhari Commissions Locally Built Navy Ship to Boost Maritime Security
President Buhari has commissioned two new navy ships, bringing the locally produced naval boats to three after NNS Adoni and NNS Karaduwa which were built in 2016
The president said that despite the challenges being faced by his administration, his government is determined to provide the navy all it requires to meet up with its mandate
According to him, his government will continue to support the Nigerian Navy to deliver on its mandate
Ikeja, Lagos - President Muhammadu Buhari on Thursday, December 9, in Lagos commissioned a NNS Oji seaward defence ship built locally by the men of the Nigerian navy as well as a helicopter in Lagos
Legit.ng reports that that the defense boat ship built by Nigerian Navy engineers is the third of its kind at the Naval Dockyard. The first and second known as NNS Adoni and NNS Karaduwa were built in 2016.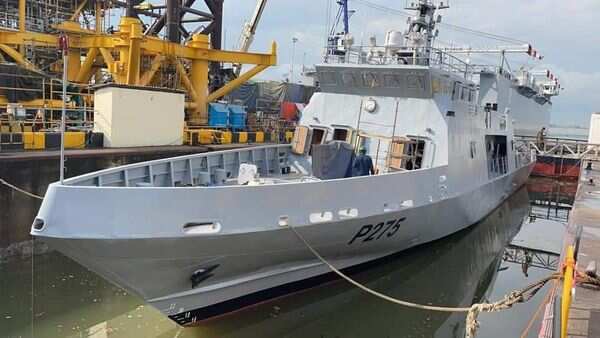 Legit.ng reports that the president also commissioned six newly acquired ships which are NNS Osun, Sokoto, Aba, Ikenne, Kano and Lana. Also commissioned were 111 boats and one helicopter.
The event also marked the keel-laying ceremony for the construction of Boat-IV and Boat-V.
Speaking during the commissioning, President Buhari noted that the new additions to the Nigerian Navy's fleet would boost its capacity in delivering on its mandate to of protecting Nigeria's maritime section.
According to him, Nigerians need to note that the nation is at the moment in a critical period where it is faced with a decline in revenue on one hand and challenging security situation on the other hand.
"We should note that we are in a critical period where our country is faced with a serious decline in our revenue and the security challenges we are facing," he said.
The president noted assured that that despite these challenges in the areas of security presently being faced by his administration, his government is determined to ensure that the Navy is well equipped to deliver on its mandate.
Commending the efforts of the navy in ensuring the nation's waters are well guarded especially in the Gulf of Guinea, he noted that he was sure that the new ships would help improve their operations.
He assured that his government will continue to support the ideals of the Nigerian Navy in the discharge of their duties. He also pledged that his government will do all it can to support them.
Legit.ng recently reported that President Buhari had earlier described former Lagos state governor Bola Ahmed Tinubu with great words.
It was reported that he made the statement while speaking at the book launch organised by Chief Bisi Akande in Lagos.
The president gave quite a number of revealing comments regarding Chief Bisi Akande as well as former Lagos state governor, Asiwaju Bola Ahmed Tinubu. The president said Tinubu was lucky to escape the antics of former President Olusegun Obasanjo.
He, however, noted that Chief Bisi Akande was not so lucky in his own dealings with the former president.
Source: Legit.ng