Why Yahaya Bello Is in N19.3bn Bailout Scandal, Kogi Commissioner Raises Allegations
The Kogi Government has denied ownership of the N19.3 billion allegedly returned to the Central Bank of Nigeria (CBN) by the EFCC
Going further, the state asked EFCC to retract the statement that the fund it allegedly returned to the CBN, belonged to Kogi
Recall that the Economic and Financial Crimes Commission (EFCC) said it returned the N19. 33 billion Kogi salary bailout funds it recovered to the CBN
Some governors have been accused of being responsible for the current trials of Governor Yahaya Bello of Kogi state.
The allegation was raised by Kingsley Fanwo, Kogi state commissioner for Information.
The commissioner alleged that some of the governors behind this are interested in the 2023 presidential race, Premium Times reports.
He said they are using the Economic and Financial Crimes Commission (EFCC) to discredit Governor Yahaya Bello.
Bello has indicated interest in succeeding President Muhammadu Buhari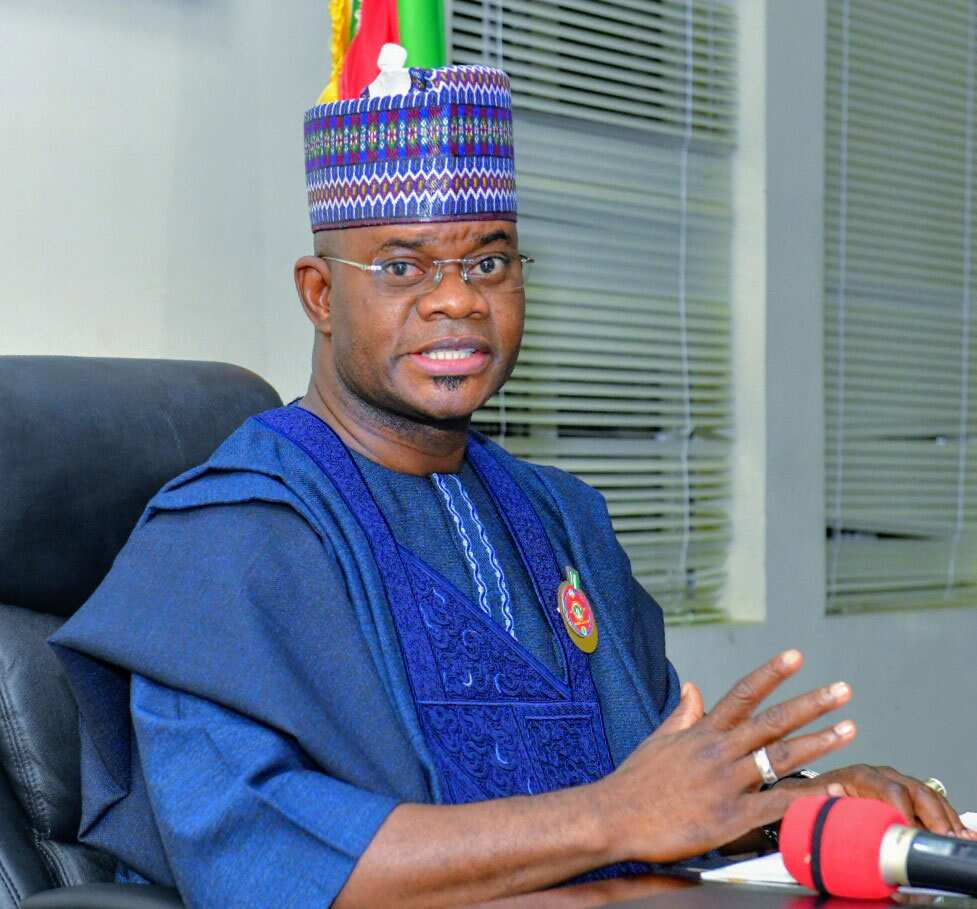 PAY ATTENTION: Install our latest app for Android, read best news on Nigeria's #1 news app
Briefing newsmen in Lagos, he described the action of EFCC as a hatchet job conceived by politicians and executed by the anti-graft agency.
He said:
"This is the height of irresponsibility by an agency charged with the responsibility of fighting corruption in our country.
"Certain individuals, especially governors with interest in 2023, have hired some agencies to discredit our governor before 2023. They attempted to use the NFIU, ICPC, Code of Conduct. They have finally settled for EFCC, which has all along acted as hired guns for these individuals to discredit and vilify Bello."
Fanwo added.
"The Kogi state government states categorically said that it knows nothing about the money returned to CBN. The Kogi state government denies the account where the alleged fund was warehoused.
"This is a hatched job conceived by politicians and executed by the EFCC. The EFCC is chasing shadows and wants to tarnish the governor's political image by portraying him as a corrupt governor."
Buhari, only Nigerian president without a foreign account - Governor Bello
Recall that Legit.ng reports that the Kogi state governor, Yahaya Bello, has said that he is ready to carry on the legacies of Nigeria's President Muhammadu Buhari as the president of Nigeria.
The governor while speaking on Wednesday, November 3, when he received some traditional and political leaders from Duara, President Buhari's home.
He said Nigerians across the country want him to continue the legacies of the president in 2023 and he will not disappoint Nigerians but heed their call.
He also said that the president has put several structures and policies in place to ensure that the younger people and politicians succeed from where he stopped.
Noting that Nigeria's unity and prosperity has since been the president's priority, Bello urged Nigerians to support his ambition to carry on the legacies of President Buhari.
I want to take over after Buhari - Yahaya Bello
Legit.ng previously reported that Governor Bello had earlier made his ambition to become Nigeria's next president known to all.
The governor said his achievement in Kogi state needs to be replicated at the national level for the benefit of all Nigerians.
He said that he is in the best position to succeed President Muhammadu Buhari as Nigeria's president by 2023.
Source: Legit.ng