"This happened": Drama as Man Shares Rare Video from Ekene's Wedding after Moses Bliss' Incident
Mixed reactions have trailed a rare video from the wedding of actress Ekene Umenwa which has become the talk of the town
A songwriter shared the clip online as he bashed people for not releasing it, but many disagreed with him after seeing the rare video
Actress Ekene had gone on her knees at her wedding following the surprise visit of gospel singer Moses Bliss
The controversy that greeted actress Ekene Umenwa's wedding has a new angle of argument to it after a songwriter shared a rare video from the occasion.
Legit.ng reported how Ekene left her husband, knelt down and hugged gospel singer Moses Bliss following his surprise appearance at her wedding.
Her perceived overexcited reaction sparked intense debate on social media.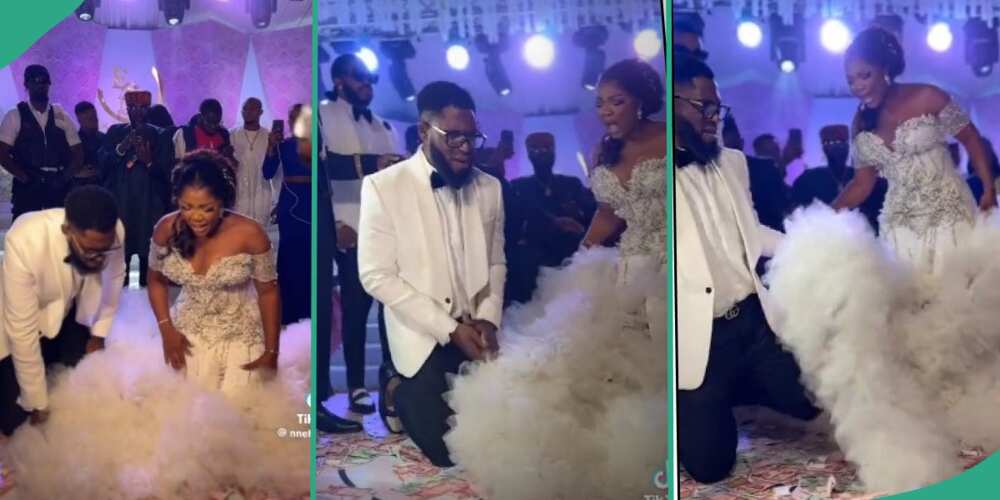 Notable Nigerian celebrities and a cleric, Reverend Father Ugwu, were not left out as people shared their thoughts on the incident.
In an apparent attempt to defend the couple, songwriter Sunny Ejele shared a video of them praying on their knees at the wedding, slamming people for not sharing the clip.
"Una no gree post here.
"Na only where Moses bliss and the woman hug una post.
"Una go use una mouth spoil people home.
"Kpash," Sunny wrote as he shared the clip on X.
Watch the video below:
People share their thoughts on the video
@dlazygirl said:
"But prayer can be done without season or timing. This prayer can be done every hour before the wedding and every other hour after the wedding. Why now??"
@Koanik said:
"It seems we can no longer speak simple truth, it now sounds like a curse. People make mistakes it doesn't mean they are bad or their marriage is doomed. She was wrong to kneel for Moses Bliss at her wedding. Period. Life goes on. No need for defense or explanation."
@BEN_JOHN10 said:
"Jesus condemned the Pharisees that stood conspicuously around the temple to pray or I. Public places. Its just showy display. Her hugging and kneeling for the guest artiste is who she truly is."
@GabrielOminijei said:
"Oga rest, this was an afterthought.
"This happened after she was satisfied with her hugs abandoning her husband.
"It doesn't change anything."
@alaht_ said:
"This is not even supposed to happen at a wedding. The wedding automatically became a deliverance service where the bride and the groom spoke in tongues. Jesus made sure there was enough quality wine at a wedding and not enough prayer points."
Frank Edoho tackles Moses Bliss over wedding incident
Meanwhile, Legit.ng previously reported that Frank Edoho criticised the gospel singer over the incident at Umenwa's wedding.
Not satisfied with the way the music act behaved, Edoho took to social media to air his view. According to him, he cannot blame the happy bride for her actions.
He chastised Bliss for holding the bride for a very long time. He said he should have directed her back to her husband instead of clutching her for a few minutes.
Source: Legit.ng