"I Feel Your Pain": Lady Who Finally Gave Uneducated Man a Chance in Her Life Shares DM He Sent Her
After finally giving an uneducated man a chance in her life, a lady was disappointed at the message he sent her on WhatsApp
The lady took to social media to share the message he sent her, which left tongues wagging
While some people tackled her for shaming the unidentified man, other netizens found it hilarious
A lady named Sophy has caused a stir online as she released a WhatsApp message she got from her admirer.
Sophy said after several attempts by the man, whom she claimed is uneducated, she decided to give him a chance.
The lady, however, said she was disappointed after seeing his WhatsApp message.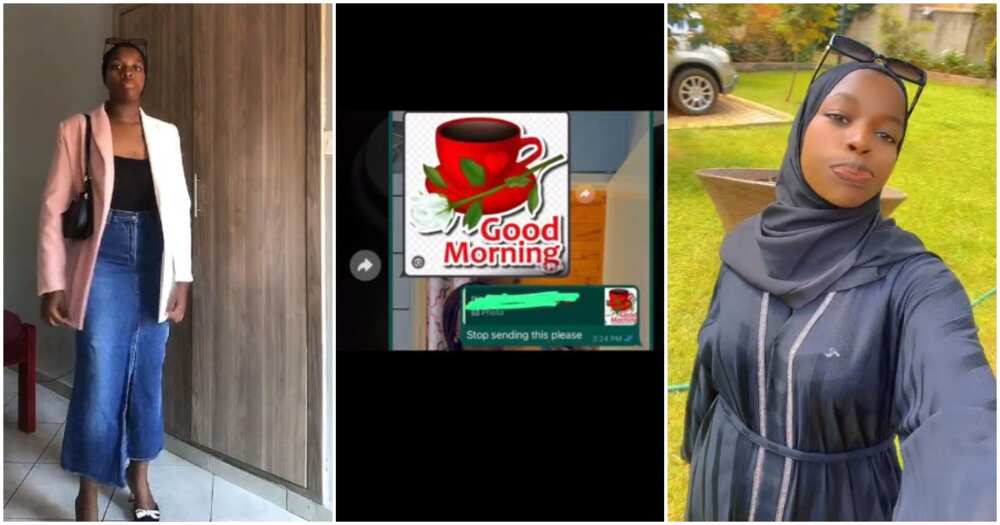 Sharing their conversation on TikTok, she captioned it, "No offense guys."
In the released WhatsApp chat, the man forwarded her a short 'good morning' video which did not please the lady.
In her response, she politely warned him to stop sending such messages sending to her. In Sophy's words:
"Stop sending this please."
Some netizens criticised Sophy for shaming the man, just as others laughed it off.
Watch the video below:
People share their thoughts on affairs with illiterate partners
nisha bubbly said:
"Edited pics dat make them look Lyk cartoons banange ithought it's 4 gals kyoka nga he thks he's cool en posts everywhere."
NIGERIAN VS FOOD said:
"I tell u someone told me if I want to continue with him I should stop sending texts messages but I didn't stop typing."
God is not from ur village said:
"Not only illetrate men but grown up men call them blessers."
user78681726387093 said:
"Those guys are heaven sent after atext they will call and ask what u were saying long live kintu kyange."
prettyify20 said:
"Calling a man an illiterate…I hope your parents are graduates…y'all need to learn."
atu said:
"Girl those are the ones with the money Swear mine is like that but I'm spoilt."
Kett Amin said:
"I know someone who is a lawyer that sent this he is not illiterate he is getting old."
Man says he'd rather marry a respectful illiterate
In an earlier report by Legit.ng, a man who explained why he prefers to marry an illiterate who is respectful.
For Arinze Amobi, being respectful is very important to him. The Nigerian lawyer took to a closed Facebook group to share his thoughts about the kind of woman he wants.
In the post, Amobi stated that he would rather marry a "respectful and teachable illiterate" than a disrespectful literate woman.
Source: Legit.ng