Second Chance Gone Wrong: Lady Who Returned to Her Ex Cries Bitterly as He Breaks Her Heart Again
Things did not turn out as expected, and a lady was left leaking her wounds after she gave her ex a second chance
The lady suffered a second heartbreak from the same person and wept bitterly over her relationship woes
Mixed reactions trailed a video of the heartbroken lady weeping as netizens offered her relationship advise
A lady wept profusely as she suffered another heartbreak from her ex-boyfriend whom she reunited with.
According to the unidentified lady, she finally gave that particular ex a second chance.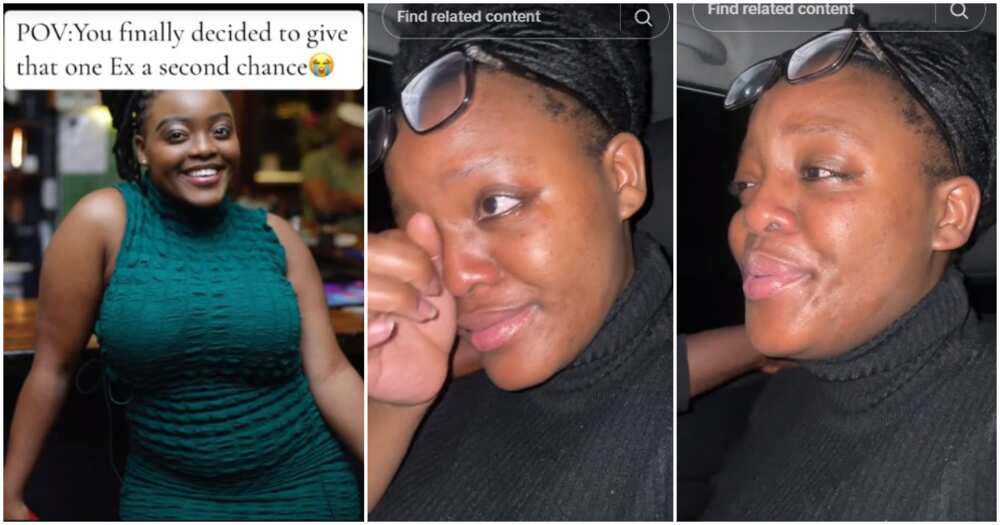 However, things did not pan out the way she reasonably expected. A viral video on TikTok showed the lady shedding tears in a car.
A man was heard in the background trying to comfort her. The short clip has amassed over four million views on the social media platform.
Netizens who watched the clip advised the lady against giving exes second chances.
Watch the video below:
Netizens advise heartbroken lady
1926243 said:
"You were warned askies… still needed a reason why he became an ex. Now he's a your Exx2."
Racquel said:
"Never look back, cause they never ever change.. I be holding a whole funeral in my head as soon as we break up."
beefy tyrone said:
"One thing I'm heavily learning this year 1. Never give ur ex a second chance 2. Never give the guy who's been chasing u for years a chance."
Tshidi Motaung said:
"I gave him 5 second chances my therapist is expecting a visit from me on Monday."
NaraDarling said:
"Babe. They spin the block to seek revenge. Never look back."
Hlas'elihle said:
"What's worse is that your friends probably warned you but you "followed your heart."
Letuka said:
"A second chance to do what exactly? To finish off breaking your heart."
Lady cries out after getting pregnant by ex-boyfriend
Meanwhile, Legit.ng reported that a lady who got pregnant for her ex-boyfriend had lamented online.
In an emotional video she put up on TikTok, the lady begged her ex-boyfriend to take responsibility for his unborn child.
She clarified that her intention was not to get him back into her life but for him to take responsibility only.
According to her, she has been through so much pain alone and has been asked to leave the house by her parents after they learnt of her pregnancy.
Source: Legit.ng