"See o": Graduation Turns into Thrilling Event as Girl's Unexpected Backflips Stun Spectators, Goes Viral
In a ceremony filled with excitement and anticipation, a thrilling moment unfolded when a girl took the stage and showcased her dancing skills
The crowd watched in amazement as she gracefully executed backflips, adding an unexpected twist to the event
As the girl danced confidently and gracefully, her friend joined her, creating a mesmerising duo, as the crowd erupted in applause and cheers
During a recent graduation ceremony, an electrifying moment unfolded as a girl took the stage and captivated the audience with her mesmerising dance skills.
To the surprise and delight of the attendees, she seamlessly executed a backflip with flawless precision.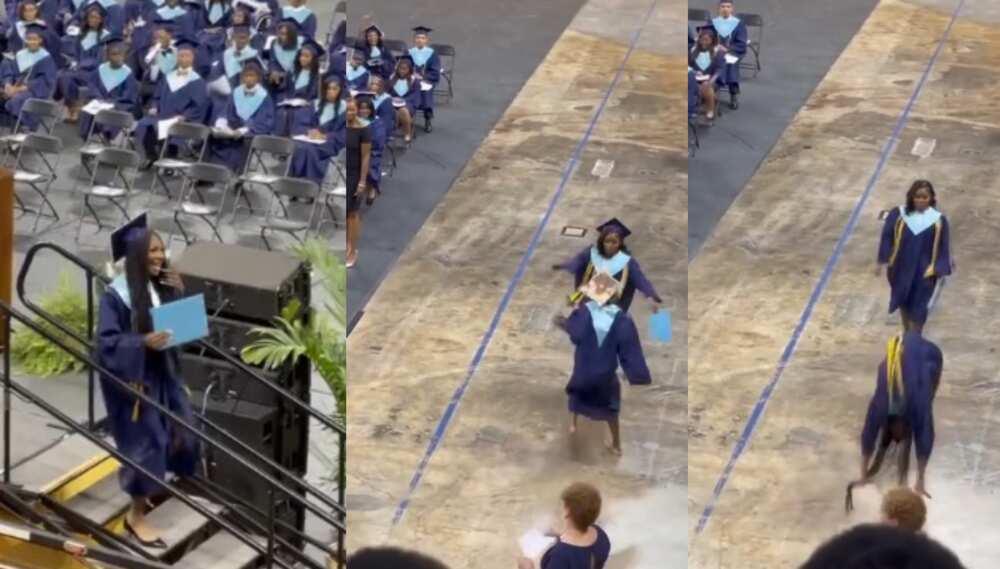 As the girl began her dance routine, her friend couldn't resist joining in, adding an extra layer of excitement to the performance.
The crowd watched in awe as they showcased their synchronised legwork as the girl dared a backflip.
However, the girl's daring backflip left everyone in amazement.
Despite the acrobatic move, her graduation cap managed to stay firmly in place, prompting a comment from one spectator who exclaimed, "Wait a second? Her hat stayed on while she did that backflip... wow."
The impressive display of dance skills and the flawless execution of the backflip garnered applause from the audience, who acknowledged the girls' talent and applauded their remarkable achievements.
The unforgettable moment showcased the boundless creativity and talent of the graduates, leaving a lasting impression on all who witnessed their remarkable performance.
Social media reaction:
@user4818744860618 siad:
"That one friend that has the same vibes as you ."
@slimzybaby76 said:
"Thats me with my bestie."
@im_por_tance commented:
"We need to hear the video without the sound wowww!!!!"
@freckledbyrdie noted:
"Yes, ma'am! You earned all of it!! Congratulations!"
@omirzetina noted:
"The way homegirl at the back supporting is one of the realest."
@mosthat3dbbw_ said:
"Y'all graduation all over TikTok, that mug giving the whole a lotta energy congratulations "
@aniyaah.j commented:
"The homegirl supporting in the seats ."
Watch Video:
Little Boy Steals Show at Graduation as He's Called on Stage, Video Goes Viral
In a heartwarming display of uninhibited joy, Legit.ng reported how a little boy brought laughter and cheer to his kindergarten graduation ceremony with an unexpected and delightful dance routine.
In a video that has gone viral, a little boy was seen making amusing dance moves as he was called on stage during his kindergarten graduation ceremony.
The video capturing the memorable moment quickly went viral, leaving viewers captivated by the young boy's infectious energy and comedic talent.
Source: Legit.ng