"Do Not Text Camila Anymore": Mum Warns Little Boy Over Her Daughter but Gets Epic Replies, Chat Leaks Online
A leaked text between a woman and a little boy who wouldn't stay away from her daughter has sent netizens into a frenzy
The woman took hold of her daughter's phone and warned the boy to stay away from her, but his replies were savage
Showing no respect, the little boy taunted the woman by asking what she would do if he didn't stay away from her daughter
Netizens were left stunned over a little boy's response after being confronted by the mother of a girl he was texting.
The girl's sister, @kailanjisselle, revealed on Twitter the text chat between the boy and mum, saying that her mother had gone through her sister's phone.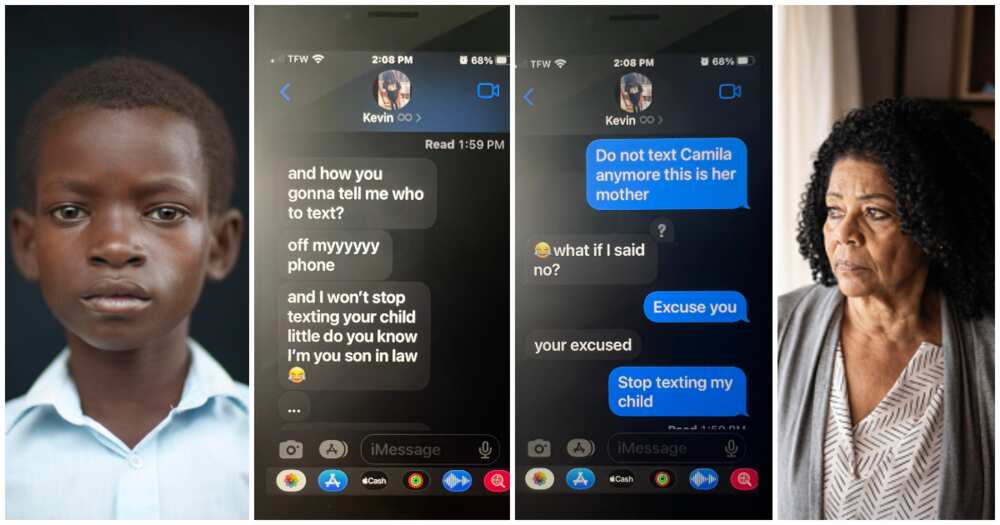 "Do not text Camila anymore,'' the woman said via text as she introduced herself as the mother.
To people's surprise, the boy taunted her about what she would do if he said no.
She reiterated her warning that he should stop texting her child, but the boy gave her savage replies.
The lad, Kevin, said he might be her son-in-law and told her off to leave his phone. He said she was in no position to tell him who to text and who not to.
See the lady's tweet below:
Reactions on social media
@ThatYoungKid33 said:
"He's so young for the audacity he has."
@Detolanny said:
"Very simple. I'll just whitelist a couple of numbers on my child's line and it's only whitelisted numbers that can call or text her. It's the boy's right to text whoever he likes and it's my right to decide who calls or texts my child (at that age).
"There's no point arguing."
@baggalmami said:
"This gon him talkin to his mama cause ur mama told his mama about "dem lil text messages" he sent her."
@_realJAG said:
"They gone say she's "disrespecting boundaries." That baby is 10. She needs to be getting her phone checked regularly. This how we have kids getting caught up in dangerous things and people now."
@DeeDee_frm19 said:
"Now don't chew me up because I know how y'all like to tussle, but I must be old because I missed the funny part about children disrespecting adults…especially on a phone that Mom most likely pays for…"
@M0TOROLA_ said:
"Ngl he would've been cut for talking to my momma like this."
Mum shocked to see love letter her son wrote to his classmate
Meanwhile, Legit.ng reported that a woman was stunned by the love letter her son wrote for his classmate.
The lady revealed that when the boy returned from school, their mother called him and said she would like to search his bag.
When the bag was opened, they discovered the love letter he had written to his lover in class.
A part of the letter read:
"I love you so much because when I set my eyes on you I was like God see this beautiful lady.... I am always thinking about you and loving you."
Source: Legit.ng