Twitter Releases Link For Businesses to Apply For Verification, Pegs Subscription at N460,000 Monthly
Elon Musk tweeted a link for businesses and individuals affiliated with organisations to apply for verificationorganisations
A Twitter blog post pegged the amount businesses can pay for verification at N460,000 monthly
Analysts say Elon Musk is pushing to recover the $44 billion he invested in acquiring Twitter last year
Elon Musk has begun an aggressive push to recover the $44 million paid to acquire the social media platform Twitter in 2022.
On Friday, March 31, 2023, the billionaire tweeted a link for registration for organisations and individuals to apply for verification.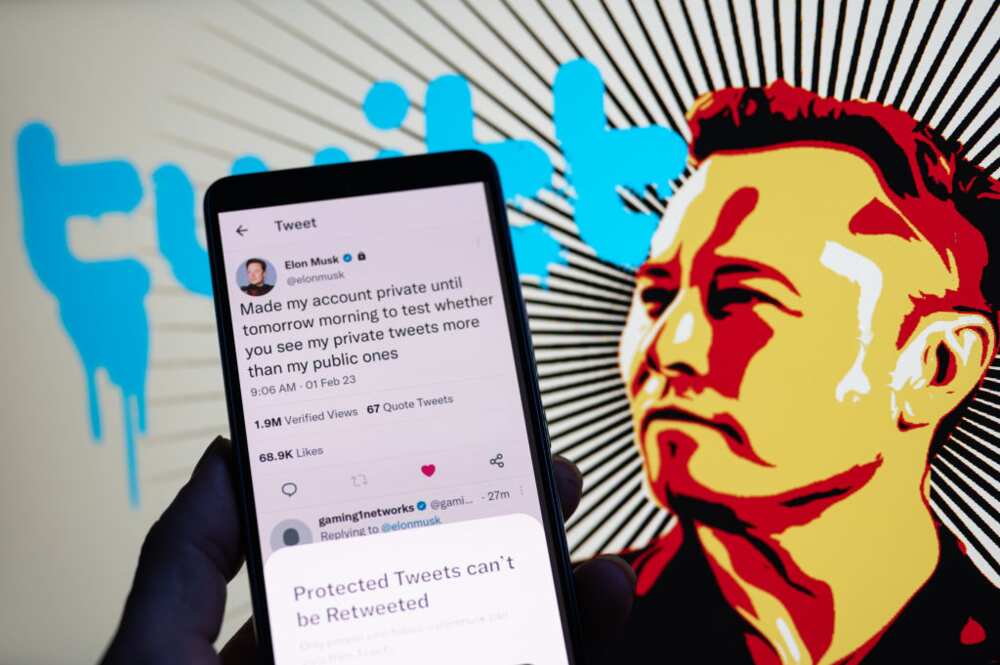 Nigerian businesses to pay heavy for Twitter verification
In a blog post, Twitter revealed that verified organisations and their affiliates could differentiate themselves on the platform than depending on Twitter to be the only determiner of which accounts should be verified and vetted.
According to reports, businesses in Nigeria would pay $1,000 monthly or its equivalent to be verified, and employees of the organisation would also be charged about N24,000 monthly to be verified.
The post also said accounts of individuals affiliated with the organisation would get an affiliate badge with its logo and be featured on its Twitter profile, showing their affiliation to the verified organisations.
Twitter said:
"We've already seen organizations, including sports teams, news organizations, financial firms, Fortune 500 companies, and nonprofits, join Verified Organizations and list their affiliated accounts publicly on their profiles. And starting today, Verified Organizations are available globally. We are now sending email invitations to approved organizations from the waitlist."
Reactions trail announcement
There have been varying reactions to the announcement, with many saying that Twitter is overpricing its services so that Musk can recoup his investment.
Joseph Anya, a product engineer, said the amount is overpriced for the Nigerian market.
The development comes after Elon Musk said earlier this year that Twitter's verification would be based on price parity, meaning that countries with low-purchasing power will pay less for Twitter services.
Kilian Wells, CEO of Xyrena, said that other rival platforms charge almost zero businesses and individuals to get verified on their platforms.
He said:
"Meanwhile, TikTok and IG still verify notable organizations for $0/month. Yes, but IG is still allowing applications for free notable verifications, and they aren't removing "legacy" verifications like Twitter is"
Others said that Twitter is charging businesses for the features they have enjoyed for free over the years.
Elon Musk brings a slew of changes to Twitter
The development follows a report that non-verified accounts on Twitter would neither be allowed to conduct nor participate in any poll on the platform.
Also, Musk stated that only verified users would be recommended for a follow on the platform instead of random users.
The Twitter "For You" tab usually shows users tweets from people they don't follow but are recommended to them by the platform's algorithm.
CNBC reports that Musk said the move is the only realistic way to stop advanced AI and bots from taking over Twitter.
Meta to build standalone social media to compete with Twitter
Recall that Legit.ng reported that according to Platformer, a tech newsletter, the project is codenamed P92 and would be built as a separate app, but users would use Instagram details to log in.
The move, CNBC reported, is to help Meta attract some of Twitter's dissatisfied users looking for alternative platforms after Musk took over the site.
The project would increase Meta's offerings beyond Facebook, WhatsApp, and Instagram and launch it into a Twitter-dominated ecosystem. Instagram head Adam Mosseri reportedly leads the project.
Source: Legit.ng