"Groove Guru': Little Boy Dance Moves Like Adults, Steals Hearts in Viral Video.
A video of a little boy captures much attention with his infectious excitement and hilarious finger-wagging dance routine
The cute little boy showcased his signature finger-wagging dance moves while an unseen adult voice cheers him on in the background
Tik tok users have filled the comment section with an overwhelming outpouring of positive reactions and heartwarming sentiments
On TikTok, dance enthusiasts have appreciated a little boy grooving to the music in a trending video.
In a video shared by @dineonala, an adorable little boy could be seen as he danced to the music.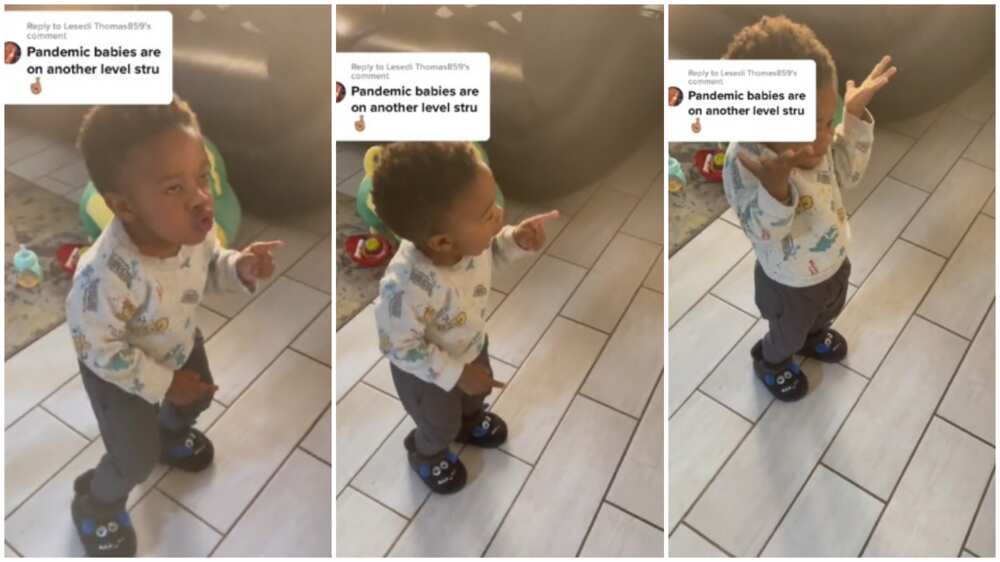 As the music started, his infectious energy was immediately apparent, and he wasted no time in launching into a series of freestyle moves.
As he bounced to the beat, his finger was perpetually raised in an amusingly sassy gesture, as if commanding the music to follow his lead.
Adding to the video's charm was the spirited encouragement provided by the unidentified adult voice, who can be heard cheering the young dancer on in the background.
Since the video was shared on social media platforms, it has garnered millions of views and outpouring comments from viewers on TikTok.
Many have admired the boy's confidence and charisma, describing his finger-wagging dance moves as "iconic" and "a dance revolution in the making."
Social media reaction:
@paballokgware said:
"He is SO cute… I'm taking to Konka tonight pls."
@nissynice15 said:
"That face at the end…I died and came back."
@20kitah said:
"I think they all love music coz .. of the indoors…they'll be dancers n music lovers. We love them all."
@browncherrie1 said:
"Oh my ❤️cannot take it. The cuteness is killing me."
@cherrypreshprecio commented:
"So na this kind baby I for born during that lockdown."
Watch the hilarious dancing video:
Little Girl Celebrates Small Wins, Dances as She Completes Nursery School
Meanwhile, Legit. ng previously reported that a little girl had caused a frenzy on social media after she was spotted in a video dancing as she completed nursery school.
In the trending clip, the little kid could be seen coming up with different dance moves, which earned her much praise.
Even though she was the only one dancing among her colleagues, she did not allow that to deter her from showing off her incredible moves.
Source: Legit.ng