"Cutest Ever": Little Girl Brings Out the Princess in Her Dad, Makes Him Catwalk With Her in Lovely Video
An adorable little girl turned her father into a princess as she made him join her in doing a funny catwalk
The man had wanted to play the role of a spectator when she cutely beckoned on him to switch sides
A video of a father and daughter cat walking together has elicited heartwarming reactions on the net
A little girl brought out the princess side of her father after she made him do a catwalk with her.
The adorable kid in a pink gown started at first, then stopped immediately to beckon her dad to participate.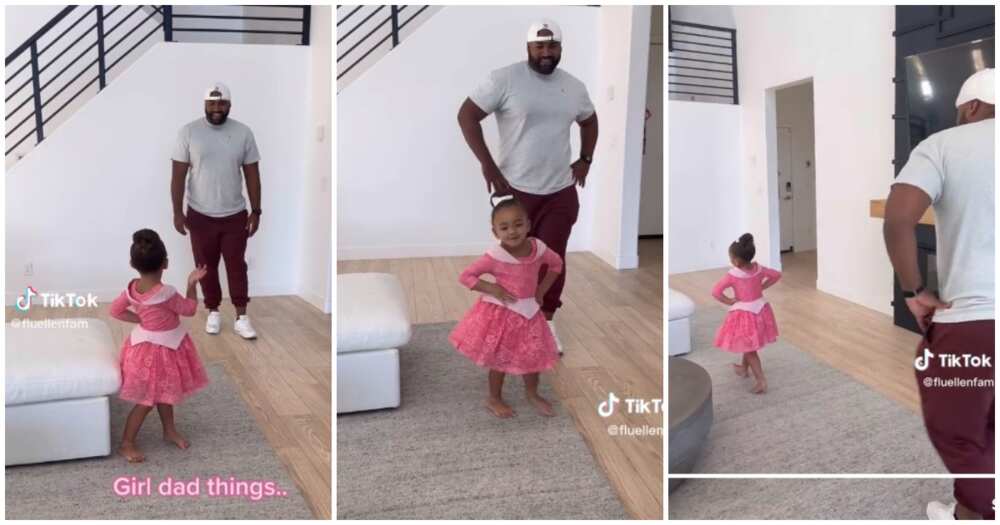 Without giving it a second thought, the loving man followed his daughter's steps as they both walked with arms akimbo while singing "all the pretty girls walk like this".
After getting to the end of the scene, the funny man pushed his head back as if he had long hair and continued catwalking behind his little daughter.
Their cute video has gone viral on TikTok and got netizens gushing.
Watch the video below:
Social media reactions
Miranda Marshall said:
"Too cute and funny at the same time."
Beauty&Brains19 said:
"Girl Dad! I love it! She'll never forget it!"
Lisa Velazquez said:
"OMG just too adorable! You go girly!"
Michele Dearing said:
"Omg so cute. And this warmed my heart."
Dawn said:
"Adorable! My hubby is an amazing girl dad. This brings back memories because our daughters are adults now."
CaNon said:
"Props & much respect to the Dad that leaves the comfort zone for his babies happiness!"
The Chavez Family said:
"Cutest ever."
Ziggyriley92 said:
"A Father is the first man his daughter fall in love with. He shows her how she should be loved by a man when she grows up."
Little girl stops mum from calling her dad baby
Meanwhile, Legit.ng previously reported that a little girl had stopped her mum from calling her dad baby.
The baby, who was in a tight hug with her dad, reacted when her mother called the man her baby in a clip shared by @amayamwiti. With a solemn voice, she said: "No hi baby".
When the mother continued, the kid went towards her and tried to pull the woman's hand off, telling her the man is her daddy.
While all that was going on, the man could not keep himself from laughing in the video. Her mother also found the kid's seriousness very funny.
Source: Legit.ng