9 Years After Her Husband's Death, Woman Claims She Spotted Him Eating in Indian Restaurant
A woman has claimed that she saw her deceased husband who passed away years ago eating in a restaurant
Lucy Watson made this known in the comment section of a recent Indian restaurant's promotional video
When she asked the restaurant how old the video was, their response confirmed her shocking assertion
A lady identified as Lucy Watson has revealed that she spotted her late husband dining in an Indian restaurant's promotional video nine years after his demise.
A restaurant situated in the UK named Spice Cottage had on January 16 posted on its Facebook page a promotional video with the caption;
"New year, new mood! ✨
"For the last few weeks, we've been working hard to make our dining experience even more memorable.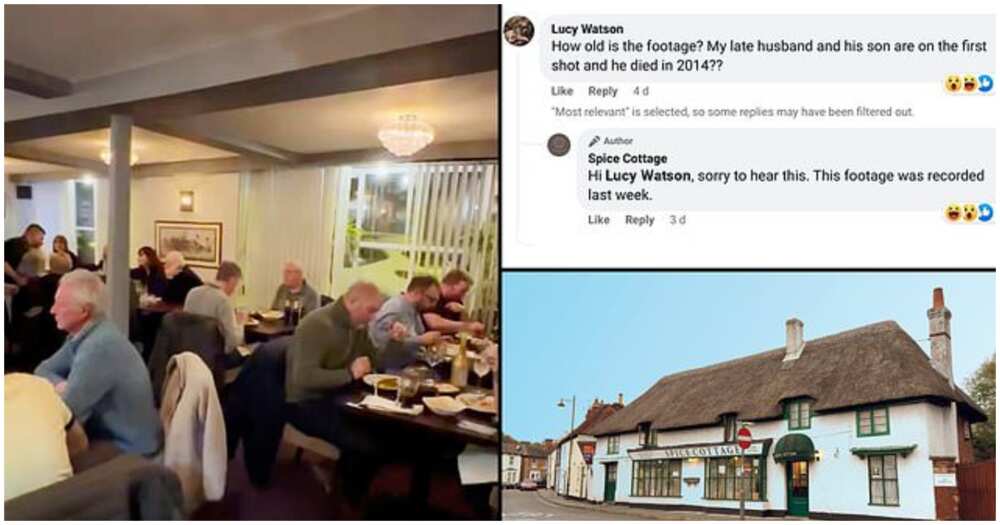 "Join us for a perfect blend of exquisite flavours, with classical and unique dishes inspired by ancient family recipes."
As seen by Daily Mail UK, Lucy asked in the comment section;
"How old is the footage? My late husband and his son are on the first shot and he died in 2014??"
In replying to Lucy, they wrote;
"Hi Lucy Watson, sorry to hear this. This footage was recorded last week."
Lucy's husband died in 2014.
The restaurant gave an update on the matter in the video. The update reads;
"I am writing on behalf of Spice Cottage as one of the managers.
"In regards to the incident regarding the Lucy Watson comment and her interview, we would like to clarify some misunderstandings.
"I run the social media side of the business and recorded a promotional video to portray our new wooden tables and interior refurbishment. The refurbishment was completed in early January 2023 and the promotional video highlights these changes. All videos used in the video were recorded w/c 9th January 2023.
"Before January 2023, all of our tables were covered by white and red cloths, henceforth it is evident this footage is recent.
"This is a very unusual situation and we hope this clarifies any confusion..."
Social media reactions
Lucy's comment sparked mixed reactions.
Danette Perkins said;
"In the coming days we will come to learn that everyone in this video is actually dead and this place really comes alive at night."
Katy Smith said;
"It would be so much easier if the guy in the video just steps forward it's clearly not her dead husband. It would be almost impossible to fake your own death unless you were "missing, presumed dead" like canoe man."
Stephen Smitty Smith said;
"I am heading that way right now!! My mom passed away in 2011, and this seems like a restaurant she would enjoy!"
Mum of 3 finds out her lover died years ago
Meanwhile, Legit.ng previously reported that a mother of three had discovered that her lover passed away years ago.
The young woman had been living together with the young man and even had three children with him.
However, she finally became interested in knowing his family members. After dribbling her for a while, the man finally left a note for her containing his address. She travelled down to his village and found out that he had died two years before she gave birth to their first child.
Source: Legit.ng