Don't ever Give up: Couple Finally Welcomes First Child After 10 Years of Marriage; Shares Cute photo
A man has taken to social media to share an inspiring story of how he and his wife welcomed a handsome baby boy after 10 years of childlessness
The man said they waited for several years to have a child but that their never-give-up spirit finally paid off in their tenth year of marriage as they now have a bundle of joy
A joyful Mr Derick Dickson said his biggest challenge in life was being married for several years without having a child of his own
A man has taken to social media to share the joyful news of how his family welcomed a baby boy after trying unsuccessfully for 10 years.
Mr Derick Dickson said it was their continuous persistence and refusal to stop trying that later paid off. He said he and his wife refuse to stop trying since change is inevitable only if one is consistent.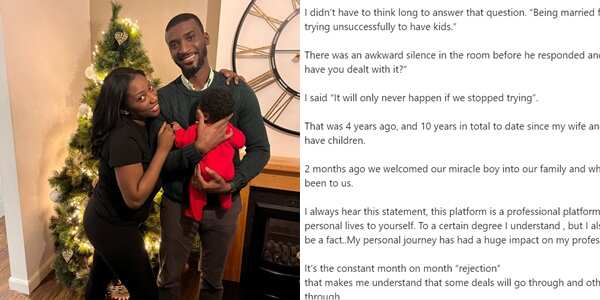 Sharing the inspiring story on LinkedIn, Mr Dickson wrote:
"2 months ago we welcomed our miracle boy into our family and what a joy he has been to us."
Not having a child was my greatest challenge in life
According to Dickson, his family's inability to have a child after several years was a big challenge for him. His words:
"During an interview with a CEO of a Banking firm, I was asked the question: "What has been your biggest challenge in life? I didn't have to think long to answer that question. "Being married for 6 years and trying unsuccessfully to have kids." There was an awkward silence in the room before he responded and said. "How have you dealt with it?" I said "It will only never happen if we stopped trying".
"That was 4 years ago, and 10 years in total to date since my wife and I tried to have children. 2 months ago we welcomed our miracle boy into our family and what a joy he has been to us."
Don't ever give up despite the many setbacks Mr. Dickson advises people
The latest father used the opportunity to admonish his followers never to give and not to accept rejection and failure as final. He said:
"It's the constant month-on-month "rejection" that makes me understand that some deals will go through and others will fall through. It's trying different things in marriage and during the journey of childbirth that teaches me that change in inevitable in business. It's having to wake up every day despite the challenges and having to show up every time that builds resilience within me in the professional space. Maybe this isn't for you, but for the very few people who can relate, I have one thing to say: If you're believing for something great to happen to you, don't ever give up despite the many setbacks. It took us 10 years, it might take you less or even longer but remember this, we're cheering you on. Your win is not just for you but for others as well."
Similarly, Legit.ng had earlier reported how a Nigerian woman welcomed triplets after many years of childlessness.
Sharing her story, the woman identified as Helen Bello told a very cheering story of how God changed her status after many years of being called names.
She shared beautiful photos of herself and the babies and was congratulated by many friends for her success.
Source: Legit.ng