Kenneth Ogagbo: 1-yr-old boy whose mum died of fire burns needs help to beat same injuries
Kenneth and his mum were involved in a kitchen mishap in August 2021 after she (his mother) mistook fuel for cooking oil
The one-year-old boy's mum eventually gave up the ghost after a tough battle at a top hospital in Benue state
With Kenneth left with indelible scars and haunting memories, kind-hearted Nigerians are being urged to show the young boy love with donations
Ogagbo Nathan Kenneth and his mum, 21-year-old Ogagbo Faith, left their home in Benue state to visit a relative who was recuperating after a brief illness.
Unfortunately for them, tragedy, a whip in the hand of destiny, struck and left their lives in agony and despair.
It was a black Friday on August 13, 2021, for the family of Ogagbo. Kenneth, just one year and a few months, had followed his mum to the kitchen where she went to prepare breakfast.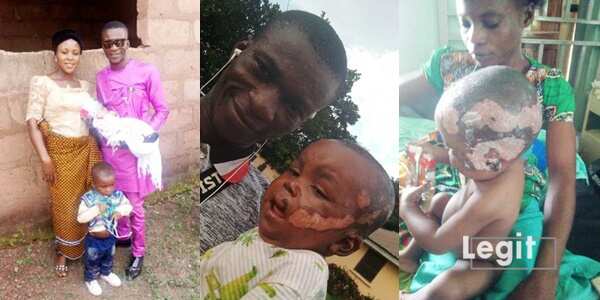 Faith unknowingly mistook a container of fuel for cooking oil and poured it on a frying pan sitting hot on the cooking gas. In a tragic turn of events, it blew up and totally consumed both Kenneth and his mum.
Since then the young boy and his mum had been at the hospital treating their festering burns amid great discomfort and sorrow.
Kenneth's mum lost the battle
Immediately after the incident happened, Kenneth and his mum were rushed to Saint Mary Hospital Okpoga in Okpogkwu local government area of Benue state.
The burns first appeared healing up in what ushered in a sigh of relief for Sunday Ogagbo, Kenneth's father. But on Wednesday, September 29, Kenneth's mum finally lost the battle, leaving the young man's life partially shattered.
Kenneth is still at the hospital taking treatment and fighting for survival. If he eventually survives, he will have to continue his journey in life with indelible scars, frightening memories and absence of motherly cuddle and love.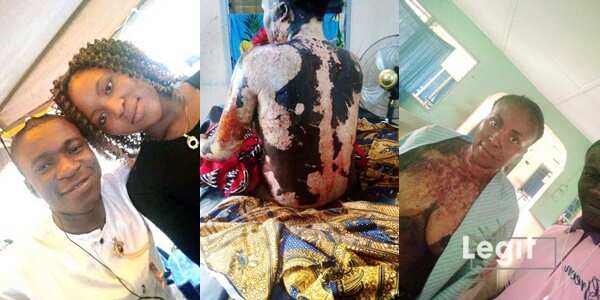 Kenneth needs every love from all quarters
Kenneth needs a miracle to survive, and he needs all the love to put the pain behind him. According to his father, 27-year-old Sunday Ogagbo, the young man is receiving treatment at the hospital.
The father is seeking donations from all kind-hearted Nigerians to help the family pay hospital bills and cater for the further treatment and other needs of young Kenneth.
If you wish to help Kenneth, call his father on 08169954500
Account details
Okoh Sunday Ogagbo
Unity Bank
0033678942
Clemency Bunu needs a wheelchair
In a similar story, Legit.ng reported that Clemency Bunu became an orphan five years ago after his mum was involved in a road crash that eventually claimed her life.
Since then, it has been a lonely ride on the journey of life for the 14-year-old boy who struggles to survive in the city of Ilorin, Kwara state.
Bunu, who is willing to return to the classroom, is seeking assistance from Nigerians so he can get a wheelchair and solve problems of hunger and accommodation.
Source: Legit.ng