Funny Dad Vents His Frustration on Little Child Sitting on Sofa, Many React Hilariously to Video
A hilarious clip of a dad venting his frustration at his adorable daughter has taken has captivated attention
The little one was sitting calmly on the sofa as her dad ranted about how she had been a nightmare
The little girl didn't say a word or react to her dad's complaints, which made the video even more amusing
A hilarious video of a frustrated dad who let out his annoyance at his sweet daughter has become a viral sensation on TikTok.
The little angel was sitting quietly on the sofa, looking innocent and cute, as her dad expressed his irritation at how she had been causing him trouble all day.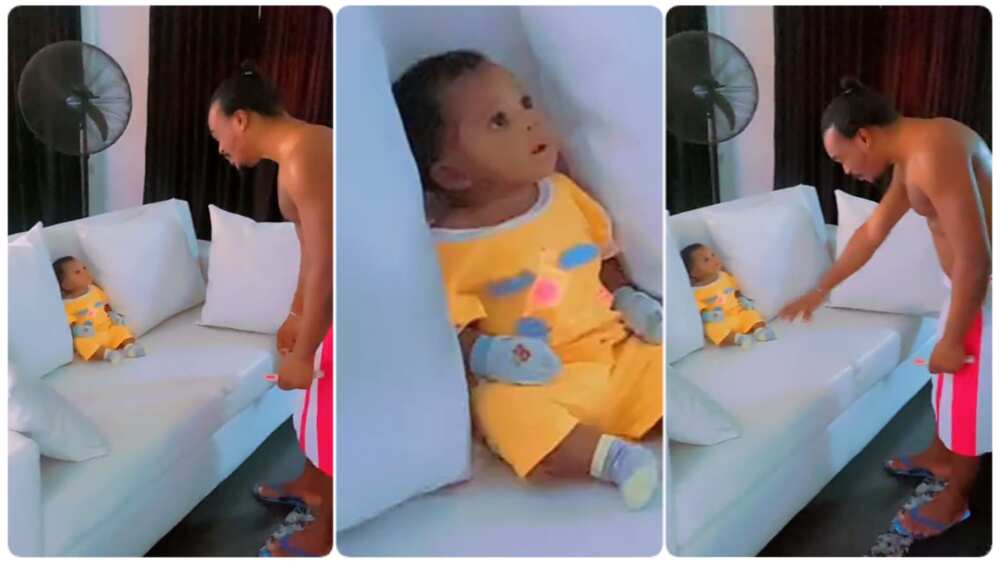 The little girl didn't utter a single word or show any sign of remorse or guilt, which made the video even more hilarious.
The viewers were amused by the contrast between the dad's angry tone and the daughter's calm demeanor, and the video received thousands of likes and comments.
Watch the video below:
Legit.ng compiled some of the reactions below:
Fimhi said:
"She just concentrate just like Nigerians are concentrating on getting justice for mohbad."
Millicent reacted:
"She just dey imagine if na the father killed mohbad."
PaymentslipI commented:
"Justice for this baby not only mohbad oo."
Fabioblink also commented:
"Please don't disturb her na mohbad she deh cry."
Usercardi benz:
"The bahy is like do and ao let me continue mourning Mohbad."
Trendy Events gh:
"Pls she's mourning MOHBAD.allow her."
Tizzy_Ade6:
"I am crying because I won't justice for mohbad."
Shamsgold73:
"She dey mourn mohbad."
Ben:
"Why he wear gloves? Na future Onana."
PrezidoDci:
"Justice for this kid pls she was crying for mohbad."
Alhajaomosalewa:
"Pls she's mourning moHBAD. allow her o."
Mrs Lebo:
"Pablo no dey even allow in pakin here wword."
Anona:
"The baby need a lawyer at this point."
Priceless6363:
"This is me paying attention to advice I won't work with."
Dad warns newborn daughter, baby looks at him with serious face
Meanwhile, Legit.ng earlier reported that a funny Nigerian father made a TikTok video with his baby as he warned the toddler against crying and disturbing everybody.
Supported by two pillows on the chair, the baby looked at her dad with rapt attention as if she understood what he was saying.
The man (@princekubas1) even pulled his ear to warn about her incessant cries. He said the baby was always disturbing their compound.
Source: Legit.ng