"My Brain Is Getting Messed Up": 3 Nigerians Share Rare Dreams About Mohbad
It has been an emotional phase for many Nigerians since the passing of talented Nigerian singer, Mohbad
Netizens and celebrities took time to mourn the unfortunate demise of the singer who died at 27
A host of other Nigerians had also claimed to have dreamt about the singer after he passed away.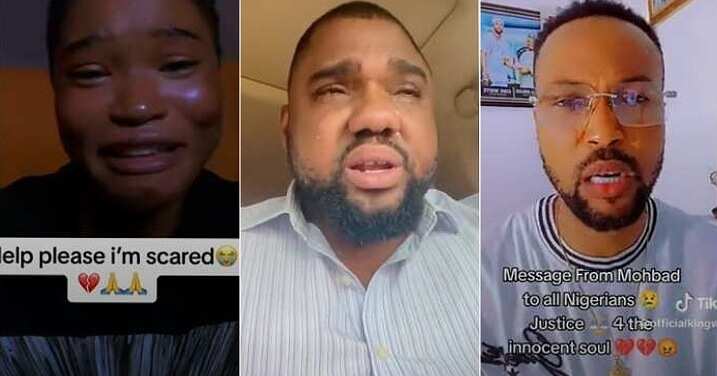 Legit.ng in this article presents 3 people who saw late Mohbad in a dream
1. Lady in tears after seeing Mohbad 3 times in dream
In a video shared on TikTok, a young lady with the username @pointedbwess revealed her recurring dreams about Mohbad. Despite not being familiar with the singer or his music, she claimed to have dreamt about him three consecutive times.
PAY ATTENTION: Follow us on Instagram - get the most important news directly in your favourite app!
In her dreams, she encountered Mohbad in a room, but he was unable to speak or provide any explanation for his presence. The lady's dreams took a puzzling turn when she saw Mohbad again in the same room. This time, an aunty entered the room and greeted Mohbad, indicating a familiarity between them.
However, as she approached, the aunty shouted something in Yoruba, causing Mohbad to fall and shake uncontrollably. Before she could reach him, Mohbad vanished, leaving her bewildered. In her words; "I've been seeing Mohbad in my dream. The dream is getting scarier, first time, second time, third time last night, I'm really scared. It's messing with my mental health.
2. Man sheds tears after rare encounter with Mohbad in dream
A light-skinned Nigerian man has shared a dream he had about the late Nigerian singer Mohbad Imole. According to him, he tried to avoid speaking up but felt compelled to share the dream due to its significance.
According to the man's account, the dream occurred in a church he was born in, St. Peter's in Warri, Delta State. In the dream, he found himself in the church's car park, reminiscing about where he used to play with his friend. According to him, it was during that moment he saw Mohbad nearby.
The man described being alone with Mohbad in the dream, with the singer visibly distraught and shedding tears. He also noted that the singer's last words to him were lamentations of being alone in the world with no trust and good friends to open up to.
3. Man shares conversation with Mohbad in a dream
A Nigerian man has maintained that the late singer Mohbad wasn't dead when he was buried in his father's compound. The young man, who claimed he had a dream, said the singer narrated what transpired that led to his death.
According to him, the singer didn't die a natural death. He claimed he was still alive at the time he was buried. He noted that the singer's son, Liam, would do great things before he gets to three. In his words: "When people said they had a dream about Mohbad, I didn't believe them. He has finally appeared; he said you should hold his father well.
He said he wasn't dead when he was buried, he was only in a dream state and on a journey to save others in bondage only to be killed before I woke up.
Girl who predicted Mohbad's death weeps
Meanwhile, Legit.ng previously reported that a Nigerian lady has painfully mourned the demise of late singer, Mohbad, days after he lost his life. She recounted a dream she had about the late singer months before his sudden death.
She earlier revealed that she had a terrible dream where the singer was dead and she had been praying for him not to die young. The heartbroken lady also shared a screenshot of a post she made back in November last year to warn the singer about the dream.
She said: "Do you know the worst part of it? I had a dream about this guy last year. I had a dream about him that he died and I commented on his post but he didn't reply. I prayed for him not to die young now see what is happening to him. Jesus, not now! not even Mohbad in all this at all."
Source: Legit.ng